Student slacklines and soars to new heights
Senior Jovi Smith started slacklining as a hobby before quarantine and fell in love with the sport
Balance, core strength, patience, and concentration are all characteristics needed to participate in the sport of slacklining. For senior Jovi Smith, these qualities are second-hand nature as she walks on a tightrope over lakes, between mountain tops, and over other rigorous courses.
"Slacklining is the first instance in which my mind has been able to overcome my body," Smith said. "If my body is feeling like it's going to bail, my mind steps in and remains positive and strong."
Contrary to others in the sport, Smith hasn't been a part of slacklining for the majority of her life.
"Slacklining came into my life about six months ago through my mom's best friend," Smith said. "I ended up falling in love with it and now I'm here."
Smith's mother, Angelique Landry, has seen a complete change in her daughter, and says it's for the better.
"Since discovering slacklining, Jovi has become connected," Landry said. "She has always enjoyed challenges, nature, and people but now there is no longer a separation."
The sport can be either competitive, which is called tricklining, or freestyle, and Smith mainly freestyles and loves trying new tricks on her own.
"I don't really compete in any competitions, but there's always accomplishments to be made," Smith said. "For example, you can break records and do things that have never been done and I feel like that's like going to competition in a way."
When freestyling in the sport, most everything a player does is solo, as they rely on their own body, strength, and mind to balance on the line.
"When I'm out on a line, I'm vulnerable and people are watching," Smith said. "Ultimately everything I do is up to me; my mind and body are in control of what happens next."
Smith's good friend, senior Grace Burden, also picked up slacklining along with Smith, but didn't have the same passion for the sport and now supports from the side.
"I wasn't really sure why she was so intrigued by it because I didn't catch onto it like she did," Burden said. "Now, she's made it into a mental and physical workout and she enjoys it more than anything."
Although slacklining is technically a solo sport, there is a community of people who practice together and find joy in the same activity.
"They are all so supportive and really want you to succeed," Smith said. "This is the first time I've ever come across a community like that and it's a huge part of why I've fallen for the sport."
When Smith freestyles, people can still watch her on the lines as though it were a competition.
"My favorite part of Jovi slacklining is watching the complete freedom she gains by embracing her fears," Landry said. "Others can't help but notice it too, and when I look at them looking at her, it's just awesome."
According to her friends, Smith's newfound love of slacklining has only increased her infectiously positive personality.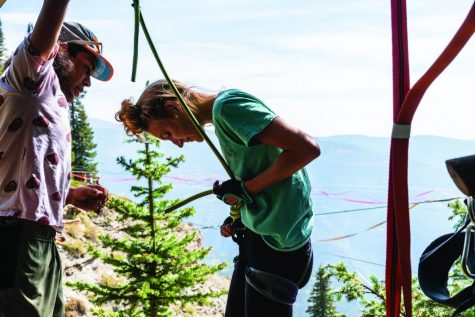 "Jovi has a heart like no other and does so much to make people smile," Burden said. "I'm glad she's found something that makes her as happy as she makes others."
For Smith, slacklining allows for a physical and mental workout, and cleanse while doing something that brings her pure joy.
"To be honest, I used to work out to look a certain way, but not to feel a certain way," Smith said. "Nowadays I just get stronger from practicing over and over again."
When the COVID-19 pandemic hit America, Smith had found a safe, relaxing and time-consuming hobby to keep up with in quarantine, which helped her  get through the troubling time for everyone.
"Initially, I was glad there was an outdoor, seemingly safe activity for her to do when COVID-19 started," Landry said. "It just goes to show that in tough times if you respect yourself and others that good things can happen."
When dangling from a harness in between two mountain tops or balancing on a line over a lake, accidents and falling are inevitable in the sport.
"There's lots of falling in this sport, but that also means there's lots of getting back up," Smith said. "I never liked exercising for the purpose of getting fit, now I just happen to be exercising while doing something really fun; it's honestly a plus to the whole sport."
Through the sport of slacklining, Smith has found a safe haven and a place to express herself creatively and exert physical energy in the eyes of her mother.
  "I am thankful to the slackline community for always putting safety first, and for seeing Jovi as equal, an athlete, a lover of an incredibly exciting sport that has forever changed Jovi's life," Landry said.