Junior dives into abundance of college offers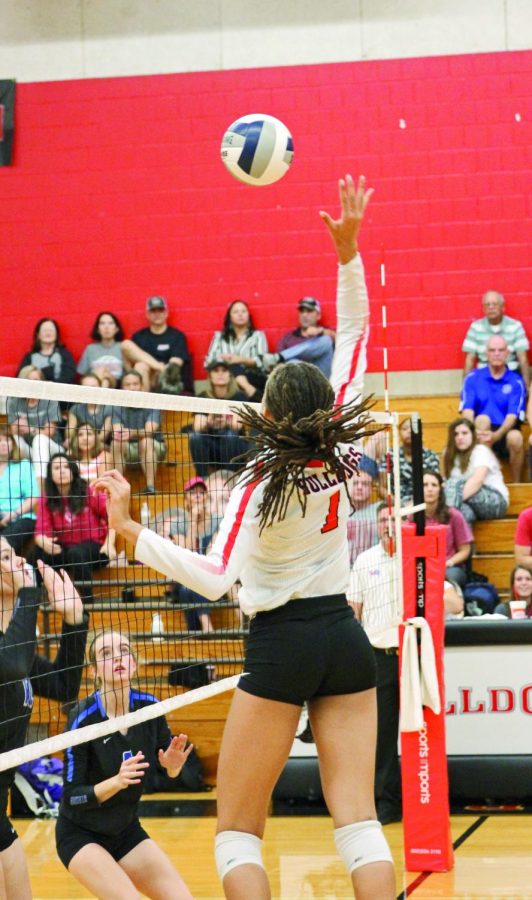 New doors are beginning to open for junior Maya Johnson, for the young student-athlete is already receiving college scholarships from Bethune Cookman, North Carolina A&T, and interest from East Carolina University. Johnson has been playing volleyball since she was 11 when her interest in volleyball first began.
"The main reason I got into volleyball was because of my older sister," Johnson said. "I have always looked up to her and once she started playing volleyball, I decided I wanted to be just like her and play."
The way an athlete trains reflects a lot on their performance in the game, having the resources to be able to receive extra training can provide a leg up for many players. Johnson's dad owns an athletic company that helps train athletes and builds strength.
"I work out with my dad, he is a strength coach, and I workout with him two times a week in season and in the offseason, I go to workout three times a week. That helps me get stronger and helps with injury prevention," Johnson said.
Johnson's teammates recognize her success on the court, junior Evelyn Batista also plays alongside Johnson on the Varsity volleyball team.
"Maya is really good and has improved significantly over the past couple of years," Batista said. "She is a true team leader and sets a good example for the rest of the girls on the team."
A coach is able to see how players develop and perform from a different perspective, as well as how they grow and improve throughout the season.
"Johnson is an overall dominating player; she touches 10 to 1, and she leads our team in blocks and she leads our team in kill percentage," varsity volleyball coach Miguel Saenz said. "She's a very physical, dominating player that we rely on,"
Having a supportive coach can influence an athlete's performance when playing and can also help to build their confidence up during the game.
"Johnson's also a good leader, she's a quiet leader and leads by example, she inspires her teammates with her plays, [and] she contributes on and off the court in many ways," Saenz said.
Many athletes have role models that they look up to and who help to keep them focused on playing their best. Johnson looks up to the Olympian volleyball player, Rachael Adams, who is a member of the United States women's national volleyball team and is a role model for many girls, including Johnson.
"She has helped me become better at higher level volleyball, I have really looked up to her as a volleyball player and as a person, she is what I strive to be as a player," Johnson said.
Johnson plans on using volleyball to help get a scholarship for college and further her education, which is something she has been working toward since high school started.
"My goal is to get the opportunity to play volleyball in college so that I can get a degree in biology and I would like the chance to be able to become a marine biologist and start a career in the biology field," Johnson said.
"
My favorite part about being on the team is getting to spend quality time with the team to connect and make memories with them."
— Maya Johnson
Staying motivated is a very crucial part of becoming a successful student-athlete, many players have their own unique things that make the sport worth playing.
"My biggest motivation to play volleyball is the competitiveness," Johnson said. "I love the high-pressure situations you are placed in and the aggressive side of the game. I love being on a team and going through the ups and downs together."
Being a part of a sports team can lead to different problems that players have to put up with throughout their season, but most athletes are able to find the positive out of these situations.
"Volleyball has made my high school experience pretty challenging because of missing class for games or tournaments, but I've made some really good friends to make up for that," Johnson said.
In team sports, most players have friends that are there to support them and make the whole experience more fun and enjoyable.
"My favorite part about being on the team is getting to spend quality time with the team to connect and make memories with them while we are at practice, games, and tournaments," Johnson said.