Senior commit continues dominance on sand
Sliding through the sand and on the courts, senior Katie Hansen comes closer to her future at Stephen F. Austin University (SFA), one ace at a time. 
According to Katie's parents, Hansen fell in love with volleyball the moment she picked up the ball for the first time. She instantly began practicing daily with her friends and family.
"She lived volleyball, breathed volleyball, and even slept with a volleyball next to her every night," James Hansen said. "She practiced in the house, outside the house and had two brothers who loved to hit the ball at her. We have given Katie every opportunity we could afford to play, improve, and ultimately become the player that she is today."
Katie has been invested in volleyball since the 3rd grade. Her dad inspired her to play after his successful college volleyball experience.
"My parents pushed me to play," Katie said. "My dad helped me understand that it's not easy, and it's definitely a struggle once you get there."
After playing through middle school, Katie started her high school journey strong getting an All-District Honorable Mention. She continued to dominate after her freshman year making varsity as a sophomore.
"In my sophomore year, coach Collins helped me a lot when he knew I was actually serious about it," Katie said. "He helped me get my name out there and helped me win a few district awards." 
Additionally, coach Madeline Evans, the Bowie varsity volleyball coach, has also supported Katie since she joined the team. According to Katie, Evans has been an inspiration, constantly pushing her to be the best.
"Before I was hired as head coach, she came to me with the initiative to start open gyms for incoming ninth graders," Evans said. "This was a moment that I saw her step up as a leader and a role model both on and off the court."
After Katie's successful sophomore season, she made All-District Second Team. She continued improving during practices and dominating her junior year. 
"I committed at the beginning of summer of junior year to Santa Clara in California," Hansen said. "Then I just went through it junior year and I just told myself I'd go for it. After visiting Santa Clara last summer I did not like it and knew I had to commit somewhere else."
Committing to Santa Clara was only the beginning for Hansen. During her junior year, she team won offensive player of the year, team's most valuable player (MVP), and made All-District First Team.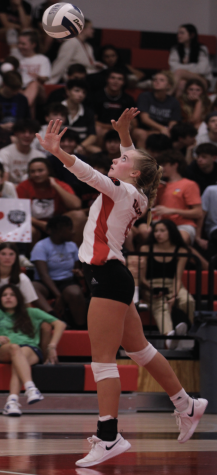 "The main difference that I see now versus when I first walked into the Bowie gym and saw her play is her confidence," Evans said. "Katie brings a serious attitude to the team. Mistakes aren't funny to her. She is not okay with being 'just okay,' she wants to be the best." 
Evans details the hard work Katie displayed to go to college.
"She dedicates everything to her sport," Evans said. "While her focus was on the beach, she made an impact everyday in our gym."
After a conversation with Collins, Katie decommitted from Santa Clara and committed to SFA instead. According to Katie, this change brought concern from friends and family.
"I visited SFA, and it has always been on my list of colleges because I love the coach," Hansen said. "My parents were a little skeptical, but once I found SFA, I realized I'd be happy there, and they became more supportive."
During the postseason, Katie suffered an ankle injury. According to James, overcoming this injury was a challenge for Katie, she continued to focus, train, and grew as an athlete, learning patience and seeked support from her friends.
"She was devastated and upset but was also very determined to come back from it," James said. "She was on the sand again to play in several championship tournaments in July. Her dedication, patience, and grit were incredible to see. She will be successful when she attends SFA. We are all excited for her future."