Online stores grow in popularity during pandemic
Here's a guide to which ones you should shop at during the upcoming holiday season
As COVID-19 cases rise, more and more people have turned to online stores for a safe and easier way of shopping. However, shoppers have to pay attention to many different issues that online stores can present. Online products can range from cheap to expensive, sustainable to wasteful, and more. Paying attention to the company and small details of the website are very important as the seller could be a scam.
One store that stands out to me is the sustainable and high quality store, Reformation. Their clothes are sustainable as well as eco-friendly, but more importantly super fashionable and cute. The high quality beautiful clothes do come at a price though, a very expensive one.
When I ordered clothes from Reformation, I found myself very happy with the outcome. My clothes were delivered to my house on time and undamaged. The clothes themselves were very nice quality and exactly what I ordered. But they did cost a lot of money.
That being said, I rate this store four out of five stars as it exceeded my expectations with both ethical fashion and transparent sustainability practices.
Another popular online store is Etsy. Etsy is a great website where small businesses from all over the world can sell their products, such as clothes, home decor, jewelry, and everyday household objects. I really like the layout of the website and how it looks. It is really simple and easy to navigate.
I have bought many items on Etsy, such as earrings, necklaces, graphic tees, and coasters, and they always come in such great quality and amazing packaging.
Something I like about Etsy is that small businesses really take great care in packaging and giving out extras, and it really makes me happy when I receive extra small items with my purchase. More than half the time, my purchases also come in sustainable and eco-friendly packaging.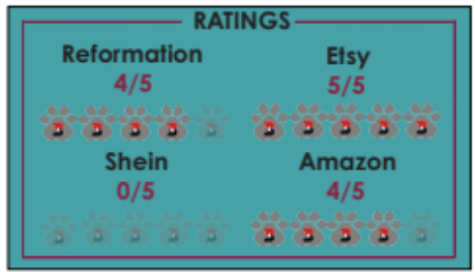 Overall I would rate Etsy five out of five stars. The prices are great and, in my experience, items come fast and are of great quality.
One online store that is highly popular right now is the online store Shein. The social media app Tik Tok has exposed many people to this store as it is a very inexpensive alternative to the mainstream clothing prices.
Cute clothes starting at three dollars certainly appeals to many young people as it sounds like a great deal, but I believe that shoppers should always pay close attention to where they put their money. You definitely get what you pay for.
When I ordered from Shein I came to find how unorganized and fake the online store is. My clothes took two months to come and when they did come I was very disappointed. The clothes looked completely different than they did on the website and the material felt like plastic.
It's a good thing I didn't pay very much for them though. I have yet to wear the clothes and don't plan on it.
Something that I found interesting about this store is that it is exactly the same as Zaful and Romwe, two other highly popular online stores. The websites have the same exact clothes as if it's the same store but with a different title.
This shows how much of a scam this store is. You also have to be careful of the information you give this site as it has been known to hack your email.
Overall, I rate the store zero out of five stars due to the poor quality of clothing and the long shipping time.
The last online store I recommend checking out is Amazon. I'm sure everyone knows about Amazon and a lot of people use it. But not many people know the range of items you are able to get on the website. The items include furniture, food, clothes and more.
Amazon has started as a small website and grown into a house-hold brand name that sells millions of items from millions of companies and small businesses. With Amazon Prime, purchases can arrive in two days or less.
I order from Amazon very often and am always pleased with my purchases but you have to pay attention to where the item is coming from. Some items can be sketchy and can come differently than what you expected. Most times this is not the case as long as you pay attention to what you're buying and read the reviews.
I rate Amazon four stars out of five because of the fast shipping and the good quality of their items. I definitely recommend using Amazon to shop for whatever you need.
I highly recommend online shopping as it is an easy alternative to going shopping in-person and a way to help prevent spreading COVID-19.
You can also get a lot more deals and save money when browsing online. However, shoppers have to pay close attention to exactly where they are shopping, because being online there is a chance that what you get is not what you ordered.