Cabaret moves toward a new direction
Cody Parrott steps in as newest choir teacher and forwards innovation for Bowie choir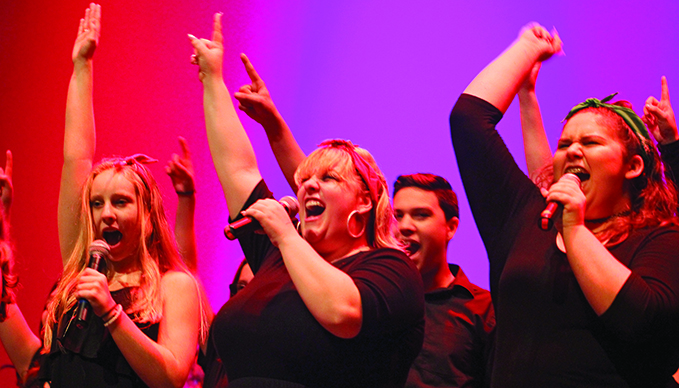 SHOUTING LOUD: Sophomore Lexi Lornez (left), senior Crosby LaGrone (center), sophomore Eric Larson (center right), and sophomore Catalina Hill (right) join their voices for one last shout as the show comes to its close. On the stage, every cast member wears their colored handkerchief proudly as they join in to fill the theater with the ear-vibrating shout. PHOTO BY Preston Rolls
It was a night that the audience wouldn't forget. Cabaret, the Bowie Choirs' annual performance, had a new teacher, a new story, and a new direction. But before show, titled Songs of Sin, could begin, a humble teacher with a vision for the Bowie Choir by the name of Cody Parrott would walk on stage, clear his throat, and explain to the audience of how this was a night they wouldn't forget.
In the past, the Bowie Choir has always taken backseat to larger extracurriculars such as football or theater. With Cate Gasco having left her position as the choir teacher, Parrott stepped in to ensure that both the choir and Cabaret would need to have stricter discipline as well as new direction. The stakes were higher than ever before, as Cabaret is the most important show for the choir.
"The success of Cabaret sets up our entire year. If we don't do well at Cabaret then the rest of the year for choir isn't fun," junior Andrea Griffis said. "So, they can't feed us most of the time, all of the money just goes straight to athletics and to other things that people see as more important."
Knowing that Cabaret's success would hinge on the leadership of its two directors, Blake Moyer and Cece Sanchez, Parrott offered a new solution for some of the empty audience seats during past Cabaret shows.
"He helped us in the audition process by listening to people with us, and he was there when Blake Moyer and I created the story line and he had some input on what would maybe work and would not work – just to play with it," Senior Cece Sanchez said. "He didn't take over this – it was basically all us."
The show itself centered around the plot of the relationships between the colors Blue, Green, Red, and Purple, with each of them getting involved in a romantic relationship with one another. Wearing all black, choir members would don different bandannas with one of the four colors to represent the each of the characters in the show.
Overall, the show symbolized gender neutrality, and the changing cast members throughout the show represented the underlying focus of this years Cabaret on the performance being tied to a chance for every choir member to shine under the spotlight.
"I feel it's for the choir members," senior Blake Moyer said. "It's got freshman, and it's a great way of bringing people together, and it's a great way for getting the choir program more involved in the theater program."
With just a meager two weeks to prepare for the Cabaret performance, choir participants worked furiously each day after school until 6:30 p.m. for the first week, and until 8:30 p.m. for the second.
On top of this, the show placed a large emphasis on the performance aspect, including dance routines, passionate moments of acting, and a general attitude which emphasized Cabaret's necessity for being bigger and more ambitious than ever before.
"If Cabaret is still at the same caliber as it was this year, I feel it's a good way of bringing in the theater music as well," Moyer said. "So, this is a step in the right direction for improving both the theater, the choir program, and our dancing. While [the dancing] is nowhere near what Silver Stars is, if it keeps improving, maybe in the future there could be some coexistence between dancing and choir. Right now it's more acting, and we're closer to working with theater and making that more interdependent than dancing – but, that'd be great to see in the future because then you get the triple threats."
Parrott may have been calm and collective during his speech to the audience before the start of the show, but his replacement of the beloved Gasco, the last choir teacher, has given wake to a strained relationship with those unaccustomed to Parrott's new direction. Murmurs began as soon as he filled the position as the choir teacher. Rumors that he was possibly too strict or direct with students.
"I honestly love Mr. Parrott. I think he's going to be amazing for this choir in order to get us to a new standard – he's going to make us so much better," said Andrea Giffis. "But there's been a lot of choir kids who loved Ms. Gasco so much and they're just not giving Mr. Parrott a chance. They talk back to him, they treat him like crap, and you can tell in calls he's nervous because he feels like we don't like him. It's just so sad because one on one he's one of the most amazing people I've ever known."
Thankfully, this year's Cabaret was a huge success with its audience. Having rolled the dice, the director's gamble for a newer, brighter future for Cabaret had payed off.
"I think it went over really well, a lot people like it we had a lot of compliments from like past directors, and people who had seen cabaret for years on end, about how this is one of the best shows they'd seen, and how we'd done really well with it." Sanchez said.
While the show turned out to be a hit, the directors had a plethora of obstacles to overcome. These challenges didn't just involve the replacement of Gasco, it involved new leadership positions throughout the choir.
"We have a new director, we have new Cabaret directors, we have a new booster club president, it's just a wave of new ideas and that's just bringing a whole bunch of different stuff to the table that we can take, we can use, or we can keep it the same," Moyer said. "It's just – it's helped us branch out in new directions by having a new director. Now I love Ms. Gasco, don't get me wrong, but it's also very interesting to have a new perspective on things.
Looking towards the future of Cabaret, in light of the show's success, Moyer draws upon the analogy of fixing a broken window by using putty to seal the crack with the choir's past direction.
"I would say this is a long term fix. I would say that in the past, doing two directors, doing a set list has been the putty," Moyer said. "In that, it hasn't really worked sometimes but it has, and so this is a more long term fix because if you could do that in two weeks imagine what you could do with a month."