Every October Austin is flooded with excitement as celebrities and tourists alike rush into the city to strike up the band and attend the Austin City Limits Music Festival, an Austin staple for many decades. This year four Bowie students will gear up to become a part of this long-living tradition as they take the stage at ACL's kid-targeted event, Austin Kiddie Limits.
Bowie students Alex Frost, Kobe Johnson, Gavin Carney, and Corbyn Haley will take the stage at Austin Kiddie Limits this year performing as a part of their music school, the School Of Rock.
Justin Pratt the show-runner for House Band which is the top band at School Of Rock aids the students in all things music as he helps them with preparation for the show.
"We do a lot of outside School of Rock events," Pratt said. "We've played neighborhood parties we've played public festival events"
Taking the stage at ACL will be nothing new to the seasoned members of the School of Rock house band who have played in and around Austin.
"We played out in a place called the 310 which is actually underneath the Moody Theater downtown," Pratt said. "We played a Fourth of July celebration event at the Hill Country Galleria."
The opportunity to play ACL was given to another Austin location of School of Rock until last year when the Southwest location was offered the opportunity.
"The Anderson Lane location has been doing it for a couple of years now," Pratt said. "This will be the school's first time playing an ACL."
According to Pratt, the performance itself is taking place in the portion of ACL dedicated to the children of parents attending the festival dubbed Austin Kiddie Limits.
"It's just kind of a low-key thing, it's the daycare center of ACL," Pratt said. "There are drum circles and ice cream trucks."
Although the performance itself takes place in a subsection of the festivals, the performers will get the opportunity to explore the rest of the festivities after their own performance.
"They still get a chance to get the real ACL gigging experience because they get backstage passes," Pratt said. "They can go to this village and meet all their heroes who are playing that event."
According to sophomore Alex Frost, the group meets each Monday to rehearse for the show. Frost hopes for the performance to be a fun opportunity to improve his stage presence.
" I'm just excited to have energy. Yeah, hopefully not be boring," Frost said.
Frost has been interested in music for most of his life, plays multiple instruments, and has been taking music theory classes here at Bowie.
"It started in second grade," Frost said. "Someone brought up the idea of playing the drums, and I just wanted to beat stuff."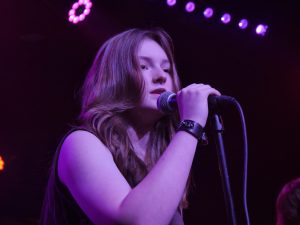 All of the Bowie students in the house band are underclassmen including freshman Corbyn Haley who plays multiple instruments and sings. She joined School of Rock two years previously.
"I started in sixth grade at my school. I was in a little guitar class. And that made me get into the guitar," Haley said. "I did a trial lesson at School of Rock and enjoyed it."
Haley who has only been at the School of Rock for a short time has used the program to her full advantage with multiple professional gigs students' instruments can change from gig to gig giving them ample opportunity to decide what they like best.
" I play guitar, bass, sometimes keys and I can play a little bit on drums but it's not my main thing," Haley said.
According to Pratt students are encouraged to get out of their comfort zone in order to discover which instrument they enjoy, and hopefully learn multiple in the process.
"If they play guitar, they sing a little bit as well," Pratt said. "Alex plays keys as well as drums, and Gavin can pretty much play anything you throw at him."
Naturally, the group strives to get as much practice as they can. Sophomore Gavin Carney, a member of House Band, started out playing the drums but now plays many instruments.
"We have all become good friends in the program," Carney said. "There are about ten of us and we are all comfortable with each other on stage.
Long practices aside the group focuses their musical expertise spans multiple genres, focusing mainly on covers of songs although they strive to eventually perform original songs along with their covers.
It's awesome to witness a group of Bowie students performing at such a big event! It's always inspiring to see a student-led music program thriving.
— Odin Lowe, senior
"We mostly do covers of songs," Carney said. "We do have one original song we rehearse but I don't think we're going to perform it."
For now the band sticks with covers that their audiences will know and love according to Carney covers allow the band to focus on stage presence and engage the audience.
"I think we all feel more comfortable with cover songs," Carney said. "Usually they're songs we know so it goes much smoother."
The performance is met with an overall positive response from the Bowie student body who are excited to see their peers perform on stage. Senior Odin Lowe an avid music listener and member of the band looks forward to this opportunity.
"Awesome to witness Bowie students at an event like that," Lowe said. "Always cool to see a student-led music program performing."
This hardworking group of student musicians will spend the next couple of weeks preparing for their performance while simultaneously balancing school work and social lives.
"I'm amazed by all four of their time-management abilities," Pratt said. "Their commitment to managing so much and still being able to bring their A game is impressive."