Pride Week highlights importance of inclusivity
Every year in March, AISD hosts Pride Week, a celebration of LGBTQIA+ students and staff with the goal of creating a more inclusive and supportive environment. This celebration began on Monday, March 21, and lasts until the end of the week.
Though AISD provides schools with suggestions of ways to celebrate, Bowie is doing something a little different. Bowie has been hosting SEL sessions including a nail painting party, Pride Flag scrape painting, and Queer Eye episode viewings during FIT periods. These sessions were organized by English teacher Chelsea McCaffrey.
"It's important to me as a teacher to not put this work onto our students who are part of the community because I feel like they have to do a lot of work to justify their existence, which is really unfortunate," McCaffrey said. "I know that myself and a lot of teachers on this campus want to do that work to show them that they don't need to do that work and that we accept them for who they are."
SAGA, Bowie's Sexual and Gender Alliance Club, is also contributing to the celebrations. They have highlighted important figures in LGBTQIA+ history during the morning announcements and hosted a table during the No Place for Hate Parade. They also hosted an open mic poetry reading and coffee house during FIT on Friday, March 25.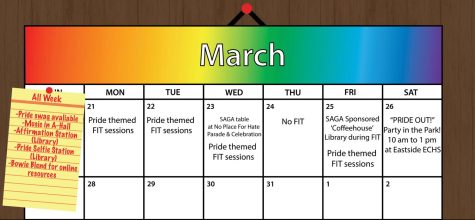 "I think poetry is a really good way to elevate voices of marginalized communities because it's people speaking about their experiences and having their perspectives and art in the world," SAGA sponsor Bree Rolfe said. "I think it's even more important for the students who are reading their own original work to have a space to safely express themselves and share their creativity and perspective, and it shows that we value those voices."
Senior Lindsay Nixon read Sappho's 16th poem at the reading. Several students presented both their own poems and poems written by LGBTQIA+ writers.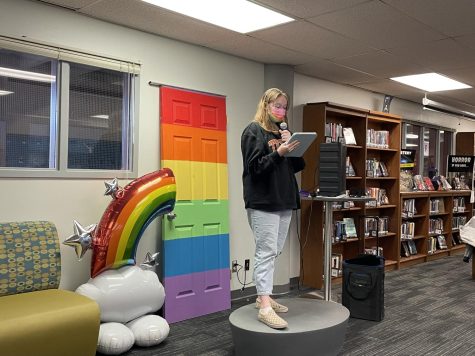 "The reading was fun," Nixon said. "I liked watching a bunch of my friends read their own poetry. The experience was awesome although there were a few people who talked through it."
Along with all of this, AISD will also be hosting a "PRIDE OUT!" party at the Eastside ECHS park.
"Pride Week is a really nice time to show other people, especially people that might be more uncomfortable with being out or telling their friends and things like that, there are people like them and there are people that will support them with who they are," Senior El Wechsler said. "It's for the people who are already comfortable and confident to show other people that they can be comfortable and confident too."