New Year's resolutions: are they helpful?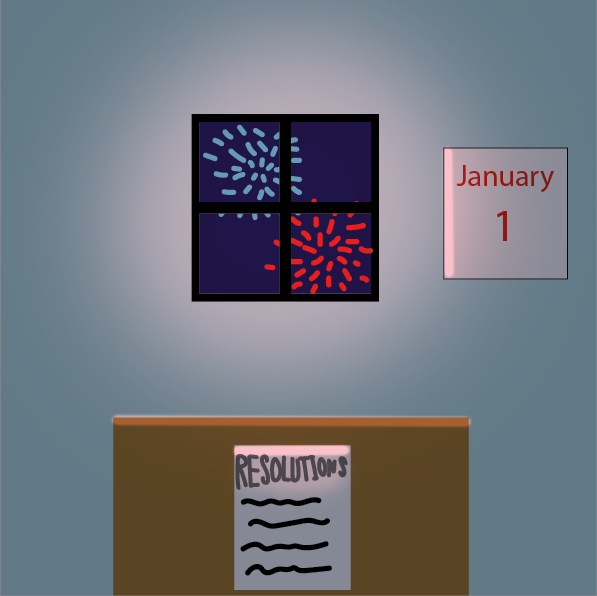 With the beginning of 2022, it seems as if the beginning of 2021 was just yesterday, and we were all thinking of our 2021 resolutions. With the new year just beginning, New Year resolutions are a topic that are being brought back. Personally, I never end up keeping my New Year resolution, and I feel like I speak for a lot of people when I say that.
New Year's resolutions originated from the ancient Babylonians when they would promise their gods that debts would be repaid and borrowed things returned. Over the course of history, these resolutions slowly started becoming goals that one would promise to achieve within the new year. Unlike the Babylons who made promises to the gods, New Year's resolutions are now considered to be for yourself, and improving yourself.
I think it's safe to say that New Year's resolutions are usually not kept. I don't remember the last time I kept a resolution for New Years, but I do remember my resolutions would always be similar to the one last year. And I also remember that I rarely ever kept a resolution. My resolutions would always be along the lines of "get better grades" to "try and be a little happier this year". But no matter what, I would end up forgetting about my resolution, or just not have motivation to keep a resolution. I made a short survey about keeping New Year's resolutions, which I had a lot of my friends take. The results were that 20% percent of them found it easy to keep resolutions, while 80% of them would break their resolutions within the first 6 months. 
I think the reason why resolutions are so hard to keep is because people lose motivation extremely quickly. Keeping a resolution for a whole year seems like a long time to a lot of people, which is true to an extent. One year breaks down into 12 months, and the number 12 is a big number considering many days are in a month. Attempting to keep a resolution for a year eventually seems like it would be impossible, and in most cases people lose motivation to keep their resolution because of how long they know it must last. This usually happens to me, and it has made me realize that resolutions are only a thing for a short amount of time, but never kept. 
I think the best advice on how to keep a resolution is to never forget it. If a resolution is always in the back of your head, or anywhere in your head, you will most likely never lose motivation. At least for me, I am trying harder to not forget my resolution, and it seems to be working. My resolution for this year has been to stop procrastinating and get what I need to get done first (in most cases, homework). Lately, I've been starting to do my homework before doing anything else, like playing games with my friends and forgetting to do homework. I am probably the biggest procrastinator out there, and tried to make it my goal this year to not procrastinate as much anymore. Of course, there are days where I will neglect homework to do other things, but slowly, I am starting to procrastinate less and less. 
With the start of this new year, resolutions are probably not taken seriously as much anymore. But I firmly believe that with a good resolution and a positive mindset, it is possible to keep your resolution for the entire year.