Theatre takes a journey 'Into the Woods'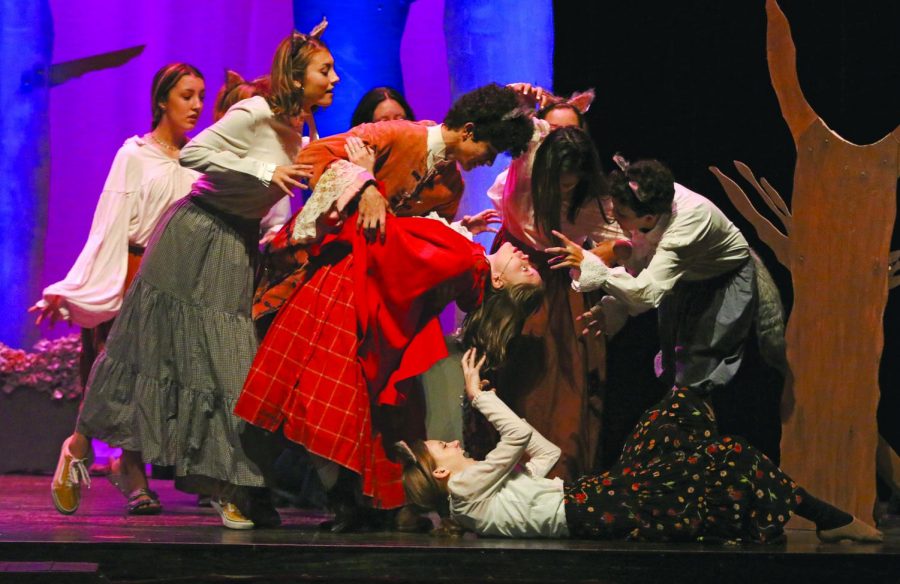 To listen to the latest podcast for a behind the scenes look at Into the Woods click here!
Advanced musical theatre classes produce their take on another classic production
As the curtain opens and the spotlight reflects off the stage, you can almost feel the audience's anticipation and excitement in the air.
Students in advanced musical theater recently put on two captivating performances of their rendition of 'Into the Woods', a musical about multiple fairytale characters who go into the woods to follow their dreams.
"Into the Woods follows multiple storybook characters such as Little Red Riding Hood, Cinderella, Jack and the Beanstalk, and the addition of a story about a baker and his wife gathering things for a witch," sophomore Ariana Ritzie said. "Everyone goes into the woods to achieve their greatest wish."
Students in the past have put on shows such as Chicago, In the Heights, and Urinetown but this year they wanted to try something new so they picked Into the Woods.
"We were looking for a production that would challenge them and we wanted to use material from a new composer we hadn't worked on previously," musical theatre teacher and director Marco Bazan said.
Bazan helped to produce this musical along with the help of students.
"I helped produce and work on some directing," Bazan said. "This is a self-directed student product, so my job is to make sure it comes together."
Into the Woods is set in a fairytale land where the audience gets to see into each of the characters lives.
"Cinderella has been abused for most of her life, so she just wants to escape for one night," junior Rachel McBurnett said. "When she goes to the ball, she happens to catch the prince's attention and he helps her leave her abusive house and live in a paradise."
McBurnett, along with others, knew exactly what role they wanted to audition for.
"I have worked on Cinderella's main song 'On the Steps of the Palace' in the past, so I figured I may as well audition with that song," McBurnett said.
While some who auditioned knew exactly what they wanted to be, others had no preference.
"I tried out for any male part and got put as Rapunzel's prince which I guess is technically a lead," sophomore Matthew Cluchey said. "I just wanted a part I could have some fun doing."
Although there were challenges, McBurnett fought through them with a positive attitude.
"Traditionally people think of Cinderella as a thin girl, and I am obviously not that," McBurnett said. "My friends convinced me it didn't matter, and it turned out the directors agreed."
Being apart of a production sometimes involves both inside and outside of school activities.
"My favorite part about tech is that we all try to help each other out when possible," Ritzie said. "During the show we have mic tape and we needed some special tape called Tegaderm so I went out to buy some for the crew to use."
"
I really like working with the people in the production. Our directors, Cantu and Bazan, are great and the people make it a really enjoyable experience"
— Mathew Cluchey
Everyone involved in the production had fun doing their part and they each created new memories.
"My favorite memory was probably whenever I had to wait with whoever played Rapunzel, and both of us freaking out and waiting for our cues to go onstage," Ritzie said.
Overall, the cast of the production said that everyone involved made this experience amusing.
"I really like working with the people in the production," Cluchey said. "Our directors, Cantu and Bazan, are great and the people make it a really enjoyable experience."