Pictures flash across a screen conveying a story that may only be 3 minutes long but took months for one person to produce. Welcome to the world of animation.
Senior Joopsy Addison has been animating since she was in sixth grade, but really got into it during the COVID-19 lockdown years. Growing up in a family of artists, she enjoys the art of animation and doesn't plan on stopping anytime soon.
"I animate because it's my passion," Addison said. "I've grown up in an artistic family with a painter mom, and a sister who's majoring in art, so I've just always liked it and wanted to learn how to do it for the future."
Branching out from her family, however, Addison chose animation over more traditional, physical art forms. 
"I feel like with animation, you can have multiple parts and sequences where you can convey different emotions, [but] if it's one still drawing, you can only convey one thing," Addison said. "With animation, you have audio and all that stuff, so you can create a story."
Addison is now in Bowie's Animation and AP Art Studio classes.
"I've learned most of my technique through YouTube videos, but animation class has given me the time to really dig deeper into my technique," Addison said. "It gives me opportunities to really work on what I want to work on."
One of Addison's big inspirations in the Animation field is Jaiden Dittfach who's known online as Jaiden Animations.
"She's an incredible animator and I've watched her since like fifth grade," Addison said. "That's who really inspired me to make YouTube content because I was like, Oh, she's really cool."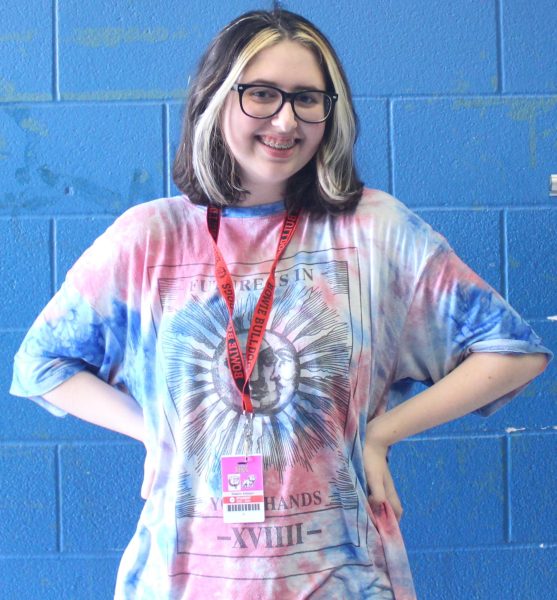 Addison now publishes many of the animations she does on YouTube, Instagram, and sometimes X, the app formerly known as Twitter, having amassed 91K subscribers on YouTube under the username Liviart. However, Addison's biggest following is on TikTok tok where her mini-animations have attracted 320K followers under the username Livviartt.
"My go-to is TikTok because that's where I have my biggest following of 320,000 followers, I post there mostly because it's pretty easy,"  Addison said. "I just draw characters talking to an audio and it's more fun because it's really easy. On YouTube, I post, like, three-minute-long detailed audio-edited videos, but on TikTok, I can just sit down and draw for 10 minutes, post it and everyone will see it.
While enjoying the fun of posting animations for everyone to see, Addison also embraces all the stress that comes with posting things on the internet
"It's stressful because there's a lot of eyes on you and there's also that feeling like you're walking on eggshells," Addison said. "If you say the wrong thing people will be like so and so is canceled because of this. That's definitely something that I'm wary about, but I've gone for like four years with nothing bad happening."
Although Addison thinks her friends find her videos kind of "cringe" her friend Melina Lopez Ball admires her confidence, and comfort posting her animations online. She also admires Addison's animation style.
"Her style is very cute and clean," Lopez Ball said. "I really admire how confident her lines are, how dynamic she can get her poses, and the way she translates it into animation. She does such a good job with emotions and just does such a good job of telling a story."
According to Addison her friends and family are really supportive of her posting videos online, and her older sister Arwen Addison seems to be following in her footsteps.
"After I started growing online, she started her own art account, and she's been getting some followers too," Joopsy said.
While Arwen posts her own personal artwork and animations, Joopsy posts many animations based on Genshin Impact, a game that she draws a lot of inspiration from.
"My ideas can form from pre-made content, like if I base it on a video game, I'll already have the stuff that happened in the video game," Joopsy said. " I'll kind of reinterpret it into my own stuff."
Joopsy also has brainstorming sessions to come up with ideas.
"I'll just be in my bed laying staring up at the ceiling and just listening to a random song on repeat for like an hour, trying to figure out what I want to do," Joopsy said.
After an idea is formed, the animation process starts.
"If I'm really inspired I'll just jump straight into it, no storyboarding, I'll already have it all in my head, " Joopsy said. "If I'm not that confident in it, I'll have a much longer process."
The first step in Joopsy's animation process is picking a sound.
"I'll go on Apple Music and I'll just listen to a lot of my saved songs, and I'll try to pick one that fits the vibe I'm going for," Joopsy said. "If I can't find one I'll go on YouTube and Search up the orchestral versions of a song I like."
Once the sound has been picked it's time to storyboard.
"I'll just kind of start imagining it in my head and I'll storyboard it," Joopsy said. "I'll jot down little drawings and doodles of what I want to do."
After the plan is formed Joopsy can start animating. Her home setup is an iPad, a pen, and a $10 animation app. However, being in the animation class gives her access to a monitor along with animating equipment. 
"When I'm done with something I've worked on for a really long time I kind of hate it, I'm tired of the project and I just want to be over it," Joopsy said. " I could be working on something for three months and be so tired of the song and the content that I just throw it onto YouTube and pray other people like it, but then sometimes I really like the animation I made. It just depends on how it turns out in the end."
As a senior going into college soon, Joopsy has been devoting more of her time to character design.
"I've started creating my own characters because that's something that college portfolios like," Joopsy said. "I had to bite the bullet and do that even though I'm not a big fan of doing character design because I just feel like I'm not very good at it. When I make my characters I think of a story first, I think of who I want to be the main character, but I don't think of their gender, I don't think of what they look like, I just think of what I want their personality to be like."
Something that's helping Joopsy move towards an animation career is her presence on social media. She has been able to create a community and get her work seen by a variety of people. Although Joopsy posts her work on multiple social media sites and has her biggest following on TikTok, she believes that YouTube is where her work is most accurately represented.
"I would definitely say my overall potential is better represented on YouTube because that's where I have like my long videos that took me months to make," Joopsy said. "If someone was like, oh, show me your best video, I would not go on TikTok."
Video courtesy of Joopsy Addison
According to animation teacher Andrew Nourse, Joopsy's animation style is almost professional level.
"Her animation style is very entertaining and successful because she knows how to create interest for the viewer through her use of storytelling, momentum, and the magic of animation and accurate motion," Nourse said. "She often hooks the viewer quickly in her productions with a quick message, appealing characters, synced audio, and clear purpose and then impresses them with more charismatic characters, good story progression, and unique styles."
Developing an animation style can be something important going into an animation career. Joopsy is hoping to be able to go down the animation path as a storyboard artist. 
"In the animation career path you're assigned to a certain thing, you're assigned to the rough animation, the storyboard, the rendering, etcetera," Joopsy said. "I personally would not like to work with the, really, really, really rough draft because I always feel like oh, this won't look good, but with storyboarding, you're allowed to be messy, you're allowed to have creative liberty.
Video courtesy of Joopsy Addison
According to Nourse, Joopsy has good potential for the animation field.
"I can definitely imagine Joopsy going into the animation field and being very successful at whatever area within it she pursues," Nourse said. "She's the type of animator with qualities, skills, and passion that could benefit any company."
Moving forward to college soon and possibly an animation career, Joopsy leaves behind some advice for new animators.
"Do not jump straight into it, you're going to teach yourself things that are not correct," Joopsy said. "You should watch videos. I hate this but do the bouncing ball practice. Every animator starts out by animating a ball that bounces on the screen, it's just a good way to learn multiple techniques like the squishing stretch. Just watch a lot of videos, do your research, and don't jump straight in like I did because it took me like two years to get out of my bad habits."
According to Joopsy, those who wish to post animations or really on the internet just need to be persistent. 
"Don't be afraid to go for it, don't be afraid, and don't be like oh no one will see this, no one will like this," Joopsy said. "It's freaking hard to grow on the internet, I was lucky that my first video blew up, but it can take you a long time. Don't let it diminish your talent and don't let it make you feel like you're not good enough because people aren't seeing your work. No matter what you think, you are good enough."