Bowie band gives back through different organizations
Lacking the confidence, know-how, and resources to gain literacy skills, youth all around central Texas struggle to learn how to read. Book Spring is a non-profit serving the community to help combat this issue, and the Bowie Band is there to help.
Bowie Band Gives Back is a non-profit event sponsoring local charities from all across Austin helping those in need, such as Book Spring, Austin Humane Society, Carrying Hope, and more. Senior Leah Gonsalves, a member of Bowie's student council and the Vice President of Community Outreach, had the ambition to come up with this charitable idea as well as take charge of it.
"I wanted to do something for the community, so inviting non-profits and helping them get their mission to high school students will be really beneficial to the community," Gonsalves said. "We need to give back to the community. We are the center of South Austin and one of the biggest schools in the district, so it's now time to give back."
While the event was originally supposed to take place on Martin Luther King Jr. Day it had to be rescheduled to District of Innovation Day due to illness, weather, and scheduling issues. Although the change may have seemed bleak at the time, some would say it was a blessing in disguise. 
"We all talked about how to do it at a time which is better for the community and it was decided that this was a really good day because since it is District of Innovation day it would link in terms of the cultural competencies that we're trying to teach during this time," Director of Bands Garth Gunderson said. 
Following the schedule change, the event also adopted new activists to honor; Dolores Huevas and Cesar Chavez.
"It is the day of service and honoring what those two remarkable figures  have done for the Mexican American community. We're honoring them by giving back to the communities in need," Gonsalves said.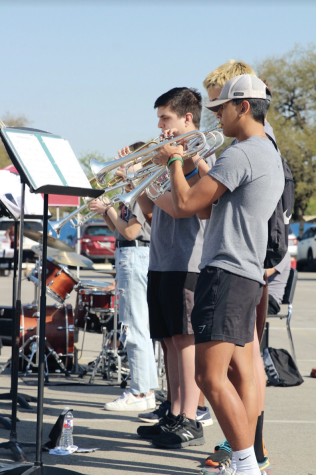 Although a large number of non-profits were able to be in attendance, the event couldn't take place without student volunteers. Senior Band President Cadence Brauzon shared her thoughts about attendees before the event took place.
"I thought it would be a lot easier [to get volunteers] but a lot of people don't want to go to Bowie on a Friday that we have off in the morning. So it was harder than I thought it would be," Brauzon said.
With Gonsalves and Brauzon sharing similar unease, Gonsalves shared her thoughts after the event took place.
"Everything was covered. [We thought] it was nice how they were willing to give up their Friday to come out here," Gonsalves said. "We were worried because we realized not many students would want to come out on a Friday on their day off. Apparently we were wrong because a lot of people showed up."
With the main purpose of the event existing to support local non-profits, people were asked to optionally sign-up to bring donations to help those in need. Because of this event, every donation slot for the event's goal was filled with enough books and supplies to carry that the use of carts became necessary.
"It was a good event and I hope they can do it again in the future. We got so many [donations] that we needed to get so much manpower just to carry them," Gonsalves said.
Band was able to raise awareness and support for these organizations by receiving donations, hosting booths, and putting on performances. The success of the event creating a shining light on how she can impact the community, Gonsalves is already looking towards the future.
"I'm going to graduate next year so I hope someone can take it on and improve it," Gonsalves said. "I was just thinking how we can help out more and how we can get every group of Bowie involved.. Everyone's in their own little bubble, so I wanted to try and connect everyone with each other more."