Senior raises funds for BLM movement
How designing and distributing a yard sign sparked more awareness and conversation
From nationwide protests to ongoing debates and conversations, there is something new in headlines every day. Out of these headlines come more topics, issues, and organizations that make up main events today.
Senior Vivian Howard has honed in on one important organization to advocate for and educate others on: the Black Lives Matter movement. With the creation of a unique and original yard sign, Howard has found a unique way to spread information and resources throughout the community.
"I made Black Lives Matter yard signs and sold them in my neighborhood for donations," Howard said. "Then I donated the money to Color of Change and the Austin  Justice Coalition."
Howard's actions have even been recognized by major news and media outlets, who were interested in her story.
"My signs were posted and shared around Facebook and reached some freelance writers, who pitched my story to Teen Vogue, which was then picked up by Scary Mommy," Howard said.
In the beginning, there was no plan to mass distribute these yard signs. It was only when her original sign was stolen that Howard realized the need for something more.
"My mom posted a picture of it on Facebook saying we were disappointed someone took it down, and that's when people started asking if I could get them signs to put in their yard," Howard said.
Howard came up with an efficient way to get these signs out to people and quickly raked in more than $2000 in donations, which was matched by a law firm in Austin.
"I used a local printer and made a digital version of the sign people could print," Howard said. "Overall, I gave out about 70 signs."
One recipient of these signs was senior mom Kim Tillisch.
"We wanted to support Vivian in keeping the deep-seated problem of racism in our society front and center," Tillisch said. "As a civilization, we shouldn't accept anything other than true equality for all."
Howard's efforts have not gone unrecognized by those who have her signs and display them in their own yards.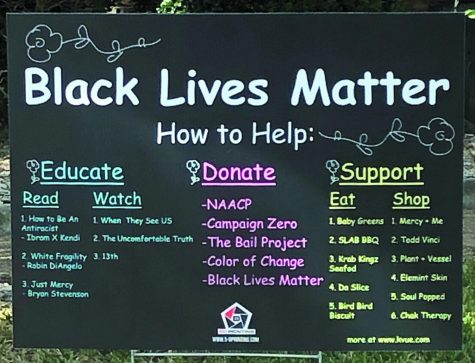 "I think Vivian's efforts have already had an impact on opening people's eyes to the injustices swirling around them," Tillisch said. "Her message is about empathy and compassion for others and trying to put yourself in their shoes in order to understand why we need to make changes."
Howard's original idea came from a variety of messages she saw in her social media feeds.
"A lot of people in my neighborhood were saying some super disappointing things on our neighborhood Facebook group," Howard said. "So I thought it would be good to educate some people in the neighborhood with a sign that has things you can do to help the movement."
The focus of the sign is to display information about and how to support the BLM movement.
"It's important because I know there are a lot of people who want to help and learn, they just don't know how, so it is a nice resource to have around the neighborhood," Howard said.
Yard signs have become an everyday sight and can be used as a reminder of discussions that are being talked about right now.
"I think yard signs keep issues on the forefront of people's minds, especially when they see the signs on a regular basis," Tillisch said. "It is absolutely not okay for others to take down other people's yard signs though, even when we don't agree with those around us we have to respectfully disagree.
Howard's main goal was to make her neighborhood the most inclusive it could be.
"I honestly was just so angry and tired of the people in my neighborhood being uneducated about racial injustices," Howard said. "Trying to educate anyone who walks past a sign was the goal."
Students like Howard are also using their voices to advocate for the movement. Senior Christian Walker agrees the conversation about this situation is deserving.
"Black Lives Matter is not about the organization, I believe in the ideology that says Black Lives Matter, too," Walker said. "The best way to educate yourself is to ask people of color that you know, about their experiences with racism and micro-aggressions."
When talking about a subject like this movement, it's important to be clear on the thoughts behind it.
"Some people think Black Lives Matter means Black Lives Matter more than other lives which is not true," Walker said. "We want to be seen as equals in America and we want to bring light to the system that was designed against us."
Walker also shares his own resources to stay informed and updated with BLM.
"There are also different Instagram accounts such as 'soyouwanttotalkabout' and 'change' that have really good information about [BLM] and other injustices happening all around the world," Walker said.
"
When I first put up the sign I expected it to be a very small piece of activism, but when it got taken down it turned into something so much bigger."
— Vivian Howard
Being an ally for this movement stems from education and willingness to make a change.
"It's our responsibility to educate those around us and make them understand why everyone deserves to be treated with respect and dignity," Tillisch said.
While learning and staying educated is an ongoing process, it's important to realize the power of words while in this conversation.
"I hope more of the kids in our predominantly white school will think twice before they say things, learn, and realize their privilege," Walker said.
This display of advocacy and activism has allowed Howard to learn how much her voice matters.
"I see now that one person really can make a difference," Howard said. "When I put up the first sign I expected it to be a very small piece of activism, but when it got taken down it turned into something so much bigger."