Delicious tradition returns to campus
Culinary students prepare silent auction and dinner to raise money for next school year
The clang of metal pans, shouts from culinary students, and the comforting chaos of the kitchen envelope the group as they add the finishing touches to their guests' plates. 
After the event's three-year hiatus due to the COVID-19 pandemic, Bowie's culinary department has brought back the return of their gourmet dinner and silent auction fundraiser. The entire night required months of preparation and was all student conducted. 
"It required a lot of organizing and communicating. The first step was getting all of the students on different committees," Chef Kathryn Bugni said. "I would say it was an entire semester worth of work."
The students were divided into various sized crews and assigned specific responsibilities during the time leading up to the event.
"There's the front of the house crew, that's gonna be your hostesses and waitstaff. They're focused on the dining room and decorations. Then there's the back of the house crew, which is focused on finding recipes and master-cooking them, or increasing the yield," Bugni said. "Then the auction was a whole separate committee and they had to reach out to businesses and ask them to donate items for the evening."
Bugni is a Bowie Bulldog alumni, as well as a former culinary club student. Returning to Bowie to teach culinary, and now being able to participate in this event once again, has a special meaning to her.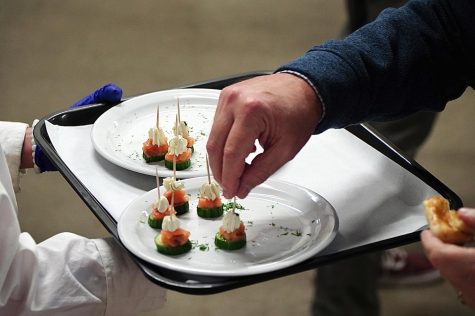 "I did a similar event my senior year. We called it Gourmet Night and we also did a silent auction," Bugni said. "So, it's historically been done to raise some extra money for equipment, but yeah, with COVID we weren't able to do this, so we're finally bringing it back after a two or three year pause." 
In addition to Bugni's guidance, senior club presidents Paige Watson and Dante Campero-Campion helped organize the event and ensure food preparation was running on time.
"I had a lot more administrative tasks. I wrote the menu, made the advertisements, made flower arrangements and decorations and more of that thing," Watson said. "Dante kind of oversaw the kitchen. He administered food production and made sure everything was going smoothly and that people were on task."
Due to their leadership, Bugni was able to take a step back and truly have a student-led kitchen like she had hoped for.
"Our class is meant to be a student-led restaurant and bake shop. At the beginning of the year, it's a lot less student-led because they're learning how to work in the kitchen," Bugni said. "They're learning the basics of safety and sanitation, and it's a lot more hand holding at the beginning of the year. My goal was to be able to, in the last nine weeks, really take a step back."
The nights earnings will benefit the program in a variety of ways, by funding not only ingredients used to prepare the evenings meal and future bake sales, but also the much needed equipment replacements for future generations of culinary students.
"A lot of our equipment is 20 plus years old, so it's slowly dying. We need a new 20 quart mixer, so that's definitely high up on the list. Some new ovens would be nice eventually, and also an industrial size rice cooker," Chef Kathryn Bugni said. "Most of these equipment pieces are thousands of dollars, so we accumulate money over the years and replace items as we need."
The silent auction brought in most of the money, consisting of items from local businesses and restaurants. Items ranged from river bat tours on town lake to pilates coupons. All of these donations were a result of the student auction committee reaching out to businesses.
"
Culinary is a new experience for me and I got to meet awesome people. It helps me feel more well-rounded as a student.
— Sophia Dargahi, Culinary club member
"It was a little embarrassing, but I called a bunch of businesses and asked people to donate items to the silent auction, and just waited a while to receive an email back," junior Sophia Dargahi said. "A few of them said yes. My favorite business to reach out to was Kendra Scott." 
Working in a kitchen has taught students to adapt on the spot, and the fundraiser night was no exception. Due to a quick change in weather, there were some adjustments made, and the students had to move the event inside with a few hours notice.
"The whole build up to the evening was really stressful," Watson said. "I was mostly stressed that there wouldn't be enough people interested in coming, and then we had to move everything inside. It was supposed to be in the courtyard, but we had to move it inside and make a lot of changes like cancel the jazz band."
Outside students may not view culinary as a challenging class without knowing what goes on behind the scenes. However, the students in culinary can attest that it still has its difficulties and valuable lessons.
"It's not like it's not a challenging class, but it's challenging in a different way than, let's say, AP US History, or OnRamps Pre-calculus" Dargahi said. "It's a very different class than the others I'm taking and it acts as a kind of 'brain break.'"
Culinary can be differentiated from core classes by the increased amount of student involvement required for each class.
 "I've definitely gotten better at working with others which is something I tend to struggle with," Dargahi said. "I tend to either take an extreme backseat or be way too controlling. Culinary has helped me improve that."
For the remainder of the school year, the classes will continue to sell $2 and $3 items each Thursday in the courtyard as they get ready for next school year. As the seniors prepare to graduate, they look back at their time in the Bowie culinary program as more than a bake shop.
"Culinary has definitely made me a better leader. It's helped me be able to deal with problems and find solutions," Watson said. "We do experience a couple of mishaps, so figuring out how to recover is essential. Even just from a high school culinary class, it's definitely taught me a lot of life lessons."