Texas districts in limbo with the state
The Texas Education Agency reveals plans to appoint a conservator to Austin district
Every day students across the Austin Independent School District (AISD) utilize accommodations that are a part of their 504 or Individualized Education Program, (IEP). These accommodations help students who would otherwise feel overwhelmed with their workload, be able to complete their work and understand the knowledge required to pass their classes.
After over a year of investigations, the Texas Education Agency (TEA)  announced they would be assigning a conservator to AISD's special education department. This comes less than a week after TEA announced their plan to take hold of Houston's school district, (HISD). 
"My name is Matt Flickinger and I am a high school teacher," English teacher Matt Flickinger said in a call to AISD board members on the night of their special emergency meeting. "As a teacher and staff member of Austin ISD, I have witnessed firsthand the consequences of underfunding and under-staffing in our public schools as well as the disproportionate effects this has had on our special populations. Remediating this dire situation does not call for a conservatorship, but rather requires support, resources, and funding from our state. Something that has been denied to us far too often. Austin ISD spent the better part of $1 billion on recapture last year. Oversight without proper resources is disingenuous at best, especially from the governing body responsible for this deficit in the first place."
The main reasoning TEA is using to explain why they want to be involved in AISD, is the backlog of school-provided, in-person evaluations that haven't been conducted. These evaluations need a trained professional to test the child to see what learning disabilities they may have and what accommodations they may need.
"The district takes full ownership of the problems that have led TEA to issue sanctions," AISD Media Relations Coordinator Nayeli Santoyo Flores said. "But we are requesting an informal review of TEA's decision to establish a conservatorship over special education."
The initial investigation began in 2021 after TEA received a letter from Disability Rights
Texas, an advocacy group, urging them to investigate AISD and the management of their special education department. The group also filed suit against AISD the same month. 
AISD has hundreds of evaluations and reevaluations that have been delayed for many different reasons.
"The special education evaluation backlog results from multiple factors," Santoyo Flores said. "Including a series of leadership changes, staffing shortages, and outdated systems. The backlog grew exponentially through the early stages of the pandemic when, for a period of time, we were unable to complete evaluations in person. As we came out of the pandemic, we've seen an increase in the rate of new evaluation requests, further compounding the issue."
Staffing remains one of the main issues in fixing this backlog. According to the interim superintendent of AISD, Matias Segura, about 20 of the 70 positions available for Licensed Specialists in School Psychology (LSSPs) are filled. These are the individuals that test and evaluate students across the district.
"AISD did see major staffing cuts last year," English teacher and Education Austin member Jacob Morgan said. "There was a backlog that existed before the pandemic, but really, during the pandemic, a lot of these natural processes that need to occur like the evaluations were made difficult, since the kids weren't on campus, so it really just slowed things down and made things muddy."
Several months before the Covid-19 pandemic, AISD added Dyslexia to the list of conditions that require a school provided evaluation. When the pandemic hit, and all classes were moved online, there was a push to do evaluations remotely but they were quite difficult to conduct. Both of these factors further added to the backlog.
"We haven't had the funding that we need from the state for these students," Morgan said. "TEA right now is facing a federal investigation for their own kind of mishandling of these issues and for not allocating enough funding for sped students."
The role of a conservator is to oversee operations to change and direct things in the way they and or TEA sees fit. In this particular case the conservator can examine anything related to the special education department. This includes anything regarding students with 504 or IEP accommodations, any processes regarding aids to students with disabilities, and any other individuals involved with special education in AISD.
"I don't think that TEA is fit to oversee special education in AISD or in Houston," junior Genevieve Hill said. "When the news of Houston ISD came out, I conceded that the same thing might happen to AISD."
Before TEA made the decision to assign a conservator, AISD suggested a monitor could be helpful. A monitor would examine the issues within the special education department and report to TEA on what resources AISD needs.
The Labor union, Education Austin has been mounting their support behind the existing AISD board and are urging them to appeal TEA's decision. They have held several protests against this decision in the weeks following its release. 
"When I got news of what TEA was doing, Education Austin board members quickly kind of coordinated and said we need to come out and make a stand," Morgan said. "This is going to hurt the people in the district level, top down. I don't see anything positive coming from that."
AISD has the power to appeal this decision and ask TEA to reconsider. On April 17 Segura announced AISD has asked TEA to conduct an informal review of their decision to appoint a conservator and look at the district's plan to fix the current problems in special education.
"Moving forward, our Austin ISD community can expect a collaborative and transparent approach centered around both best practices for inclusive special education and the knowledge and lived experiences of our staff and families," AISD board president Arati Singh said in a newsletter to AISD teachers and families. "We hold deeply the belief that the best solutions come from working collaboratively with the people who are closest to a problem, by listening, learning, and using those insights to inform our work."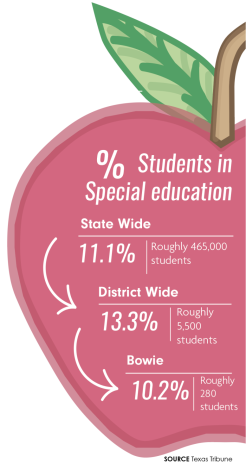 Before TEA got involved with AISD, they announced they would be seizing Houston's district because of a low rating at one of their high schools. Each year, TEA gives every Texas public school a report card based on the school's academic performance. TEA then uses those scores to determine what schools, districts, or programs need to be changed or shut down completely.
"Under this superintendent and school board, significant progress has been made in HISD," Houston mayor Sylvester Turner said in a media briefing following TEA's news. "Forty of 50 former D or F-rated schools are in a much better status today. I give great credit to the teachers and students at Wheatley High School. You don't reward success by penalizing not just that school, but you're taking over 275 other schools as well."
One of the reasons why this news was so alarming to teachers and government officials in Houston, is because it means TEA will remove all of the democratically elected school board members including the superintendent from office and replace them with applicants they hand pick. Officials in Austin were fearful of that happening to the AISD board if they did not appeal the conservatorship decision.
"The Houston situation in particular, was definitely a red flag," Morgan said. "I was worried. We haven't seen a lot of good things come out of TEA as far as I've been concerned.  We see guidance sometimes, but it has been Texas trying to restrict curriculum's and privatize public education. They have not been giving us the funding that we need. In fact, this last legislative session was kind of a letdown regarding how we can pay our teachers and keep our districts afloat. So I feel pretty cynical about most things that TEA is doing and that extends to when I saw that they were trying to get involved with Austin ISD, I didn't feel any kind of hope that it was going to be beneficial at all."