Queen Liz leading the Bulldog charge
Super Sophomore Liz Luck has come into her own as a defender for the Lady 'Dawgs
Patiently waiting for her teammate to serve the ball in from a corner kick, sophomore Elizabeth Luck dances around the edge of the 18-yard box, fighting for an edge on her opponent. Familiar with the pressure and intensity of varsity games, Luck tunes out the onslaught of instruction offered by coaches, parents, and teammates that echo throughout Chaparral Stadium, the home ground of Westlake.
The ball now hurtling through the air, Luck breaks towards the goal with her eyes intently locked on the ball. Seizing her chance to push her team to a victory against the 2022 State semifinalist Westlake Chaparrals, Luck times her contact and guides the ball into the net.
The opportunity to score as a defender is often rare. However, Luck managed to slot one home against cross-town rivals Westlake before the celebration was cut short, as her goal was called back by the referees for offsides. Having the chance to win the game is often a pivotal moment for many underclassmen, so Luck opens up about the fluctuating feelings in scoring a go-ahead goal that was ultimately not counted.
"I was super excited when I scored against Westlake but it got taken back which made me super mad," Luck said. "They are a good team and I have some club teammates on that team as well, so it would have been fun to beat them." 
One of two sophomores on varsity for the Lady 'Dawgs, Luck is forced to face and perform against girls with more experience than her on a game-by-game basis. Because of this, Luck is required to show her skill in other ways like her superior hard work, determination, and technical ability.
"Being on varsity as an underclassmen is very intense because the majority of the girls are bigger than me," Luck said. "I like playing against older people though because the games are more intense and the skill level is very good. While I am playing, I want to work to my expectations for being on varsity so I always remind myself to give it my all and work as hard as I can while I am on the field."
Now a solidified starter and crucial part of the Lady 'Dawgs defense, Luck reflects on the beginning of her soccer career and what attracted her to the sport. Luck also has an older brother as an example, for he plays a similar position in soccer as well.
"I first started playing soccer when I was three years old Luck said. "I love how competitive soccer is and the fact it's a team sport, so me and my teammates all work together and work hard towards the same goal."
Preseason primarily serves for players to showcase their skills to their coach to show why they deserve to play. As a starter Luck has already been a part of many important games and experienced the range of emotions in both preseason tournaments and district varsity games.
"My favorite moment this season was in our preseason tournament when we won one of our games in penalty kicks," Luck said. "Penalty kicks are very stressful and nerve racking, so we were very relieved and happy to win." 
A former Bowie soccer player herself, varsity head coach Carrie Hoffman-Howell respects the drive Luck presents to her opponents and the rest of the team. Luck's intangibles has made it easy for Hoffman-Howell to entrust Luck with a spot in the starting 11 as an underclassmen. 
"Her competitiveness and her tenacity, you know that she doesn't get beat very often as a defender which is key, but when she does, she fights back to get that ball," Hoffman-Howell said. "She does everything she possibly can to not let the opponent get by her and you have to like that as a defender, so that's a big reason why she's on varsity, starting as a sophomore."
Having not only earned the trust and respect of the head coach, Luck has also shown herself to the juniors and seniors of the Lady 'Dawgs as a deserved starter. Junior Olivia Christodoulides builds on Hoffman-Howell's comments by explaining the composure Luck has displayed in games as a newcomer to the varsity starting eleven. 
"As an underclassmen, it has been very impressive the way she has integrated into the team with the rest of the girls," Christodoulides said. "It's difficult because a lot of people put pressure on themselves to perform when they are new to a team, but Liz has handled the pressure really well and been able to give us really good performances."
In terms of the team, Luck applauds the team chemistry and loves the environment provided by the coach and the team themselves. The sophomore starter also offers insight on pre-game rituals for the Lady 'Dawgs.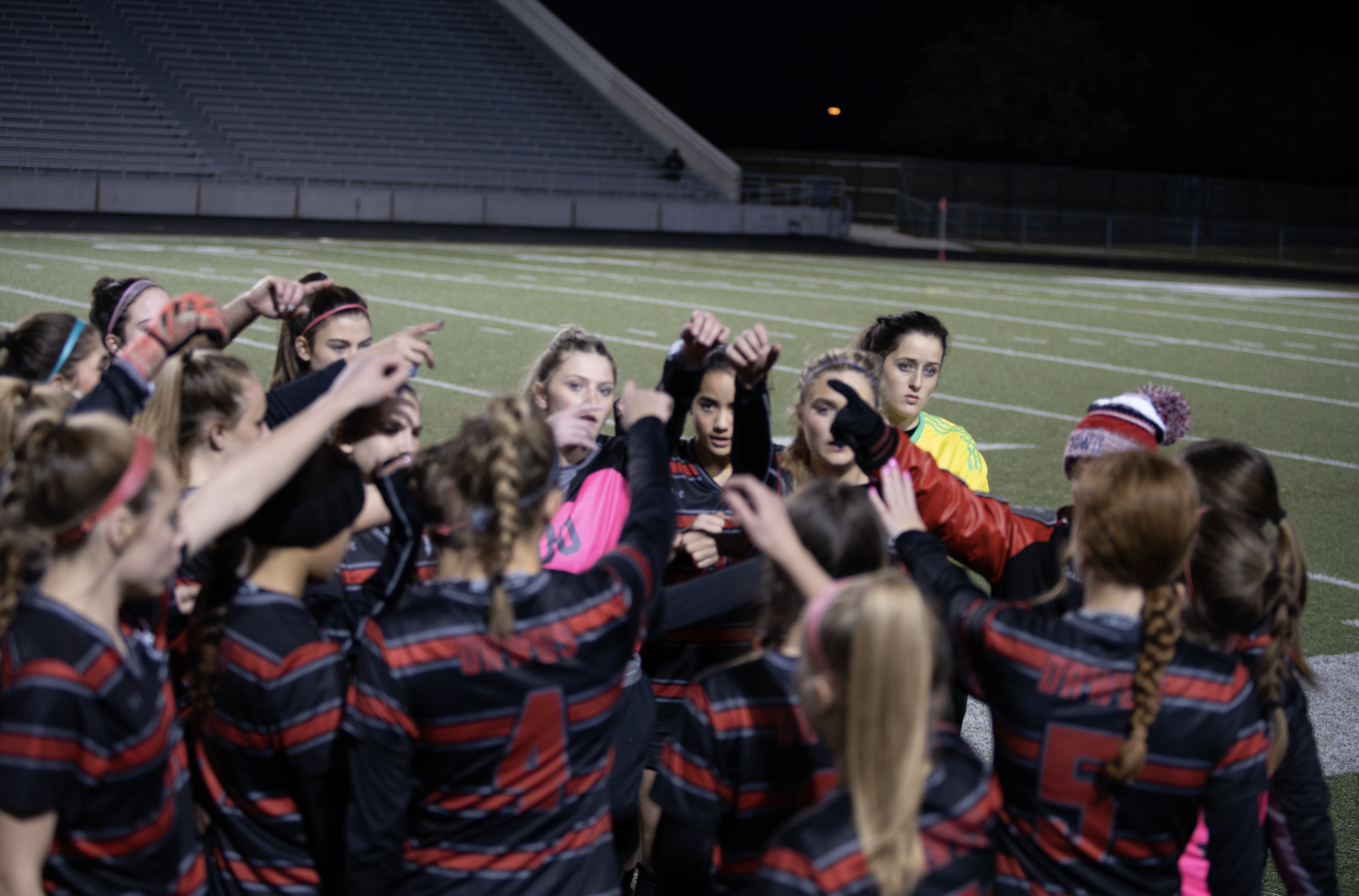 "Our team environment is super important and a lot of people on our team are in friend groups because of soccer which helps team chemistry and helps us play better on the field," Luck said. "Before the games we also like to listen to music because it gets us pumped up and ready to play."
Going beyond team chemistry and friendship though, Luck's competitive edge has boosted the team's energy before and during games. Christodoulides suggests that Luck's incessant will to win personal and team battles has helped the team center on the primary goal of winning. 
"It's refreshing having someone like Liz on varsity because she adds that extra layer of competitiveness," Christodoulides said. "She takes pride in her defending and takes it personal when an opponent gets past her, so that mindset helps the rest of the team bring the same energy."
Getting a chance to play at the varsity level for the first time this year, Luck describes the emotions of being able to represent Bowie. Additionally, having two years of eligibility left allows Luck to think of her future as not only a player, but as a role model and leader as well.
"Representing Bowie as a varsity player for the first time is super special and I love being able to play with really good players and hopefully win as many games as we can," Luck said. "Going into next year, I hope I can contribute positivity and good work ethic to go into another year and get the results we want."
With two years left in her Bowie soccer career, coach Hoffman-Howell indulges in her wish for Luck to not only lead by example through her guile and work ethic but to also gain confidence in and lead with her voice. Luck has been a role model for the rest of the sophomores, as well as the rest of the team, because of her ability to make and start for varsity, while making a positive impact as a defender. "I see her becoming one of those leaders that leads by example," Hoffman-Howell said. "Eventually, hopefully, she'll find her voice as she gets older and feels more and more confident because she's the best defender in the program."