Winter Guard season kicks off strong
Junior Maggie Oliver leads the season with choreography and competition preparations
Tossing the flag in the air, junior Maggie Oliver prepares for an intense season of winter guard ahead of her. 
As football season ends, the Bowie color guard is making the transition to their winter guard season which consists of long practices and rewarding competitions. According to junior Saffron Hartreeve, winter guard often gets overshadowed by color guard and it can be frustrating that not a lot of people know about winter guard. 
"I think a lot of people think that performing with the band is all we do when in reality guard is much more than that," Hartreeve said. "During the winter season, we have our own performances and are separate from the marching band. Not a lot of people know how much we do and the amount of practice that we have to put in to have performances."
According to Oliver, the transition from color guard season to winter guard season is pretty drastic. There are a lot of differences that require the group to refocus and shift their mindset  to the winter season. Because they don't perform with the band for the winter season, there is more room to utilize their space and have unique choreography. 
"Color guard is more like adding something to an already really great performance," Oliver said. "We provide the visual aspect to the music. Some of the major differences are that [winter guard] is more dance-based and involves interacting with props, we also perform indoors in a gym rather than on a football field."
The winter guard organization had to brainstorm ways to raise money for their upcoming season. This year, they held a 'Boss for the Toss' cornhole tournament and also had vendors sell their products in the awning. This event was organized for anyone to participate and support the winter guard. 
"I heard that the event went really well," Oliver said. "We had barbecue sandwiches donated to us that we could sell, we sold over 400 for $10 so that's about $4,000 that we can use."
The money that the winter guard raised from this fundraiser was essential because they get limited funding for their season. During the color guard season, they share money with the band but for winter guard it's up to them to raise funds. Oliver describes why it's especially important for them to raise money this year. 
"We are planning on going to Ohio in the spring because that's where the WGI (Winter Guard International) competition is," Oliver said. "It's a lot of money to get there so we've been doing a lot of fundraisers especially since we couldn't go last year."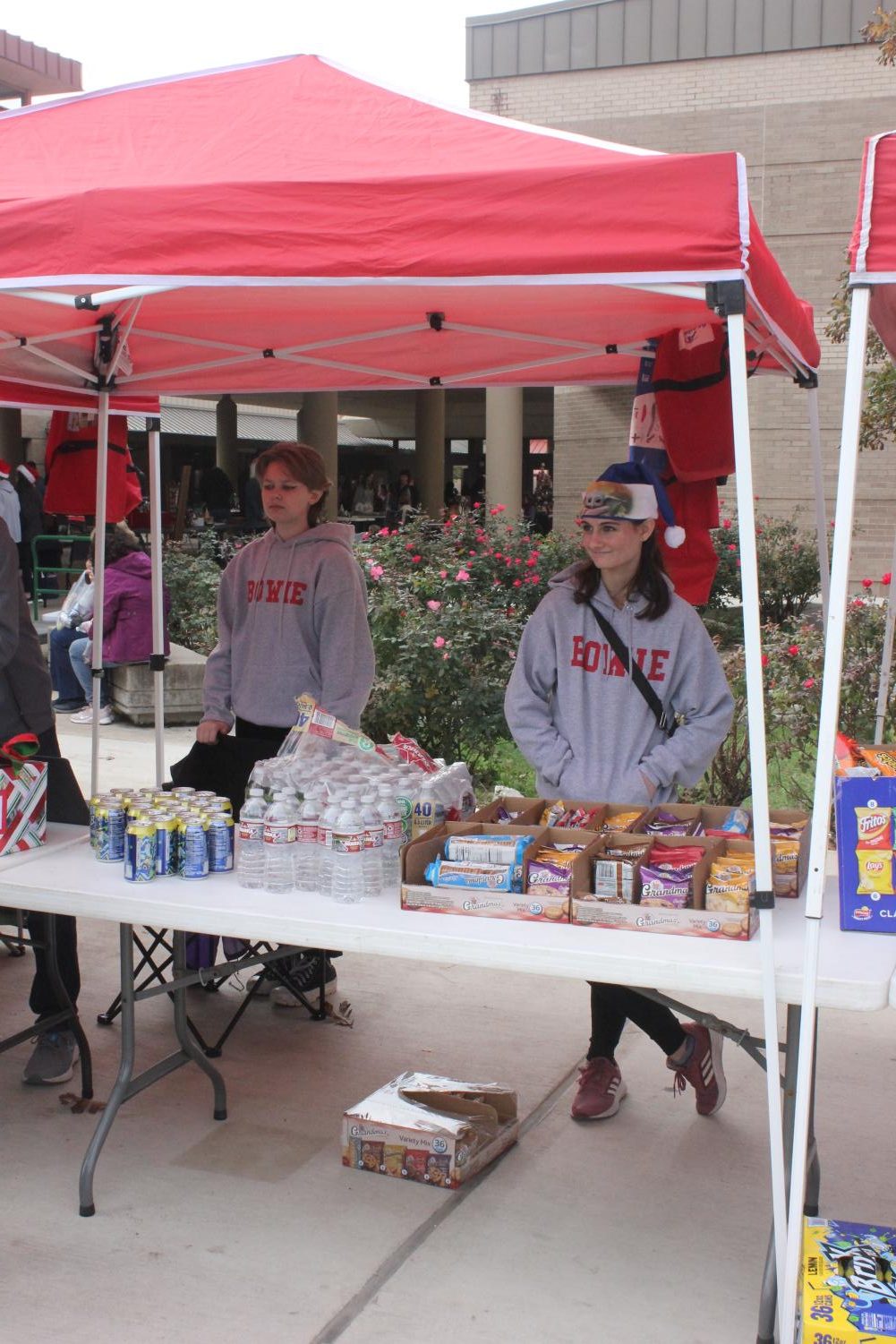 The winter guard has around four months to perfect their show in time to compete with high schools around the nation. Leading up to nationals, the winter guard will go to competitions almost ever week in cities like Dallas and College Station. According to Oliver, the team already has high goals for their season. 
"I hope that we at least make it to semi-finals in Ohio and have good scores overall," Oliver said. "Our show is already so much better than last year and I know it's going to look really cool."
According to Hartreeve, an experienced and determined coach is important for winter guard so they can be led to success in their competitions.
"We've had three directors over the past two years so getting our current director was nice because he really pushes us to be the best that we can," Hartreeve said. 
Daniel Riley is the current guard director who led the organization through the marching season and will now lead them through the winter guard season. Riley has a plan of action to bring the winter guard to the next caliber.
"My main goal for the Bowie winter guard this season is to keep working on developing a wider range of technique and skills," Riley said. "The plan to make this happen is to spend more time on fundamentals through dance and equipment technique classes."
The winter guard practices during and outside of school and have to juggle working on skills and learning new choreography. Hartreeve describes how they get things done efficiently and in time for their competitions.
"We usually have technique blocks which is when we set aside a certain amount of time to practice the basics and really get the fundamentals down. Once we do that we can move on to doing harder tosses and difficult choreography."
Like any other sport, guard does not come without challenges. According to Oliver, with the amount that they practice, there are bound to be bruises and injuries. 
"This season has been a bit difficult because we have been in a rebuilding year for the past two years," Oliver said. "This year is especially hard because we had a lot of members who were supposed to be veterans this year but they either left or moved so the majority of the team is new."
According to Oliver, even though rebuilding the organization comes with some struggles, the new fine arts facility has been making the season run much smoother with less stress. The group now practices in the new dance gym. 
"The new practice space is great because we have mirrors to see what our moves look like," Oliver said.  "Last year we had to practice in the athletic building and we had to roll out the cheer mats so we wouldn't dent the floors."
According to Hartreeve, guard is a team sport that requires everyone to participate and be connected. Many members like Hartreeve have been in guard since their freshman year and have spent countless hours preparing for different shows, competitions, and game days.
"We have a lot of team bonding experiences so we all know each other really well," Hartreeve said. "When we are working in smaller groups we have the opportunity to create a sense of family and continuity. Everyone has a connection with everyone in guard so we are all really close."
According to Oliver, the Winter Guard program is a robust organization that looks for people with determination, strong work ethic, and discipline to join. He also believes the program is welcoming to all its members and great for making life long friends.
"Winter guard is really fun and open to everyone so if they want to join they should," Oliver said.