Double, double, toil and bake
Something wicked this way comes with the culinary department's preparations for a bewitching bake sale. From puffed pastry to butter beer, students have cauldrons full to the brim with treats to distribute.
Culinary students have worked the entire week to get ready for a Harry Potter bake sale on Thursday, Oct. 20, and a pop-up event on Friday, Oct. 21. The 
"We were kind of hesitant to do a pop-up by ourselves because it's a lot to take on," senior and second-year culinary member Rachel Maddox said. "It's a five-course menu."
The food is themed based on the popular Harry Potter series. Careful thought and preparation went into choosing the theme for this pop-up. Maddox worked closely with Senior Ruby Miller to write the entire menu as well as find recipes that could be scaled up to feed a large number of students.
"We both love Harry Potter and we grew up with the movies so we decided to incorporate that into our theme," Maddox said. 
The bake sale had two Harry Potter-themed options. Butterbeer was sold for $2 and pumpkin pasties were sold for $3.
"It has been kind of difficult this week just because for the butterbeer you have to make a reduced sauce on the stove, and then we had to hunt down a ton of cream soda," Miller said. "Also the pumpkin pasties, we had to make so many of them and it's really hard to make that pastry."
Culinary teacher Kathryn Bugni believes that one of the most challenging aspects of running the culinary department is getting all of the ingredients in the correct quantities.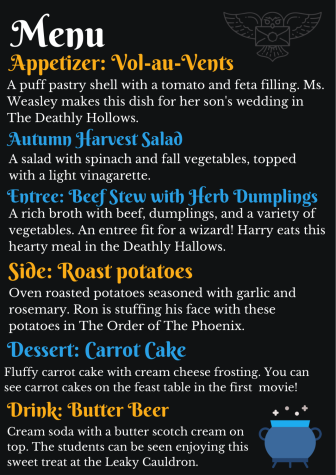 "I have a supplier," Bugni said. "Cisco delivers our groceries, but sometimes they don't have all our ingredients or we don't need the amount that they bring so I go to HEB like four times a week."
Even though the job can be taxing, Bugni believes culinary helps to prepare students in various ways for their journeys beyond the kitchen.
"Problem-solving is probably the biggest one and communication," Bugni said. "This is the first time we are testing these recipes because we have a new menu every week, so we don't always know how it's going to turn out."
Maddox feels that these pop-up menus not only contribute to her education at Bowie, but also offer more varied nutrition for other students.
"I think that the students really enjoy the bake sales that we do on Thursdays because it offers a lot of variety versus the regular cafeteria food," Maddox said.
Bugni has created an environment in the culinary department that she finds is different from other classes at Bowie as well.
"I have students who are in band, I have students who are in art, it's a wide range and you don't always get that in all of the classes," Bugni said.
Though students may not know the chefs who worked to produce these meals, Miller believes that it is important to acknowledge what goes into creating a recipe. 
"When we have sales, just be respectful because we worked really hard on all of our products," Miller said.
Bugni takes a lot of pride in her students and watching them grow as they continue to build progress.
"The students are really passionate about the subject," Bugni said. "It's a class for 90 minutes where they get to come in and use their hands, [and] get a little bit messy. So I think it's just a really great creative outlet and an outlet to release some energy."