Starlight Theatre Company's fall shows hit the stage
The new "Betsy" auditorium looms over the James Bowie High School skyline, ready to shine with student performances, the first two which began in late September.
The Bowie theatre department is one of the best in the state, and the new facility was built to replace the aging Starlight theatre. This new resource is already being put through its paces.
"[The shows] that will be in the new theatre, the Betsy, are A Midsummer Night's Dream and Macbeth," tech theatre teacher Matthew Humphery said.
These two shows have been done by Bowie before and the new equipment gives the program more space to creatively portray their shows. Many changes have been added to the new building.
"I think that the new facility affords us a lot of different things that help our theatre department grow and be sustainable," Humphrey said. "The fact that we are now able to do work in a scene shop that is actually separate from the performance space means that we can be rehearsing at the same time that we're building and creating various set pieces and props."
With the new facility, the theatre can now practice without conflicting with the tech crew building the sets. The team can move about the area without causing disruptions or distractions.
"We can actually store stuff that we are building in the shop instead of having to store in the wings, and that makes it more efficient," theater teacher Colton Perry said.
Although production is moving quickly in comparison to previous years, not everything is fully done. With new advances in technology comes numerous issues.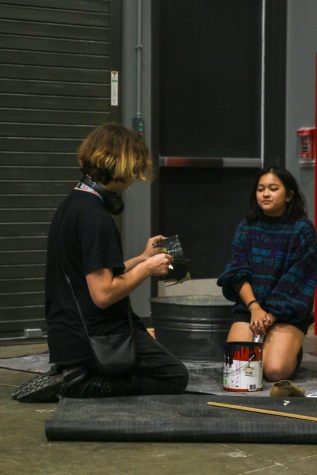 "It's still not fully operational yet, but it's getting there," Perry said. "And some of that is slowing us down a little bit. We don't have full control of the lights quite yet at this point. Sound is still being set up, rigging is almost complete. So we're getting there."
This will be the first year Perry is in charge of Midsummer, as the single director attached to the project. He must take on the challenges of directing while also teaching multiple Tech 1 classes.
"I'm so excited," Humphrey said. "It definitely signals a more substantial workload, but I am super excited. Shakespeare is my favorite type of theatre, so I get really active and animated whenever directing. It has been a lot of fun to sink my teeth into."
Macbeth will be directed by Marco Bazan while A Midsummer Night's Dream will be directed by Humphrey. Due to the theatre department's new focus, Humphery is excited for this new opportunity.
"Our theme for the whole year is that theatre is magic and seeing what we can do with the magical new theatre," Perry said.
Macbeth actor Javier Lozano is entering a new role. Although Lozano is taking on the star role of Macbeth he is no rookie. He has also starred in Big Fish, The Shadow Box, and The Crucible.
"When reading the script I was stumbling through it," Lozano said. "Which is scary, but at the same time, I love to just get out of my comfort zone and improve my acting."
As constant practice continues to improve Lozano's acting and performance, he also looks forward to having a newer space to work in.
"I am very excited for the fall shows, they're coming together quite nicely," Lozano said. "The new space has allowed us to do things we haven't done before with lighting and set. It's a bit nerve racking but I think these shows are going to be great."