A final farewell to a favorite local bakery
A line wrapped around the small parking lot as hundreds of Austinites came to bid their final farewell to a locally owned business. After nearly a decade of serving pastries and coffee to the Southwest Austin community, Crema Bakery & Cafe closed its doors on Brodie Lane for the final time on September 17, 2022.
Similar to many small businesses, the cafe has struggled to remain open since the pandemic began in March of 2020.
"Skyrocketing costs for supplies and staffing issues just haven't let up," Crema owner, Jessica Tomberlin, wrote in an Instagram post notifying their social media followers of their unexpected closure. "I've taken on astronomical debt trying to keep us alive 'until things get better.' But they aren't getting better. The final nail in our coffin was our landlord requiring a minimum five-year lease. I just couldn't do it."
Tomberlin opened Crema in 2013 with her wife, Janessa, after developing a fond appreciation of baking for friends and family events. As a queer, female-owned small business, they have been loud supporters of social reform in our community. Crema works to help their LGBT customers especially feel welcome.
"
I was heartbroken when Crema announced their closing, mostly because it was such a happy, friendly place that has had such awesome events. I was so sad to see a small business I appreciate go down."
— Caroline Cullinane, Senior
"Dear trans folk and families: We love you," Crema wrote in an Instagram post following the Texas Supreme Court's decision on allowing the parents of transgender children to be investigated as abusers in May of 2022, "We're sorry we care more about you than the leadership of this state who were elected to represent ALL of us. We always will have your back in every possible way, and our space will always welcome, embrace, and nurture you just as you are." 
Besides its prominent political influence, Crema is also appreciated for its overall welcoming atmosphere.
"It's so cozy and the owners make such an effort to make all of their customers feel welcome," senior Nadia Petru said. "Even their Instagram is just amazing to interact with."
Crema specialized in individual desserts and offered daily fresh-baked sweets. Crema supplied breakfast and lunch offerings to bakeries and coffee shops throughout the Austin area.
"Crema was different because it had a casual vibe and offered gluten-free options," Bowie parent Jillanna Price said. "I have been going to Crema for coffee, lunch and delicious pastries and cupcakes for about five years. I was surprised when I heard about them closing, and am hoping they find a new location."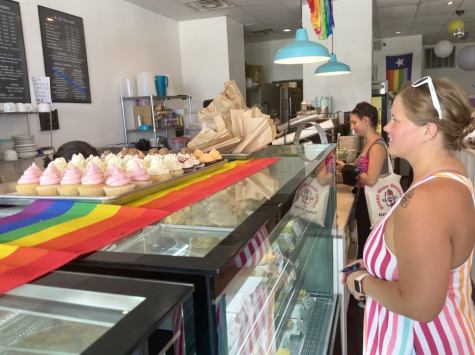 Many students had similar reactions after discovering Crema's unprecedented closure.
"I was shocked and really sad," Petru said. "I haven't been able to go in a while and it sucks that a local and really amazing bakery is going out of business."
Over the course of their nine years in business, Crema has been a favorite pastry destination and hangout spot for many Bowie students. 
"I've been going to Crema for at least a couple years, and Crema really stood out to me because of how accepting their business was," senior Caroline Cullinane said. "I felt personally welcomed by the rainbow sign, and it was such a happy place. Supporting small businesses is very important to me, and Crema being owned by other queer women was inspiring to me."