Dharwadker uses heart condition to inspire creation
Sitting in the room of a doctor's office under the bright white LED lights, junior Rohan Dharwadker couldn't believe what he was hearing.
Dharwadker had just been diagnosed with an arrhythmia, or irregular heartbeat, which means that as his heart beats, the electrical currents that are emitted throughout it are not working properly.
Arrhythmia can often be treated with medicine. In order to determine how to treat a specific case of arrhythmia, a tool called an electrocardiogram (ECG) can be used to measure the exact electrical activity of the heart.
"I can't always feel the irregularity but when it's more severe I can," Dharwadker said. "I want to know how often it's happening and when I need to up my medication and stuff like that."
At the beginning of the school year, Dharwadker took matters into his own hands. He decided to create a 3D-printed mini-ECG device in his independent study computer science class that could record his heart's rhythm and send the data to software on a computer for him to look at.
"The device is kind of like what you see in hospitals with the graphs and stuff," Dharwadker said. "I did a lot of research on which components I needed to use, but it was a big challenge to get ones that will make it smaller but still as effective."
The independent study computer science class is a course in which students like Dharwadker can work together to build creative projects without the barriers of a curriculum.
"In the independent study class, I see myself as a facilitator and the students are the teachers, providing constructive feedback and useful resources to their classmates," computer science teacher Kris Maniscalco said. "Our goal is to build a community of learners with a passion for computer science that can support and encourage each other to continually expand their knowledge and understanding of various computer science concepts."
This community has proven to be helpful for Dharwadker, as he has faced several challenges while going through the process of creating the device.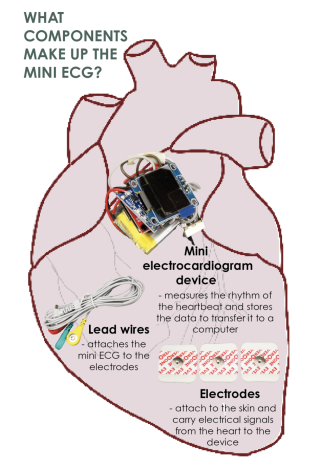 "Soldering all of these components [in the device itself] together was tricky because the size is really small," Dharwadker said. "As I'm putting more stuff in, the old stuff would break."
Dharwadker emphasizes that he couldn't have made the mini ECG without the support and constructive criticism from his peers or the tools provided to him from Maniscalco.
"I had a few inputs from classmates," Dharwadker said. "My teacher was definitely really helpful. She gave me some resources like access to soldering equipment, which I have, but it's nice to have it at school too."
While he only received a diagnosis last February, Dharwadker's condition is caused by a genetic mutation that he has likely had his whole life. He believes that his creation could help others know early if they have a heart condition, and if so, how severe it is.
"Heart disease is the leading cause of death so it's helpful to know your heart's rhythm because a lot of times you won't be able to tell if it's dormant or it's so small that you won't be able to feel it or know that something's wrong," Dharwadker said. "If I hadn't been diagnosed, I wouldn't have known something is wrong, I would've assumed that that's what the normal is."
Junior Gavin Letulle sits next to Dharwadker in the independent study class and has felt inspired watching him create his device.
"Sitting next to Rohan has been nice because it's cool looking over to see what he's working on every now and then," Letulle said. "We help each other with homework and most of the time we just work on our own independent projects while listening to music."
Letulle appreciates the freedom that the independent study class allows.
"Independent Study is one of the best classes you can take at Bowie because you get to work on whatever you want the whole year," Letulle said. "No one is telling you what to do and you can be independent."
Dharwadker isn't done with his project yet. He is currently working on creating the software for the ECG's data to go into by measuring heart rhythms and deciding what constitutes a regular and irregular heartbeat. He is also planning to make an enclosure for the device to make it wearable, likely as a watch.
"In this class, students are encouraged to take risks and think outside the box," Maniscalco said. "Rohan challenged himself to design and create a mechanism that could save lives. It is impressive, to say the least,  watching him take an idea and turn it into a reality."