A review of the 2020 Netflix holiday movie lineup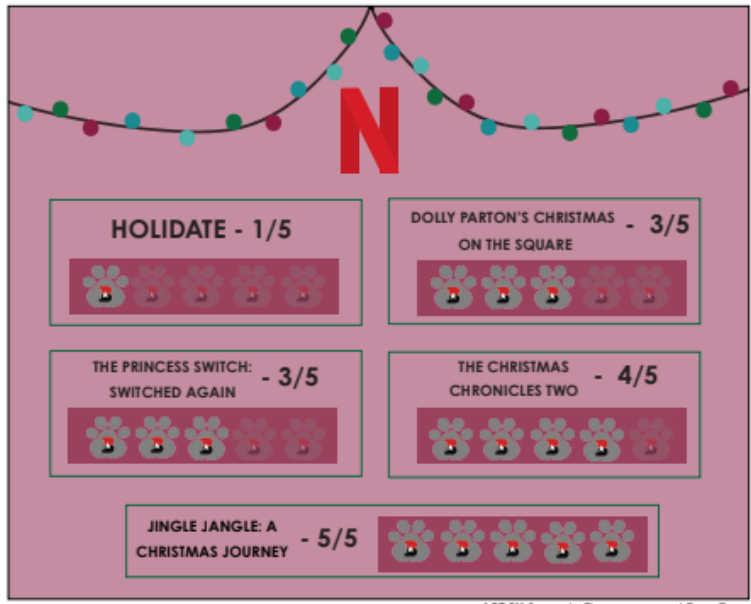 A perfect way to get in the holiday spirit is by binge-watching holiday movies. Who doesn't love a good festive movie marathon? With the release of many 2020 Netflix Original holiday movies, my time spent in front of the TV has certainly increased. Here's my take on five of the most popular Netflix Holiday Originals this year.
HOLIDATE
Holidate is exactly what it sounds like. Two people, Sloane and Jackson, bond over their shared hatred of the holiday season and decide to be each other's plus-ones for every holiday event in the upcoming year. The movie zips through each major festivity of the year without showing anything that goes on in between, which is unique but left me confused at times. Throughout the year the pair's "holidates" lead them to be something more than "just friends".
Honestly, I expected more from this movie. The plot was almost non-existent, relying solely on bad jokes to keep it moving along. It felt like a Hallmark Christmas movie that was too inappropriate for kids. However, one thing that I did enjoy about this movie was the fast pace at which it moved, which kept me entertained.
Overall, I would rate this movie one out of five stars because the plot was predictable and because it relied too heavily on humor that just wasn't as funny as it was clearly intended to be. I believe it deserves one star out of pure sympathy.
DOLLY PARTON'S CHRISTMAS ON THE SQUARE
Dolly Parton's Christmas on the Square tells the story of Regina, a wealthy town scrooge who tries to evict everyone so she can sell the land to a mall developer. While on her mission to destroy the town, Regina receives a visit from an angel who shows her what she believes is the true meaning of the holiday season.
This plot is paired with 14 original Dolly Parton songs and dance numbers. It's a good example of a classic feel-good holiday movie with a musical twist. In my opinion, the musical scenes were well-choreographed and entertaining, but a little over the top. I started to lose interest in the plot after a while because it was overwhelmed with characters breaking out into song.
However, it was also full of positive messages, such as the importance of sticking together and spreading joy, especially during the holiday season. There's even one moment where the angel, played by Dolly Parton, turns to the camera and urges the audience to "light your light." For these reasons, I believe this movie is perfect for kids and people that enjoy musicals.
I would rate this movie three out of five stars because it's full of holiday cheer and good messages that the world needs right now, but it had a few too many cheesy musical scenes for me.
THE PRINCESS SWITCH: SWITCHED AGAIN
The Princess Switch: Switched Again is the sequel to Netflix's The Princess Switch, which came out in 2018. Look-a-likes Stacy and Margaret face complications in their love lives and decide to trade places before Margaret becomes Queen of her home country Montenaro. This plan is thwarted when a third look-a-like, Margaret's cousin Fiona, and her minions are thrown into the mix with intentions of stealing the crown.
The addition of Fiona takes the typical twin swap movie motif and throws it into a blender. Many of the scenes were awkward, especially the ones that included the three characters who were all played by Vanessa Hudgens. There were several times in which I would lose track of who was who on screen.
That being said, this movie still had its enjoyable moments. It was very heartwarming, especially the ending, and the relationships, while not perfect, were the most believable of all the movies. This movie was definitely geared towards kids, but who doesn't need a few kids movies in their lives?
I would rate this movie three out of five stars because it was heartfelt and well-made, but the addition of the third look-a-like was confusing and unnecessary in my opinion. The plot felt more forced than it did in its prequel, which is also available on Netflix. I would recommend watching it first to fully understand the plot.
THE CHRISTMAS CHRONICLES TWO
The Christmas Chronicles Two is the second installment in Netflix's The Christmas Chronicles series. This time, siblings Kate and Teddy are in Mexico for the holidays with their mom, her new boyfriend, and his son Jack. Kate doesn't like this, as her and Teddy have recently lost their father, so she plans on running away. This plan somehow leads Kate and Jack to the North Pole, where they have to work with Santa to save Christmas from evil forces once again.
At just under two hours, this movie is fairly long. However, it's full of action, suspense, and heart-warming scenes that prevents the audience from losing interest.
My least favorite part about the sequel was the addition of Belsnickel, a former elf who ran away and was now plotting to ruin Christmas for everyone. In my opinion, this addition was too cliché and I couldn't take it seriously. Other than that, I really enjoyed this movie.
I would rate it four out of five stars because it was action-packed and had many good messages that made it feel like a classic holiday movie. I don't think it deserves all five stars because it was missing some of the magic that the first movie, which is also available on Netflix, had.
JINGLE JANGLE: A CHRISTMAS
JOURNEY
Jingle Jangle: A Christmas Journey is about a toymaker named Jeronicus Jangle whose most prized invention is stolen by his former apprentice. After this happens, he loses his imagination and his toy shop is closed for business. It isn't until his granddaughter comes to visit him that his life is flipped upside down. These events are told in the form of a children's story, and scenes of a grandmother reading it to her grandchildren are incorporated throughout.
I really enjoyed the plot of this movie; it was somewhat predictable, but just thrilling enough to keep the audience engaged. The set, costumes, and acting all stood out to me as high-quality and there was just the right amount of singing and dancing. It reminded me a lot of The Greatest Showman. The cast and crew were also almost all people of color, which I was really excited to see.
There were good messages of perseverance and the importance of imagination that left me feeling joyful and inspired.
This was by far my favorite movie that I watched. I would rate it five out of five stars because it was very well-made, enjoyable for both kids and adults, and it has the best movie title I think I've ever seen.
We all need some holiday cheer to end off 2020 on a high note, and Netflix's holiday movie lineup this year does not disappoint.