Boys' basketball team prepares for a year of new tip offs
Players and coaches on the Bowie basketball team prepare as the season commences. However, as seen in all other sports, COVID-19 has affected the way basketball operates.
The team's players and coaches have had to adjust to changes during practice, as well as the environment of playing in games with limited to no fans. The team has also made big changes in the roster due to the departure of senior players from last year.
The team is taking new measures to ensure they can practice safely. Senior forward LD Butler describes these changes.
"A typical practice normally starts during 4th period every day and continues till after school," Butler said. "With COVID-19 and online school, we start at 3:45 p.m.; we have to fill out the screen on the AISD app and get our temperature taken before we can enter the gym."
Senior power forward Adam Ybarbo participates in practice where COVID-19 precautions are taken for the safety of the players and coaches.
"There won't be any students at the games," Ybarbo said. "We practice with masks on and the schedule is about the same."
Varsity head coach Celester Collier speaks on the Bowie basketball team and community during these changes.
"The players and students in general are resilient and can adjust to anything," Collier said. "It takes time to get used to practicing with masks on, but we social distance and wear masks to be safe. The players want to have a season and will adjust."
Since Collier has been coaching at Bowie for over 30 years for basketball, he has instilled a lasting, posi effect on his players on and off thecourt.
"[Collier] has taught me a countless number of things," Benson said. "He has taught me a lot of mental toughness and I have a better feel for the game; my basketball IQ has gotten better."
Another side effect of COVID-19 is limited capacity, which means as of now, there will be no fans allowed at the basketball games.
"With no students, our biggest fans, it's definitely different because it's parents only, so it won't be nearly as loud as the student body," Collier said. "We're happy to have the chance to play. Games can still get postponed and we may have to adapt."
Aside from COVID-19, the team has also had to make adjustments to the roster, meaning the team has new starters and new players are working to build team chemistry.
"We lost eight seniors last year and only have four returning players with one of them still in football," Collier said. "We're getting used to the new players and they're working hard and playing everyday and it will be an adjustment throughout the year and an adjustment for new varsity players."
Due to the loss of many seniors in the last graduating class, Butler is now a starter on this year's varsity roster.
"It feels really good, I got the opportunity to start a couple games last season, but this year should be fun," Butler said.
One of the varsity starters, senior shooting guard and point guard Coleton Benson, has signed to play basketball with Army-West Point next fall.
"It's crazy," Bensen said. "All the hard work I've put in has finally paid off and I'm excited to get started."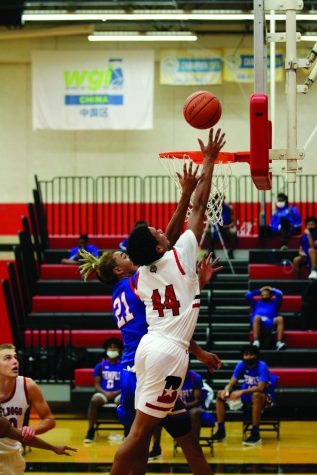 Benson officially committed to Army West Point, but he also had offers from other schools that he turned down.
"It was a tough decision," Benson said. "I had a few other schools but towards the end of my decision it became more clear to decide that Army was the way to go."
This season, Bowie will have a few notable games against some of the best teams from last season, including Westlake High School.
"Every game we play is a tough game and we look at each game as a challenge and don't take anybody lightly," Collier said. "We can't afford to look past anybody or take any team lightly."
The top four out of eight teams in the district at the end of the season qualify for the playoffs. However, COVID-19 has caused some changes to the schedule.
"We can't have any tournaments this year so we added like seven or so more games to our schedule," Benson said.
In addition to not being able to compete in any tournaments this year, the amount of people at the games has changed and shifted the dynamic in the locker room.
"We can have 25% capacity at our games with no student body," Benson said.
Playing for the basketball team has brought many lasting memories along for the boys on the team.
"My favorite memory is going four rounds and to the regional tournament my sophomore year," Benson said. "We played in a packed house against Anderson."
As the team has added new players to the roster and inevitably has uncertainties of the year, the preparedness of the team will be vital to how the season plays out.
"We are prepared if we play together," Ybarbo said.
Overall, the team is enthusiastic and excited to start the season, despite the  inevitable changes that the pandemic has brought upon the players. They are hopeful for a successful season.
"We have a really good group coming back," Bensen said. "We look to win the district title and the ultimate goal is to win state."