Social issues and the pandemic motivate young voters
New data finds that 18 to 29-year-old turnout increased by roughly 10 percent since 2016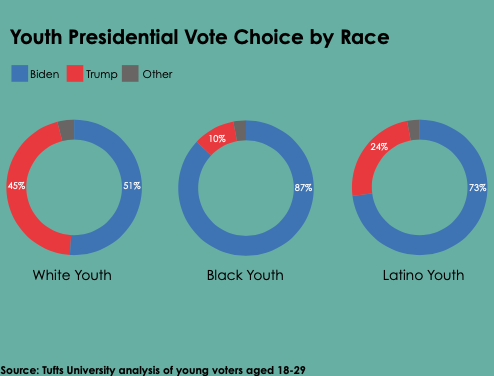 From a global pandemic to the struggle for racial justice, this election year has been one to remember. Even through the current pandemic, the turnout for this election was the highest of all time. This includes the young voter demographic which historically didn't vote as much as older age groups. Because of the pandemic, mail-in voting and early voting became much more popular for safety reasons.
According to data from Tufts University, roughly 52 to 55 percent of eligible young voters aged 18-29 cast a ballot in the 2020 elections. That marks an estimated ten percent increase in youth voter turnout from the 2016 elections.
"I'm not surprised by the amount of younger people who voted this year as our generation is very politically active," senior Sidney Tishgart said. "Especially considering the unprecedented events of this year, our generation is full of activism and the desire for change."
With the ongoing situation of the pandemic, the presidential campaigns could not push their effort like they normally would by traveling to each battleground state. They had to create new and inventive ways to get voters registered to the polls. The campaigns utilized social media and recorded Zoom calls of the candidates talking about their policies.
"The stress and fear brought about by COVID-19 can often be discouraging, but when it came to the election it only made me want to vote more," senior Conner Petru said. "These crazy times are when dependable and effective leadership is needed the most. The government and its office holders need to be equipped to handle this pandemic, and thus voting for our representatives is more important than ever."
A top priority for voters this year was voter protection against the pandemic. For many voters, the safest option was to vote by mail or use an absentee ballot. Another safe option was to utilize early voting before Election Day.
"My first time voting felt surprisingly straight forward," Petru said. "The location I went to did a good job of social distancing everyone throughout the voting process, and the voting machine was easy to understand and use. I was nervous at first, but overall the experience went much smoother than I expected."
The Black Lives Matter movement sparked protests and conversations across the country after the murder of George Floyd, an unarmed African-American man. This movement also sparked more people to get involved politically. Within the movement and beyond, people got others registered to vote and to the polls.
"More and more younger people are speaking out politically and getting more involved with this past election," social studies teacher Carrie Hoffman-Howell said. "Plus with most people working from home due to COVID, they were watching the news that got them more involved."
The increased turnout in the election this year was evident at the local level. The turnout and registration of Travis County voters was record-breaking. In Travis County, 97 percent of eligible voters were registered to vote, and turnout among registered voters was the highest in the county since the 1992 elections.
"I was not surprised nor unsurprised by the voter turnout," Tishgart said. "I expected the numbers to be higher this year since there's considerably more at stake, but if anything, I was surprised by the amount of people who voted for Trump's reelection."
Since this was the first presidential election cycle in a few years, this was also a lot of people's first time voting. According to Petru, his experience didn't have any downsides considering the ongoing pandemic.
"Overall, my first-time voting experience was straight forward and fulfilling," Petru said. "It's exciting to see that so many people my age voted this election, even with the pandemic raging on."
Despite the fact that many younger people were unable to vote in the last election, there were many other ways people got involved in the election. From making calls for candidates to having conversations with friends and family, many young people were able to get involved in the electoral process this year.
"Unfortunately, I'm still 17 so I was unable to vote in this election, but in general, I think COVID-19 has made a huge impact on our voter turnout," Tishgart said. "However, even though I just barely miss the cut off date to vote, COVID-19 has made me more aware of issues our country needs to improve on and how we can overcome this pandemic."