Austin City Council approves reallocation of APD budget
All summer long, downtown Austin was filled with a roar of voices from Black Lives Matter (BLM) protests. Off of I-35, where the Austin Police Department (APD) headquarters are located, BLM protesters gathered, calling for the partial reallocation of the police budget, a movement that gained prominence across the nation after the death of George Floyd.
On Thursday, Aug.13, the Austin City Council released a new budget in which the APD lost roughly $150 million out of its previous $434 million budget. The budget change came in response to local protests, accusations of increases in brutality by Austin police against protesters, and the shooting of Mike Ramos, an unarmed African American and Latino man.
"My initial reaction when I found out about the reallocation was very positive," sophomore Jillian Lewis said. "I strongly support defunding the police and relocating the money to other organizations and other systems because I believe the police are over funded as a whole, not just within Austin."
In phase 1 of the budget plan, about $21 million dollars will be taken out and reallocated. The rest of the selected funds will be taken out in phases for the remainder of this year and into 2021.
"I've never personally seen such a public act of reallocating city money. It happens every year and certain services lose money while others gain money," history teacher Alejandro Garcia said. " However, [the budget change] was such a big newsworthy event this year because of the current social climate of the United States."
New APD budget result of protesters' calls for change
According to The Texas Tribune, the reallocated funds are being moved to fund social services such as health care access and Austin Travis county Emergency Medical Services (EMS). The initial $21 million other city programs that give food access and violence prevention will also receive funding in later phases.
"The money is going to the correct places such as abortion access and mental health response," Lewis said. "In the future, however, I would like to see the money being distributed to schools. Many high schools, including Bowie, could potentially benefit from the defunding."
In response to this decision, many Texas elected officials, including Governor Gregg Abbot, released statements expressing their disagreement with the budget change. In fact, Congressman Roger Williams, who is running for US House District 25, made campaign ads around the reallocation.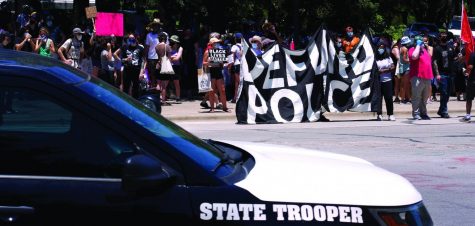 "I was just angry about the push back because I felt that they were fear mongering just to get people to be scared, like, oh no, no more police, scary, when really, that's not what's happening," sophomore Marissa Morales said.
Garcia is interested to see where else the money will be spent and what city programs will benefit from it.
"I hope that the city can use the money that has been reallocated to help with our homelessness problem, as well as investing in drug and mental health outreach programs," Garcia said. "Helping solve the problems before they start is where I hope the city goes with the money now available to use."
In addition to financial reallocation, protesters and activists are pushing for more changes to the police force including: enhanced training, the distribution of funds to appropriate agencies, the creation of more social services, and increased assistance to mental health programs. Those in opposition to the budget change are expressing concerns over losing valuable officers to police the city and decreasing access to prompt 911 services.
"I think that police shouldn't be responding to every single call, and some responses could be from mental health professionals rather than police," Morales said. "[In addition], more deescalation training would be a change I would like to see."
Other cities in Texas, such as Houston and San Antonio, have had similar protests that have pushed for the reallocation of police budgets. However, Austin is one of the first cities in the state to adjust the police department budget.
"I agree that police departments in cities across Texas and nationwide should be defunded," Lewis said. "It is often up to the police to handle so many more tasks that they are not properly trained in, such as handling victims with mental health disorders, homelessness, [as well as] drug dealers. By defunding the police, various cases will be [and can] be properly handled by the correct profession."