Behind the Fence: Concrete comes pouring in by the truckload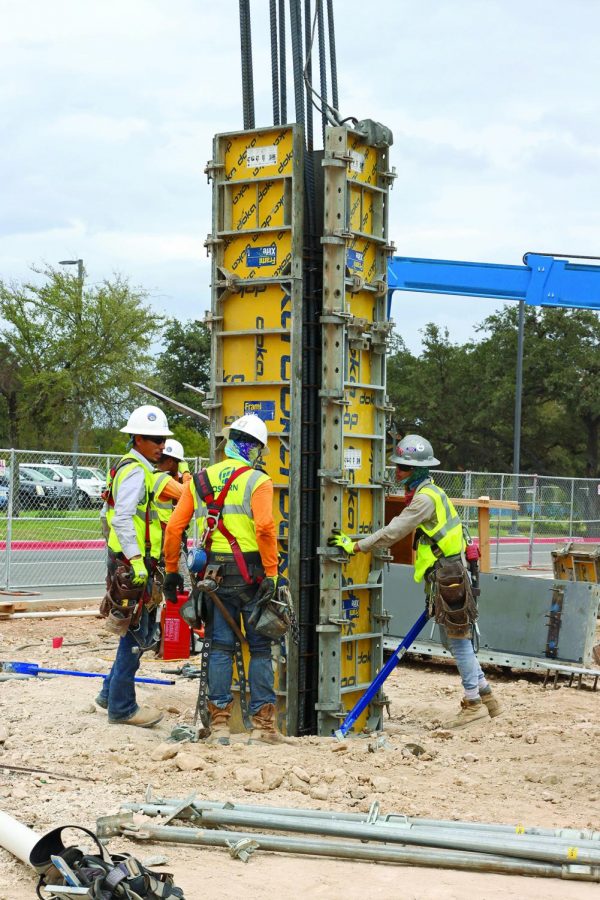 Construction crews have made significant progress in the last five weeks. The site has up to 30 workers on location now that concrete work has started. The weather has been permissive of the construction and the project is on schedule.
All 91 piers have been drilled and poured. Crews are currently constructing columns. There will be about 80 columns once the project is completed. The columns support the floors of the garage.
"Production has been efficient," JE Dunn Senior Superintendent Tim Wright Said. "We are right where we planned to be, and that's always a good thing."
A crane will be erected early November to aid construction as the structure gets taller. The crane will be 121 feet to the bottom of the hook and have 229 feet of reach.
"There aren't many fixed cranes in this area, there's a lot of mobile cranes in the area," Wright said. "I think it will be exciting for students to see it."
The crew uses forklifts to raise concrete buckets to pour concrete into the column forms. As the columns get taller, the crane will be used instead of forklifts to lift the concrete buckets. The crane will also help bring materials and concrete forms up to floors high off the ground.
"The crane will help us be more efficient," Wright said. "It will be a bit quicker and smoother to set concrete forms, pour concrete and strip the forms."
After parking lot A was  opened, the traffic light at Slaughter Lane was reset. The light cycle was only 10 seconds long, causing drivers who were turning left on Slaughter to have to wait significantly longer. Traffic on the entire campus was backed up.
"The light issue was very frustrating, the light changed so quickly" senior Natalie George said. "I am so glad that it has been resolved."
After the fix, the cycle is about 30 seconds long allowing for more drivers to leave Bowie efficiently. Traffic engineers on the construction team worked with the Austin Department of Transportation to fix the issue.
"We got the traffic engineers who know how the light is supposed to work to work with the city to fix this issue," principal Mark Robinson said. "It really helps to have such skilled people working on this project."
The administration and construction company has started planning for next school year. With many camps planned over the summer, the administration and construction company must plan meticulously to prevent issues between students and crews.
"The work that's going to start next year is going to be a whole lot more intensive," Robinson said. "We need to plan this early in advance when such dramatic improvements are happening.
The parking garage is on schedule for completion at the end of the school year. Construction of athletic facilities starts afterwards.
"We have all these highly skilled and highly trained people that are coming together to build a better Bowie for all of us," Robinson said. "It is going to be worth it."