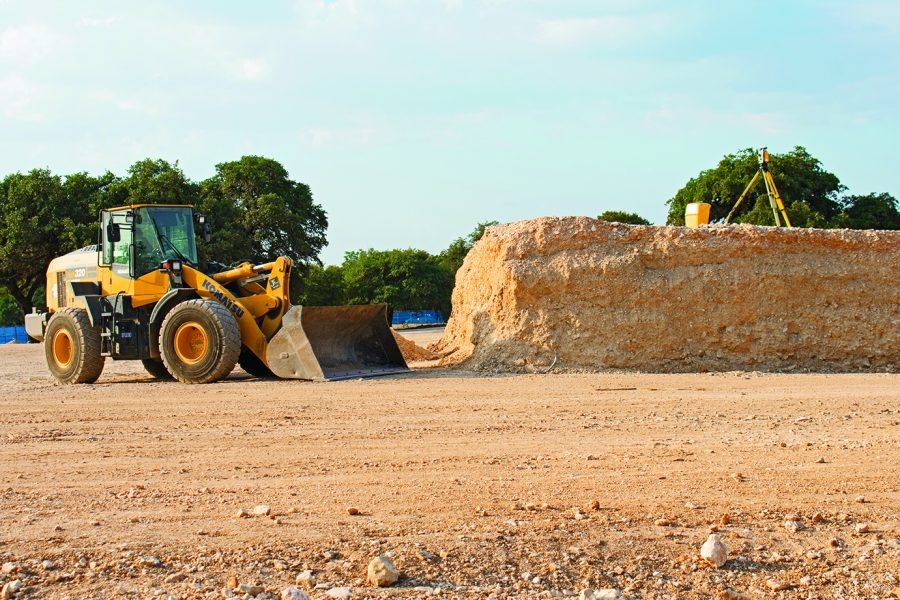 Photo by: Peter Dang
Behind the Fence: Phase one parking lot complete
A chain link fence separates the old Bowie and the future Bowie, machines whir while performing construction, workers discuss plans and labor diligently. Managers and engineers meet to discuss blueprints and challenges. Everyday, the site looks a little different as progress is slowly but surely being made.
Construction was started at the end of the 2018-2019 school year. The groundbreaking ceremony was held on June 6. Phase one of construction has been completed. Phase two of construction is in progress and on schedule.
"In phase one, we completed the surface parking lot," project engineer Jack Whaley said. "For this phase our challenges were mostly last school year when we started work after school ended and wrapped up work before school started."
The surface parking lot is parking lot A which was made available for seniors with the best attendance to apply for a spot to park if they qualified. The lot was scheduled to be finished before classes started this school year, but due to some permitting delays, the project was delayed. The parking lot was finished about two weeks behind schedule, causing the school to implement temporary parking solutions at the Bethany church.
"In phase two, which we are in now, we are building a parking garage," Whaley said. "I'm excited to tackle this stage of the process and build a beautiful parking garage."
Grade and elevation for the parking garage was established using markers, it was finished Sept. 18. Storm drain improvements designed to accommodate for the parking is being completed. The week of Sept. 23, the foundation of the parking garage was started.
"Page Architects have come up with a really good design and they are really driving the project," Whaley said. "Martinez Engineers have also been a key part."
The foundation consists of a deep pier system where vertical piers in the soil will support the garage. The piers will be between 15 and 25 feet deep depending on the depth of the bed rock. Crews will drill holes down to solid bedrock. Afterwards, concrete will be poured into the drilled holes creating piers. After the piers are completed, beams extending between piers will be poured out of concrete. In-slab utilities like conduit for electrical wires for lights and storm drains to redirect storm water from the garage will be installed at the same time.
"Our trade partners have been essential to this project," Whaley said. "We have quite a few of them and they are all beneficial."
"
I'm excited to tackle this stage of the process and build a beautiful parking garage"
— Jack Whaley
Once the foundation of the garage is completed, the first floor slab will be poured around the end of October. Afterwards preparation work like setting up concrete forms for beams and posts will be completed in order to start the second story.
"After we finish the foundation, we are building up," Whaley said. "It will be exciting to see the progress as it is made."
To reduce their impact on traffic, the construction company carefully plans and schedules around the school schedule. Deliveries of materials and equipment are scheduled before 7 a.m. or after 9 a.m. Construction crews are scheduled to arrive before school starts and to leave before school ends to reduce their impact on traffic.
"Everything we do here at Bowie, we have to consider the school," senior project manager David Murphey said. "With a campus this big and a population of nearly 3,000 students, we have to be meticulous."
Student input through student representatives on the project team has been carefully considered and implemented in some cases. Class of 2020 representative for the project team senior Emma Davis explains.
"I brought up the idea of creating an additional left turn lane onto Slaughter," Davis said. "The team thought that was a good idea and they made it happen."
Like many of the students she represents on the project team, Davis is deeply fascinated by the ongoing construction.
"I think it's super interesting to see everything that's being done," Davis said. "Especially because I am interested in a career as an architectural engineer."
The parking garage with the rooftop tennis courts will be the first of its kind in Austin ISD.
"It's a once in a lifetime opportunity to build tennis courts on the rooftop of a building," Murphey said. "It's not often you get to do that here in Austin like it is in downtown New York."