Sophomore makes dough by the dozen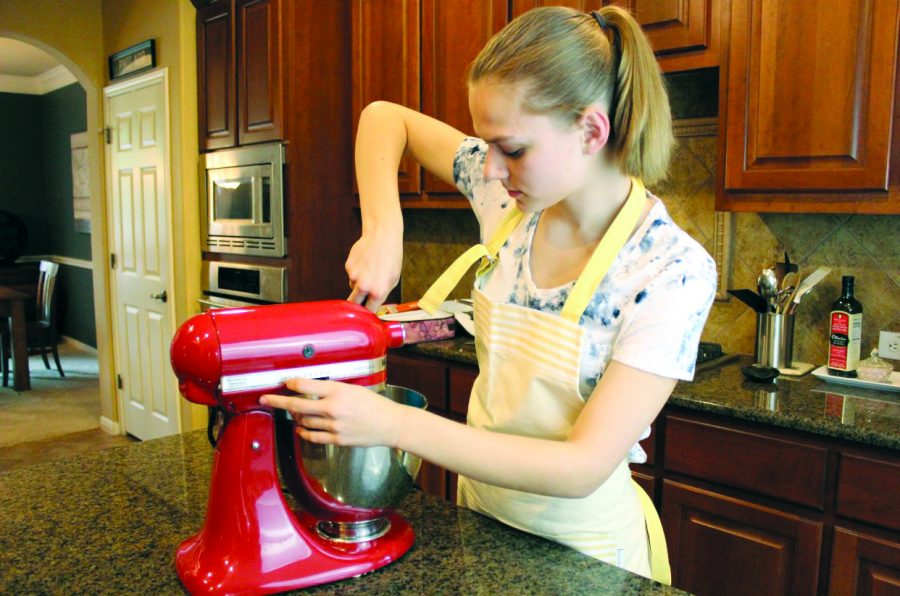 Piping bags filled, hands steady, and apron on, Mariah Barsotti prepares to make dozens of cookies for eager customers.
Barsotti frequently makes cookies for events such as shows, blood drives, or just for friends.
"My favorite part of my business is getting to create cookies a simple thank you or for such neat events like blood drives," Barsotti said. "It's really amazing getting to pull everything together in the end and give it to someone who gets really excited over them."
Barsotti creates a wide variety of cookies ranging from having a simple flower on the cookie to designing entire faces on a cookie.
"I think her business is a great idea because a lot of people don't do cookie decorating, and her creativity sets her business over the top," sophomore Elise Gonzales said. "Her creative mind can produce such original cookies that no one has ever seen before. For example, I know she did a Bob Ross inspired cookie which turned out super funny and detailed."
Barsotti is usually very busy during the holiday season, rushing around to make creative and interesting cookies for people.
"Holidays like Christmas, Easter, Thanksgiving, and Valentine's Day are my most sought after cookies because those types of days usually are associated with treats, and my cookies are a more unique gift and treat that's not the usual candy," Barsotti said. "Holidays are always really fun because I make a lot of cookies that are similar, so it creates a spread of different designs that form a cohesive collection."
Barsotti's talent has spread word around the school to many students.
"I've used her cookies for a lot of events like birthday parties and gifts," Gonzales said. "For one birthday party, she made us all cookies like the Tiffany & Co. brand which turned out beautiful, and then we used her cookies for the Silver Stars spring show and the cookies were in the shape of a boot which was adorable."
According to Barsotti, she spends hours meticulously focusing on the tiny details of her cookies.
"My favorite part about the cookies is the decoration it's just so in depth and detailed," Gonzales said. "It was also cool because she posted videos on her Instagram of how she decorated them, which was interesting to see the process and how precise she has to be."
In addition to baking cookies, Barsotti splits her time between her cookie business and her busy color guard schedule.
"My cookie schedule relies heavily on my color guard schedule," Barsotti said. "Some weeks my time is completely filled with world guard practice and some weeks I'll spend 20 hours making cookies; I've done as many as four orders in a week or gone for two months without making any. Usually I get an itch to make cookies after a couple weeks of not being able to, and that makes making cookies even more exciting."
According to Barsotti, she always strives to be a determined student in addition to a busy baker, and is in difficult classes such as Pre-AP Algebra 2 and Pre-AP Chemistry.
"It's definitely a struggle to manage all my cookies, school and color guard," Barsotti said. "I've gone weeks where I'm completely overwhelmed with everything, and cookies are the icing on top. I have to plan ahead and unfortunately have had to deny some orders that I really would have liked to do, which is one of the biggest struggles."
Although Barsotti is described as a talented and eager baker by her friends and family, she did not receive any technical training.
"I never really baked before my [cookie business]," Barsotti said. "I've always enjoyed making desserts with my mom around the holidays but it didn't become a hobby until I was introduced to the cookies my mom had made. After that, I took to baking pretty quickly, adapting the recipe I had originally received to make it my own, evolved recipe and process."
Spending so much time in the kitchen affects more people than just Barsotti.
"She takes a lot of time in the kitchen, but I would describe it as a beautiful mess," Mariah's mother Janelle Barsotti said. "She's also using the profit to save for a car, which I like because it relieves a lot of pressure off of me."
Mariah spends a lot of time perfecting recipes for not just the right canvas for design but for the taste.
"Her cookies are literally the best I've ever tasted," Gonzales said. "It's so cool because most heavily decorated cookies end up not tasting that good, but something that sets her apart from other places is that the cookies taste as good as they look, which is amazing."
Not only has her talent gotten her many customers, Mariah's personality gets her many friends in addition to customers.
"I love Mariah, she is the best person with the best cookies ever," Gonzales said. "Her business is really thriving right now because it's such a cute and good idea, and a wide variety of people can use cookies for their events. That's why they're so loved by everyone anyone can appreciate them and use them in some way while negotiating with such a loving and caring person who truly wants the best for her customers."
Although Mariah makes a profit from her business, she truly has a passion for the design aspect.
"Cookies are an amazing way I can express myself and relieve stress," Mariah said. "It's very therapeutic to pipe and helps me express my more creative side. I put a lot of pressure on myself with school and guard, so it's really important that I have an outlet."
According to Mariah, she could even see her passion for baking cookies take her to a cooking show one day.
"Right now I really enjoy making and selling cookies," Mariah said. "I'm not sure what the future of my business will be, but it's definitely setting me up for the experience if I was ever to start another business. Who knows, maybe I'll be a cooking show host one day, or maybe I'll have to stop when I reach college, but I'm really happy doing what I'm doing right now."