Senior directors take over the theater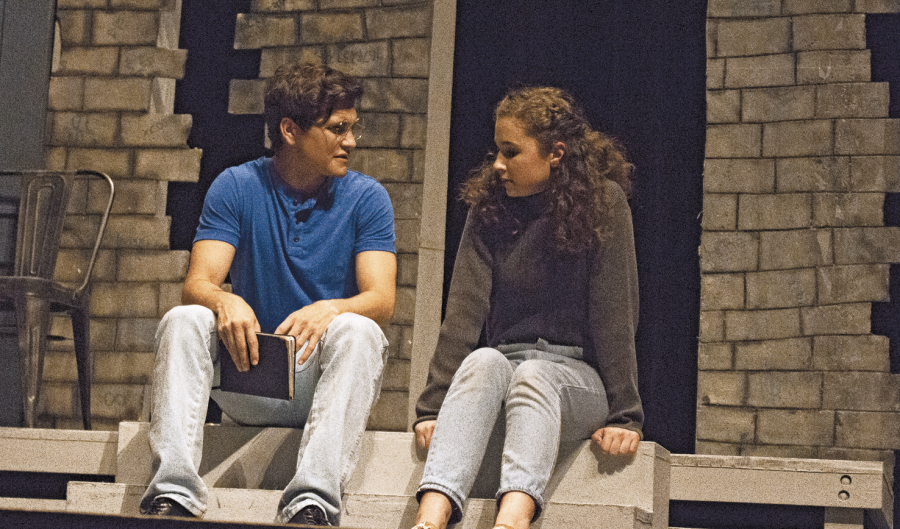 The lights glare down on the stage and the audience applauds as the curtains open and the seniors pray that the pieces they put their heart and souls into are delivered perfectly by their younger cast members.
The senior one acts, which were available for other students to see from May 8-12, are short plays in which the seniors were in charge of writing and directing.
"They are [showing on] Wednesday, Thursday, and Friday at six, and then on Saturday and Sunday at two," theater director Betsy Cornwell said.
Being a director as a senior is a unique experience, and Cornwell believes it benefits students greatly.
"It's a good way to learn about management and seeing the big picture," Cornwell said. "They learn to understand what it's like to be responsible for the people who are under you. It's really unique program that I don't think any other school in Austin, maybe even Texas, does."
Ben Harmon, a senior director who has been in the theater program since his freshman year, is directing the play "'dentity crisis."
"I have creative control over all aspects of the show, [including] picking actors, music, lights, or creating the set," Harmon said. "My senior one act is about a girl who has a nervous breakdown because of how insane her family is."
He has really enjoyed being a leader and director this year.
"The most exciting part of directing the show is watching it all come together in the last couple of rehearsals," Harmon said. "I love seeing the different shows because there's such a wide variety of shows that would never be chosen for fall or spring shows."
Students also enjoy the Senior One Acts because they allow them to work with new people.
"My favorite part of Senior One Acts is the people I work with," sophomore actress Aidan O'Brien said. "Some of them I've done shows with before and some of them I haven't…they have made rehearsal a lot of fun."
O'Brien appreciated how the Senior One Acts open up opportunities for younger students.
"Sophomores and freshmen generally have more opportunities to be in leading roles because some of the juniors are assistant directors to the seniors," O'Brien said.
It's her second time acting in a senior one act, and she is part of the show "Starting Monday."
"I play a nurse. It's a small role but I'm on stage in several scenes," O'Brien said. "The show I'm in is directed by Claire Wilcox. It's about two young women, Ellis and Lynne, who meet and become good friends. Ellis is diagnosed with cancer, and Lynne is by her side through her treatment."
Because there are 12 senior one acts, finding time to share the stage and rehearse has been difficult.
"The most challenging part of this show has probably been that we haven't rehearsed on stage with our set yet," O'Brien said. "Because there are so many shows in a short amount of time, we haven't [gotten a lot of] chances to rehearse on stage."
The process of creating and executing the shows is very rewarding for both teachers and students.
"I like watching how the younger students responded to the direction of the older students," Cornwell said. "It's really fun and reflects all of their hard work."
Harmon explains how watching the acts is exciting, but also really nerve racking for the first-time producers.
"[It is] challenging juggling all of the parts of the show and hoping they all fit together," Harmon said. "[The] show all comes together in the last rehearsals."
Outside of the senior one acts, the theater program has had a successful year.
"We sold out eight or nine performances of Mamma Mia," Cornwell said. "We did really well in our competitions, but you have to remember that we do as many plays as we can so that as many kids as want to can participate."
Harmon credits his success as senior director to Cornwell.
"Mrs. Cornwell has taught me pretty much everything about directing from blocking to getting better performances out of actors," Harmon said.
Harmon has loved his time in theater and will definitely miss it after he graduates.
"It's a bummer that I've done my last acting performance…[but the] Senior One Acts allow for casts to get close [and] are a great set of shows to end the year on," Harmon said. "Now that I'm graduating, I wish that I had taken in more moments to just appreciate everything in the company."