Freshman scores a varsity spot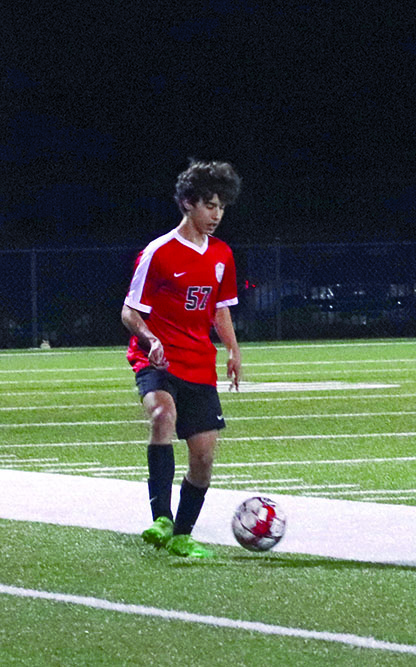 Sam Blas, Senior Sports Editor
May 3, 2019
After playing on high level club teams for nine years, Dillon Alpert has earned his way to a starting position on the varsity soccer team as a freshman.
"He was one of the best out of all the kids trying out," art teacher and boys varsity soccer coach Ryan Logan said. "You could tell that he was the highest level freshman player."
Alpert originally made the junior varsity A team, and he was moved up to varsity during preseason.
"I thought that he would probably be on my JVA team," Spanish teacher and JV coach Felipe Mendoza said. "Once I put him on JV, I saw that he's probably even too good for that… He needed to be at the varsity level."
Alpert did not expect to make varsity as a freshman, and he said he was happy to have exceeded his expectations so quickly after tryouts.
"After tryouts, I didn't think I was going to make the varsity team, but I did think I was going to make the JVA team because I've played with most of the players on that team before," Alpert said.
One of varsity's key players got injured early in the season, which opened up a spot in the defense for Alpert to take advantage of.
"He played a position we were in need of after one of our captains had gotten hurt," Logan said. "He plays as our starting outside back." 
Alpert's strength and dominance on the ball enable him to compete against older kids on varsity.
"With his intensity and his skill on the ball and ability to control the ball, I thought he'd be a good fit," Logan said. "I was concerned about his size at first, but when I watched him play, he plays larger than he is."
Along with his physical abilities, Alpert's mental knowledge of the game helps him stand out from other freshmen, according to Mendoza.
"He has a great soccer IQ [and] a very good awareness of the game," Mendoza said. "I think there's only been maybe one or two goals scored against [the team] on his side."
Being on varsity has helped Alpert improve his game and get experience against better competition.
"My experience on varsity is playing the game and moving the ball at a much faster pace than the other freshmen on the freshman team," Alpert said. "I feel that being on varsity will help me be a better player when playing with older opponents."
In his freshman season, he's noticed the similarities and differences between club and high school soccer.
"My expectations for going into high school soccer was that it was going to be very competitive," Alpert said. "High school soccer is different than my past teams in how we're all closer and build team chemistry."
Through his dedication on the field, Alpert has befriended older players on varsity.
"I feel that he's done a great job filling a position of need," Mendoza said. "The kids have really come to like him; he's very well respected within the team."
The varsity team has had many ups and downs throughout the season, according to Logan.
"We started off pretty weak in preseason," Logan said. "The first round of district we played really well, and we've kind of struggled a little bit to finish off the season. We have a quality team, but we've hit a string of bad luck, so now we have to overcome it."
Because of their record, the varsity team's spot in playoffs depended on the outcome of their March 15 game against Westlake. 
"The outcome of the game was a 4-0 loss for us," Alpert said. 
The team was not able to qualify for playoffs, but Alpert was proud of the team's season as a whole and is excited for next season.
"If we [could've] scored our early chances in the game, it would've set a different tone and [given] us the motivation to win," Alpert said. 
Alpert has enjoyed his time on varsity due to all of the support he's gotten.
"The thing I've most enjoyed while being on varsity is representing the school as the top team and all the hype after winning each game," Alpert said.
Both coaches see the potential in Alpert and look forward to coaching him for the next few years.
"He's a key part of the team," Logan said. "He starts on varsity and he'll probably be a four year starter."