FFA students get a taste of ranch life
Agriculture students' agenda includes raising and caring for their livestock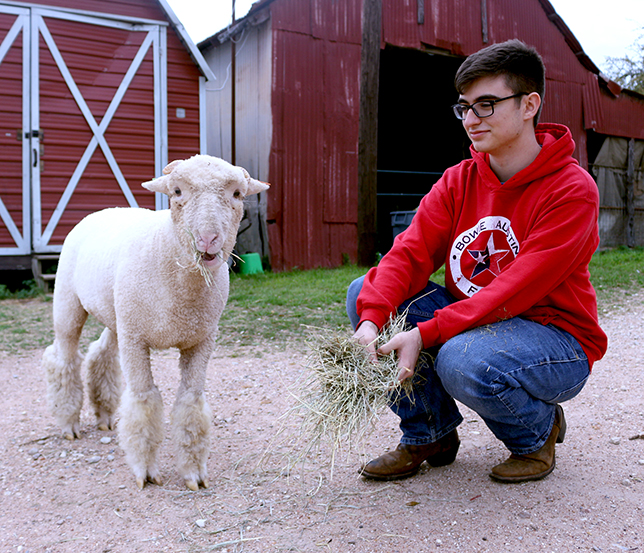 Rey Gray, Photo Essay Editor
May 4, 2019
FFA students put a lot of time in to taking care of their animals, day in and day out Future Farmers feed, bathe and care for their livestock. Starting as early as July FFA students can purchase and begin raising their animal for the year. They get their animals as soon as they can, choosing from pigs, goats, lambs, sheep, chickens, turkeys, and rabbits. 
For students to begin raising their animals they have to first be in the class, pay their dues for FFA, then they have to choose one of two pathways for FFA; agriculture or animal raising. While taking these courses students are raising their animal or plants and learning hands on skills. 
"I chose the animal pathway because, while I do enjoy horticulture, I prefer working with animals," junior Mark Fattouh said. "I feel like working with animals allows you to form bonds with the patience which allows you to provide them with better care."
Most students who are raising animals choose to show them in competitions, these competitions are a vital part in FFA and give the students a chance to display their hard work throughout the year. 
"Showing competitions are the opportunity to show off your animal," FFA teacher, Shelby Stephens said. "You prepare all year for the show, getting your animal in the best shape possible, attend show, go into the ring with other students and walk your animal around the ring, utilizing showmanship skills specific to each species.  A judge will then determine the placing of the class, picking the best animals out of a class." 
Before students can start putting their animals in competitions they have to bond with them. They do this by playing with their animals and spending time with them to build a relationship of trust. The relationship that they build with their animal will allow them to perform in competitions. 
Sophomore Hannah Shepard has been working with her goat, Skipper all year and often takes him out to play and run in the FFA field and grass track. 
"Skipper's favorite thing to do is run around the grass track here," Shepard said. "He's named Skipper because of the way he runs, he can't do it properly so he skips around."
At competitions students' animals can go to auction, and when that happens students can make a profit off of the animal that they are raising. 
"On the market it is less than a dollar per pound for pigs," senior Will Gamblin said. "But if you make auction you can make a couple thousand dollars off of your pig."
At the end of the year students choose to do a few different things with their animals, freshmen Adrian Lopez recently gave his goat, Lord Farquaad, to a ranch in Marble Falls.
"I gave him to this really nice couple who own a lot of goats," Lopez said. "When I dropped him off he looked so happy to be with the other goats." 
The students in the Future Farmers Association not only grow and raise animals and plants, they also cultivate valuable life skills.
"In the FFA program, students cultivate responsibility, leadership, determination, and a passion for agriculture," Stephens said. "It is also the goal that they leave with a practical knowledge skill set, such as knowing how to care for plants, care for animals, and other aspects related to agriculture."