Wide receiver named as a top recruit of 2022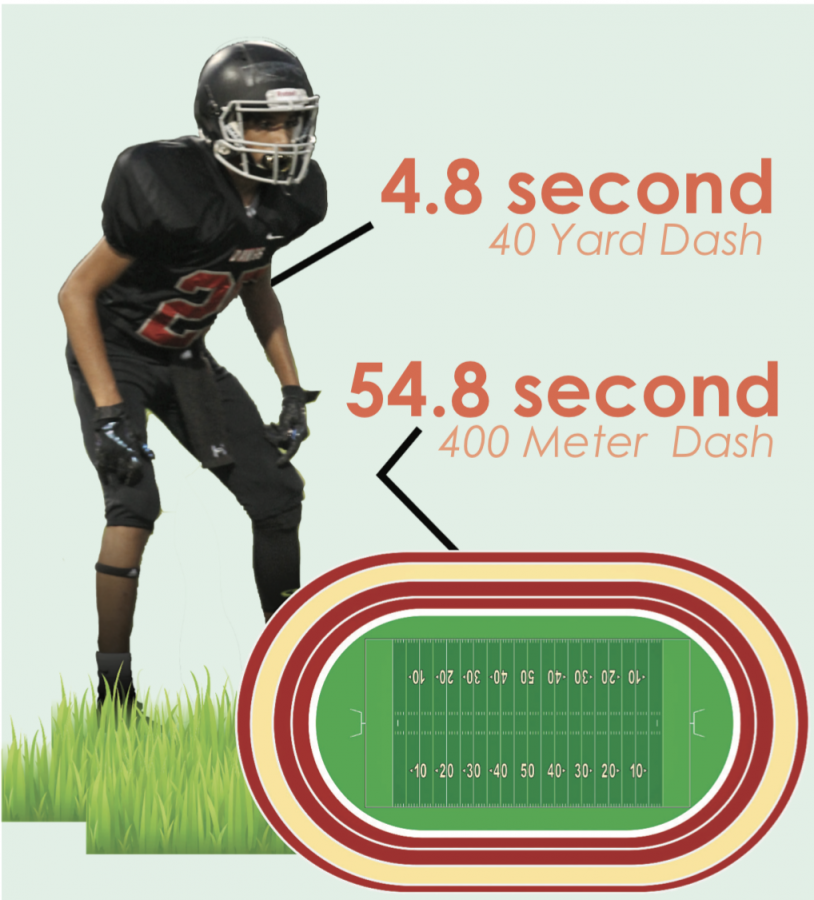 With only one Dawgs season under his belt so far, freshman football player Adrian Rodriguez has already begun to make his mark. In February of this year, Lone Star Prospects ranked Rodriguez 99 out of the Top 100 Wide Receivers for the class of 2022 in Texas.
Rodriguez began playing football nine years ago, and he realized his love for the game at a young age.
"I've been playing since I was six, and I loved playing, so I never stopped." Rodriguez said. "I've had a lot of [high level] experience."
The freshman, who is originally from Buda, came to Bowie in hopes of joining the football program and improving his skills.
"I thought coming to Bowie would be good," Rodriguez said. "I started playing at Buda, and I finally came over to Bowie to play for high school."
Football coach and geography teacher Tyler Branyon has been coaching Rodriguez's team, Freshman Black, throughout the 2018-2019 season and offseason.
"Adrian is a quiet kid who works hard on a daily basis and likes to compete," Branyon said. "He has a great burst of speed and has really quick feet, which helps his route running."
Fellow freshman and teammate Grason Foradory appreciates the skills that make Rodriguez the player he is.
"Adrian's a good teammate. He comes [out] and he [always] puts good work in," Foradory said. "His speed is definitely really crucial, and his route running is pretty good too."
Rodriguez knows his strengths, and he credits them to getting him ranked on the Lone Star Prospects list.
"I think I was able to get on the list because of my speed and the way I catch the ball." Rodriguez said. "I am faster than most people."
Lone Star Prospects has been increasingly recognizing Bowie athletes in recent years.
"I think now it's become more and more of where these kids go to camps and start getting involved in this ranking stuff. It's very new and there hasn't always been that opportunity," athletic director Jeff Ables said. "He's really young, so it doesn't guarantee anything, but it's a good start."
Outside of his speed, Rodriguez's work ethic and passion for the game stand him out among other wide receivers in Texas.
"You can see he really loves to play. You have to love the game to succeed," Ables said. "He wants to work and get better."
Rodriguez is a well-rounded player, which allows him to be helpful in different positions and areas of the field. His versatility is useful to the team.
"He'll definitely be a guy who can play both sides of the ball for us," Ables said. "He's a good enough athlete to play in the defensive secondary and play on offense as a receiver."
Being only a freshman, Rodriguez is not very big, so his greatest disadvantage is his size.
"His deal right now is that he just has to get a little bit bigger, but we know he's going to grow [in the future], so that won't be an issue," Ables said. "He's lifting weights and getting stronger, and that'll up his game and help him a bunch."
Coach Branyon credits a portion of the top freshman football team's success to Rodriquez.
"Adrian was a big part of the success of our freshman team this year," Branyon said. "He and his teammates have a bright future at Bowie."
Rodriguez hopes being recognized for his abilities will be beneficial when the time comes to start thinking about his future football career.
"I think it will benefit me a lot because [when] colleges look at the rank[ings], they'll see my name," Rodriguez said. "It makes me want to work [even] harder."
Young and ambitious, the freshman has set several personal goals for himself in his upcoming years as a bulldog, all of which require him to continue training at a high level.
"In the next three years, I want to be a lot better than I am now so that I can be in the top-50," Rodriguez said. "I want to work and play harder so that I can one day be number one."