Nail it at prom with perfect fingertips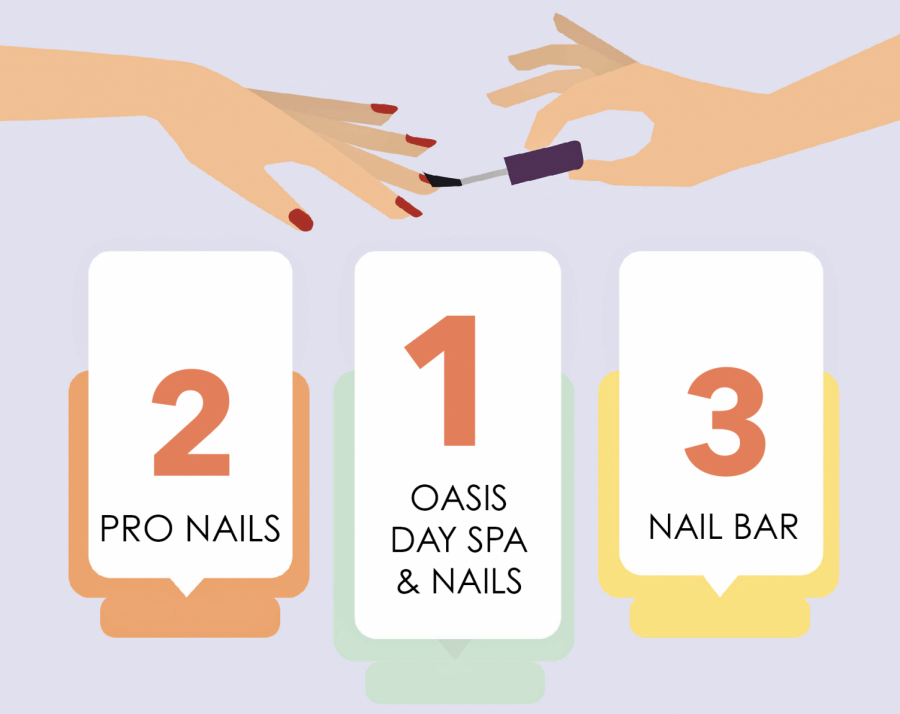 For all of those out there who are in desperate need of a manicure for prom but don't know where to go, I am here to help.
I went to three nail salons near Bowie and looked for they best application, service, and price to make prom-prep a little bit less stressful. At each salon I got SNS nails with a short tip to have a consistent factor to base my opinions on.
The first salon I visited was Pro  Nails. It is located in the shopping center near TCBY and Coffee Bean & Tea Leaf on Slaughter Lane at the corner of MoPac.
My first impression of the nail place was horrible, but it quickly got better once the nail lady started to work on my nails. From walking into the salon, the layout has the drying station centered in the entrance and can look like the front desk at first glance.
I did not receive a greeting when I walked in, I only had people look over in my direction. This threw me off a little because I was confused where to go, so I accidentally walked up to a customer and asked if they had any openings. She was very nice about it and pointed me back to a lady who then told me it would be a 10 minute wait, but I was already embarrassed and hurried back to the waiting area.
I am usually a shy person around new people, so this actually left me shaking and laughing at myself for mistaking the middle aged housewife as a nail tech.
It only got worse from there because my shaky hands then knocked over the display of nail colors. I actually considered leaving because I was laughing and absolutely traumatized, but I sat it out and waited my turn.
After that the service improved a lot and my nail lady was super sweet, but she did not pay much attention to me and talked to a fellow nail lady the entire time. I absolutely loved my nail color (I'm pretty sure it was color 160, a light pinky nude) and the tips have stayed on my nails so far without peeling off on the inside. It took about an hour to apply the nails and they offered drinks and snacks for an extra charge. The cost was $50 even and I gave a $10 tip for knocking everything over on accident, just in case I broke something.
On a scale of 1 to 5, I would rate the service as a 3 due to not having anyone greet me, the application as a 5 because I love the job they did and the cost as a 4 because it was on the pricier side of getting nails done, but wasn't too horrible.
The second nail salon I visited was Nail Bar across the street from Pro Nails and near Orange Theory, also located at the corner of MoPac and Slaughter Lane.
When I walked in I was greeted and asked to pick out a color, which is pretty standard for most nail salons, but I thought it was friendly of them. I picked out a brighter pink color and sat down at the bar with my friend. Initially I was a little bugged because they went straight into applying the power instead of doing the usual nail prep, forgetting to file and take care of my cuticles.
I assumed that this would mean that the price would be cheaper, but it was the same compared to most nail places. They did offer beverages and we were done in about 30 minutes, which I did like. The cost was $40 and the nails lasted a little less than a week before peeling off, however my friends nails, who got the full nail prep, lasted a month and had no problems.
For service I would give Nail Bar a 5 because they were efficient and nice. I may have just had a bad glue, but the lack of preparing my nails before applying the powder made them last a quarter of their usual time and I have had problems with them doing this with gel nails before too. Because of this, I would rate application a 1 because it was a waste of money to not have my nails last even a full week.
Cost, I would rate a 2 because  I think they overcharged me for having to pay the same thing as my friend without giving us the same treatment.
The last salon I visited was Oasis near the Satellite Cafe located at Escarpment and Slaughter Lane.
Out of all the nail places, Oasis impressed me the most with their service.
The spa itself is beautiful and spacious enough so you don't feel overcrowded when they became busy.
I was greeted with a warm welcome as soon as I walked in and was seated immediately. They do offer food and drinks and when leaving the salon they give you a choice of one of their own complimentary body lotions. My nail lady was kind and focused and started conversation with me while she did my nails, but didn't over talk to the point where it was too much. It took her around 40 minutes and my nails looked really nice.
My nails themselves were one of the best jobs I've ever received. They lasted about a month and cost around $40, $35 without having a nail tip applied.
Out of all the nail places I visited, Oasis was my personal favorite with a 5 out of 5 in all categories. They are welcoming, efficient and don't overcharge. This was the most relaxed I've felt while getting my nails done and they did an amazing job.
For those of you looking for cheaper options for getting polished nails check out a beauty school for the students to practice their techniques on customers.
Although it's a little unconventional, cute nails come at a huge discount when the nail salon ego isn't included in the charge. A good option located on South Lamar is Baldwin Beauty School, but make sure to call ahead to see if they are offering appointments that day.