Corps Values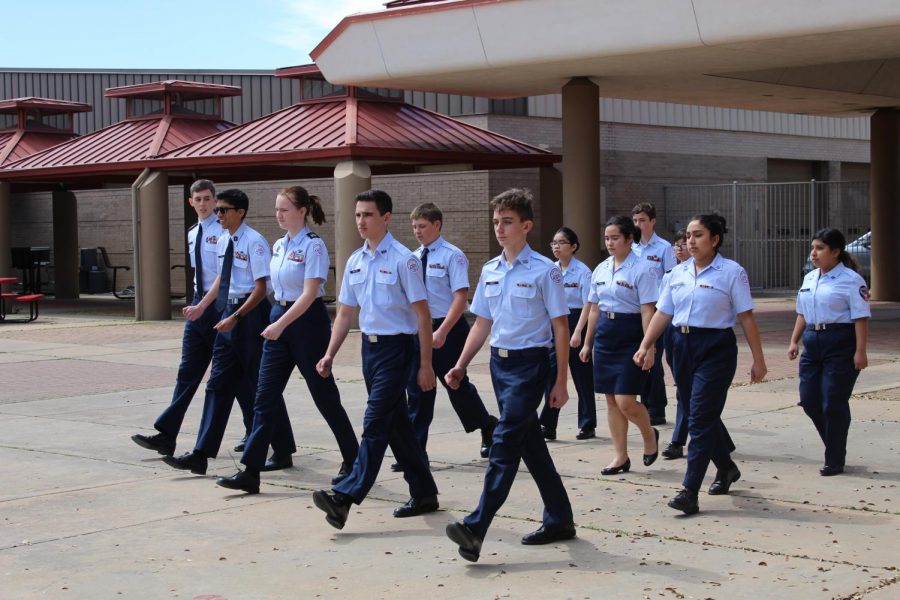 He dreamed about serving his country. He became one step closer to his goal by joining Junior Reserve Officer's Training Corps as a freshman at Bowie. He has moved up in ranks, and now, as a senior, is the JROTC Corps Commander, the highest position in the program.
The JROTC class at Bowie is funded by the Air Force and teaches students leadership skills as well as different aspects of military branches. JROTC students have the option to compete in various competitions, rise up as one of the class leaders, and participate in community service and gain ribbons, or awards, to wear on their uniforms.
"I think the best way to describe JROTC is a leadership lab," JROTC Master Sergeant David Loyd said. "In my curriculum, which is leadership, [students learn] everything from customs, courtesies and ranks to how to eat in a formal dining setting. We also have sections on communication and different job opportunities, [as well as] how to prepare a resume. It's a wide spectrum of things."
JROTC advisers and students from nearby high schools often visit middle schools to share information about the program in hopes of recruiting new students.
"I always wanted to go into the military since I was little so when they came recruiting to my middle school, I saw them and got really excited because my older step-brother was in JROTC and I thought that was really cool," Bastian said. "I just got really involved from the start. It's helped me learn study skills. It's helped me learn how to make a resume for different jobs; it's helped me get different jobs because JROTC is a resume builder. It's helped me just learn how to be a good person."
The students are required by the Air Force to wear their uniforms to school on Wednesday or Thursday, depending on which day they have the class. Wearing their uniform properly is a big part of students' grades for the class.
"We place a very big emphasis on responsibility," Loyd said. "We rarely send a note home to mom and dad—if you forget your uniform for the day, that's not their responsibility to remember, it's yours. That's a small thing, but personal responsibility and time management is something we stress from day one. That works whether you're going to college, whether you're going straight into the workforce or if you go into the military."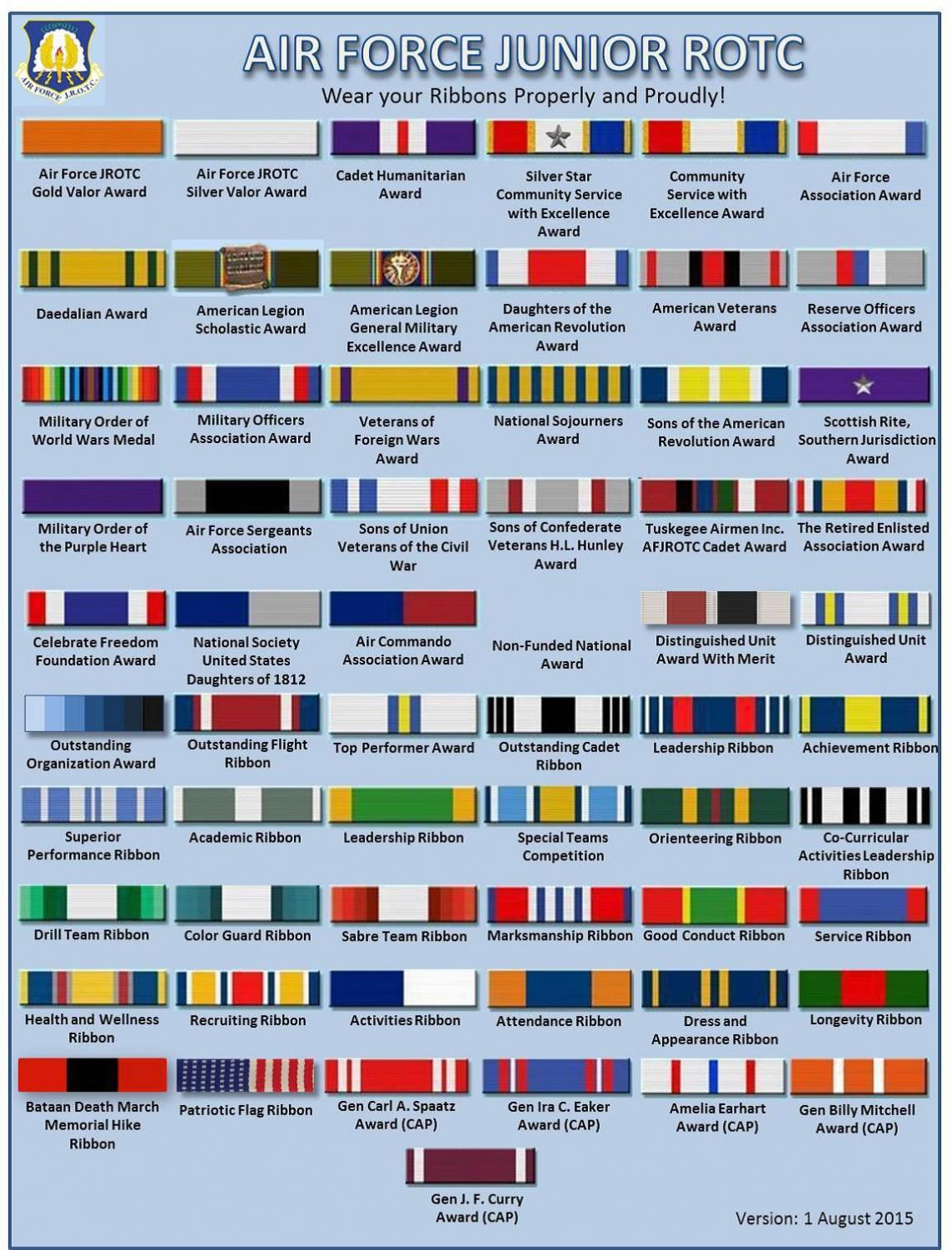 There are many types of competition within JROTC, such as drills, drone flying, and rocketry. Each of
 the competition types have their own schedules for practicing and competing.
"I like the competitions because it allows for fun outdoor activities with your fellow cadets and a good meal afterwards," sophomore Nick Mosrie said. "The Master Sergeant comes with us and he's really cool to talk to after you're done and waiting for the cadets."
The students are not required to participate in community service, but many do. Churches, schools and other programs often ask Loyd and JROTC Captain Paul Hill  to send students to help with different tasks.
"We have an Awareness Presentation Team that, during school hours, can go to the middle schools," Hill said. "For example, during Halloween, we would go [to middle schools] and do Halloween safety. We have had students in the past actually wear Halloween costumes and go over there and put on little skits. They'll teach individuals to be careful with the candy you get; is it wrapped, is it not wrapped, stay away from strangers, stay in well-lit areas, those kinds of things."
JROTC students have an upper hand when in comes to joining a branch in the military. Students who have been involved in JROTC for three years can gain three higher ranks within the Air Force and two higher ranks in any other branch of the military.
"[JROTC students would] start off with a higher pay raise," junior Derek Perez said. "[JROTC students] start off [with] more knowledge than most people because that puts you ahead and you kind of just know what's expected."
The program not only helps students who decide to join the military after high school, but can also aid on college applications because of their involvement in the community and at school.
"There is about 17 national awards that will be awarded to cadets in JROTC, which looks pretty good on an application for college," Hill said. "We do about 1,000 to 1,400 hours of community service. [College interviewers] actually ask what you [are involved in] on the consolidated application for college; the cadets who are actually active in the program can start listing all of their community service. A lot of folks in JROTC have to add an extra page because they just write down everything they've done."
"
We have our own core values: integrity first, service before self, and excellence in all we do."
— Paul Hill
Senior Thomas Dean believes that a huge misconception is that JROTC is a military recruitment program. Advisers describe JROTC as a leadership program that can teach people certain aspects of the military if they are interested.
"The biggest misconception of JROTC is that you have to go in the military afterwards, and that it's just a solely strict military program; that's not true," Dean said. "Even in the college level of ROTC, only so many students will actually go to serve in the military. Right now we only have [a few] cadets that are going to enlist."
The ranking system within JROTC loosely follows the ranking system in the Air Force, with everyone starting out with rank of Enlisted One. Students can get promoted by taking on more responsibility, such as becoming the leader of a competition team.
"I like our ranking system because it allows for cadets to try their best to reach goals that have tangible rewards," Mosrie said. "The ranks give you more responsibility and respect from other cadets as you climb said ranks."
All JROTC instructors are required to be retired from the military. Loyd worked as a weatherman for both the Air Force and Army, and Hill was an electronic warfare officer.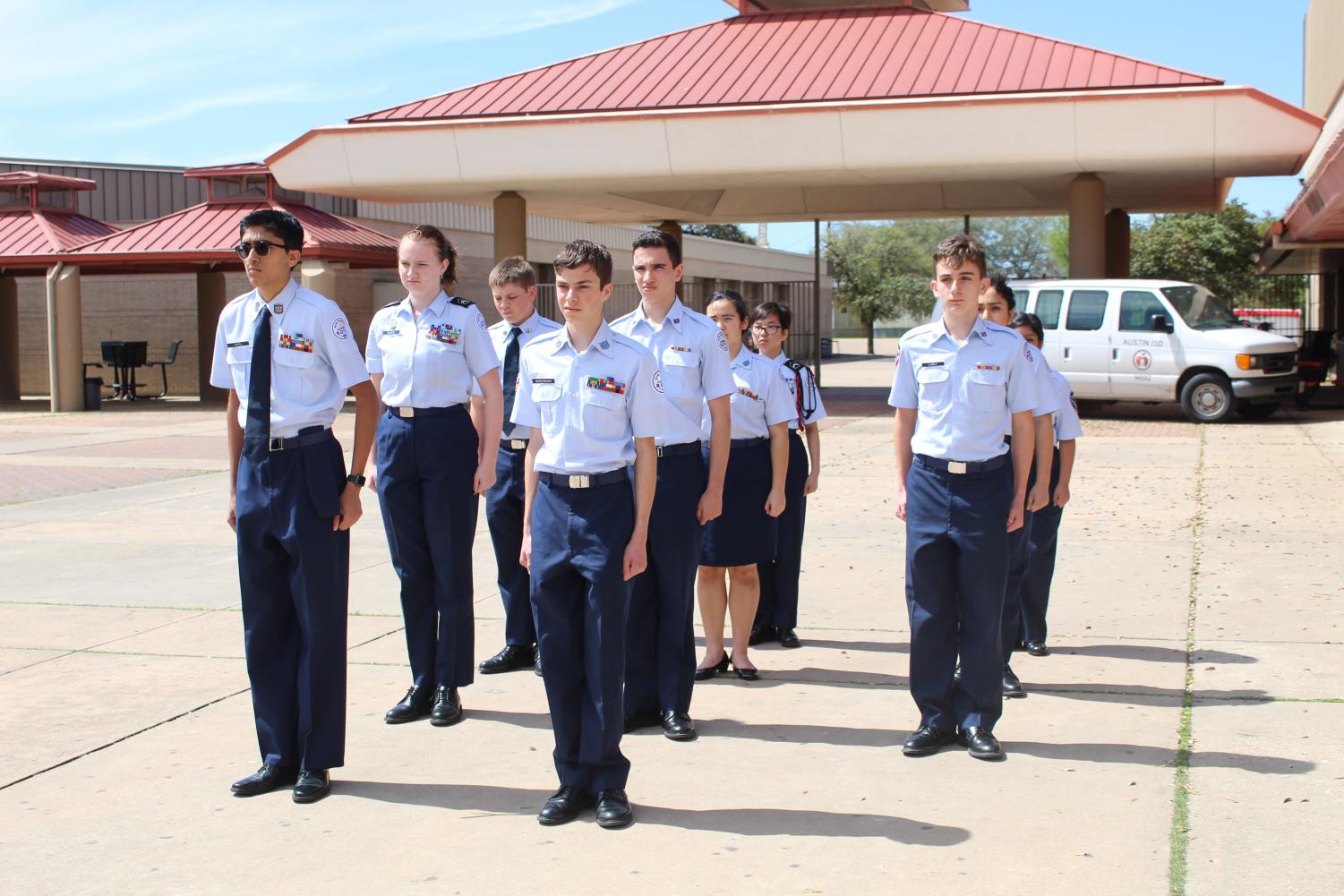 "I believe that we work on character," Hill said. "We have our own core values: integrity first, service before self, and excellence in all we do. Those are the three core values of the Air Force. In the military, you can't afford to lie. 'Integrity first' is what I tell everyone who comes here. I like to instill those core values and prepare [students] for what's waiting for them once they walk across the stage and they leave here."
Since JROTC takes up a lot of the student's time, from practice for competition and community service, the cadets in the program have a tutoring system set up. Upperclassmen often tutor the younger students.
"I help younger cadets learn to get their uniform on right, which is kind of an unspoken thing within JROTC, where you help out the younger kids in JROTC and out of it," Dean said. "I'm doing a math tutoring session with some of the cadets within JROTC just in anything they're really struggling with. [There is] lots of social and emotional support—any older cadet is someone [an underclassmen] can come and talk to about any problems [they're] facing in the corps and we know really well how to refer you to other people or to a counselor if need be. The way we handle a lot of issues is through the chain of command—you go up the chain of command until the problem gets resolved."
"
[JROTC] is probably the most life-changing group of people i've been a part of"
— Thomas Dean
Despite a large number of JROTC students spending their FIT sessions and time in the afternoon in the JROTC room, the students are involved in a number of activities outside the program like theatre and sports teams.
"One of the really unique things about JROTC is it's a lot of kids from a lot of different cliques coming together into something a little more specialized that they all have in common," Dean said. "Last I checked, we had over 20 different extracurricular groups represented within JROTC. Within JROTC itself, you have kids who really love drill or to be on the drone or rocketry teams where they're launching rockets or racing drones. So it's a really tight knit family group."
Within the JROTC class, students are taught leadership and military skills for half of each class on Mondays through Thursdays. On Fridays, JROTC students play games outside.
"Your requirements are you must be able to participate in a regular PE class because we do some physical things; we play some interesting games on Friday," Hill said. "We play games like flickerball, which is kind of like ultimate Frisbee, and we have one called combat kickball, which is a kickball game with five balls flying around at the same time; it's a blast."
Despite the many rules and guidelines within JROTC, students like Dean feel the program has helped them throughout their high school years and will continue to affect them after they graduate.
"You get over having to wear the uniform and getting your haircut," Dean said. "When you start appreciating [JROTC] for what it is, a program of really fun individuals coming together to make a whole organization, you really can enjoy it a whole lot more and you just get to have fun with the people that become your best friends. I'd say [JROTC] is probably the most life-changing group of people I've been a part of within school and I don't think I can give back enough to the corps for what it's given to me in a sense of my personal identity and just my love for the program in general."