New mobile food cart and vending machines to come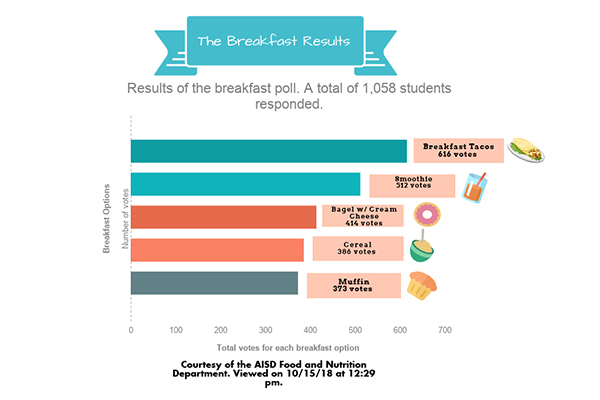 By the end of the 2018-2019 school year, the cafeteria is expecting to officially release the school's new vending machine and mobile cart,  the Square Fare Fridge. These meal services will benefit the students as healthy and quality food will be available in easily accessible locations around campus.
"At AISD, we are reinventing the urban school meal experience through various menu and service innovations," AISD Nutrition and Food Services Marketing Specialist Lindsey Bradley said. "Both the Square Fare Fridge and vending machine will offer multiple options for students to quickly grab a healthy meal."
Food available through the new services has been determined based off student survey results from last year, broken down into menus for both breakfast and lunch.
"The foods featured at both dining locations will be aligned with our district wide focus: scratch-cooked or assembled chef prepared recipes with locally grown, sustainably raised and clean label ingredients," Bradley said.
Sophomore Zachary Eilers believes that easily available wraps and sandwiches will be a great addition to the food available on campus.
"If the machines are kept stocked and have good sandwiches in them, then the vending machine seems like a good idea," Eilers said.
Freshman Addison Todd is excited to use the more easily accessible food services.
"Wraps and sandwiches have a lot of different options, so many students can get food they like," Todd said. "I would love having a vending machine with healthy options because then I could get good food when I am hungry without waiting in a line."
The vending machines and mobile cart will include gluten free and vegetarian options, such as salad.
"I would really love to see gluten free options in the vending machines to allow me and many other kids at Bowie to enjoy the vending machine and food cart," Todd said.
Students and staff will be able to purchase meals from the Square Fare Fridge and vending machines during both lunch periods.
"Our job is to get the kids healthy food as fast as possible because we know how valuable everyone's time is," Bowie Food Service Manager Amanda Gilroy said. "When the vending machine and/or mobile cart gets added we will get another employee to help expedite the meals."
The poll conducted received 1,039 responses with 44.9% of participants preferring hot meals to be available at the food services during the day.
"Menus for both the Square Fare Fridge and vending machine will feature student favorites, as well as items not typically served in the cafe," Bradley said.
Since Bowie is expanding very rapidly, the cafeteria must undergo changes to serve the increasing number of student and staff members.
"The amount of students are growing and even though not all eat in the cafeteria, we have to have the access for all," Gilroy said.