Trainers help athletes get back on their feet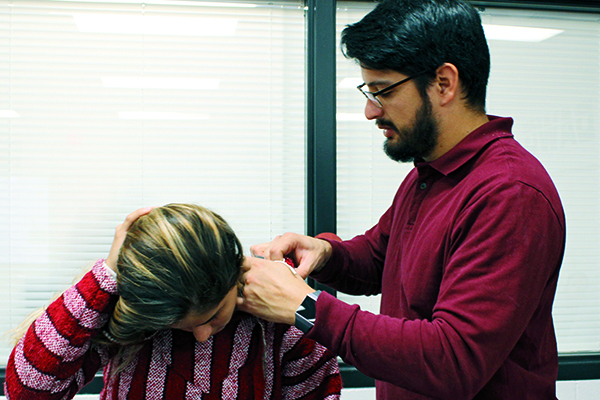 Blue and red sirens fill the parking lot as the medical trainers rush onto the field. A wave of players get on one knee and raise their hands, crossing two fingers, and bowing their heads. Silence sets upon the stadium, and everyone locks their eyes on fifty yard line where an athlete lays, clutching his knee.
Friday night lights; they're fun, they're crazy, and they're the perfect way to end a seemingly endless school week. From the perspective of the stands, losing seems like the worst possible thing that could happen on a Friday night, but on the field, it's an injury.
"Injuries in football happen all the time but most of them are just little things," junior football player Trinidad Sanders said. "When someone gets injured badly though, the game can take a turn."
Despite the risks, most players continue to play, because they simply love the game and their team.
"The risk for athletes is worth it," senior football trainer Skyla Gilmore said. "They have fun playing and they like the team bond."
Having a close team connection makes injuries bearable for those who are forced to take a break from the game they love. Supportive teammates can make all the difference when athletes are injured.
"The team includes the injured players in everything," Gilmore said. "They stay supportive of the guys who get hurt."
The team has to be prepared for when a player gets injured, they have back up players ready to play. When players are injured, others are step up quickly.
"I think the team has handled the injuries very well so far," Sanders said. "The players who were behind the injured player on the depth chart stepped up and were ready to play."
This season there have been multiple injuries that have affected the team.
"This year we have had five or six people tear their knees, sadly," Sanders said. "It definitely has an effect on the team."
When players are injured they are treated by Bowie's skilled trainers.
"We assess the injury and treat the player accordingly," sports trainer Pablo Riera said. "But for some athletes it's a moment for them to reevaluate what they want out of the sport."
Physical damage doesn't tell the whole story, many athletes face mental challenges as well.
"My injury hasn't really affected me as badly this year because last year I had the same injury," Sanders said. "I know what I'm going to go through and what to expect."
Injured or not, football is a game that is held in high regards and will continue to play a major role in the day to day lives of many. Injuries are apart of the game.
"We love the game so much and we love playing under the lights on Fridays," Sanders said. "That's what makes the risk worth it."