Galloping towards a dream career
Senior Megan Smith practices her passion for being a future horse massage therapist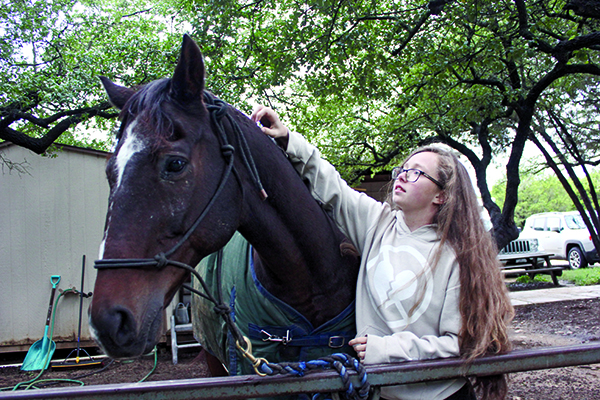 Rain or shine, she wants to be there. She wants to get them back on their best performance behavior. Horses may be animals, but it doesn't mean they can go without the care humans need. And she is someone who wants to give horses that treatment.
Senior Megan Smith has decided to pursue a career in Equine Chiropractic after high school. Smith wants to become a horse physician who deals with the relationship between the nervous system's physical condition of the animal in relation to their health.
"When I started riding at the barn that I'm riding at now, I watched the chiropractor  massage my horse and I thought it was the most fascinating thing ever," Smith said. "And I've always known that I've wanted to work with horses when I was older."
Megan's mother, Alyssa Smith, didn't think Megan would dedicate so much of her life to horses when she first started out at 10 years old. However, now she is sure Megan will continue on caring for horses through her life.
"In the beginning, I didn't think it would turn into such a big part of her life," Alyssa said. "But once she began to ride on a more consistent basis and her skills improved, I could see she had fallen in love. It doesn't matter how old, big, tiny, talented or untalented the horse is, she is going to love that horse."
While the specific career Megan has chosen might  be  unknown to the general population of students, according to Megan, being a horse chiropractor is very common in the "horse world."
"Every horse has a farrier and should have a chiropractor," Megan said. "They can stretch or tear their muscles and get knots, and then it makes them sore and they don't work right."
Much of Megan's life is centered around animals, she spends a lot of time with them and rides at a barn most days after school on her horse Arizona.
"It's all she thinks about," Alyssa said. "If her horse or another horse in the barn isn't feeling well, she worries about them. Megan is either at the barn or wishing she was at the barn."
"
Megan is either at the barn or wishing she was at the barn."
— Alyssa Smith
Megan chose to pick a career based on her own interests over anything else, including money. No one pushed her towards a specific job, she mentioned that she decided her route on her own.
"I think that Megan is very brave for choosing the equine industry for her career path," Megan's trainer Laurel Heiden-Herrera said. "It takes a lot of guts to pursue your passion as a career, but I definitely think that she will be successful."
After high school, Megan already has a plan to further her studies.
"I want to go to North Central Texas College (NCTC) to study Equine Sciences and [Chiropractic]," Megan said. "I want to get my Associates degree at NCTC and then transfer to either Texas Tech or A&M and then hopefully working with both of those programs have a lot of opportunities for internships and mentorships. So I hope to get one of those and then just kind of reach out into the field."
Heiden-Herrera works with Megan in her lessons, where she has seen Megan's fascination for caring for the horses grow and her passion for her dream career increase.
"Megan has always been passionate about horses as long as I have known her," Heiden-Herrera said. "When she first began riding with our barn she wasn't completely sold on the idea of jumping, but once she got a taste of it, she couldn't get enough. She's the one in the group lessons that is always the most bummed out when the lesson is over."
Alyssa is supportive of her daughters' career choice, but still has doubts about how she will feel when she gets into the career.  However, Alyssa knows her daughter can handle the job.
"I worry that her big heart, which is usually an asset, will be broken a few times by horses that you can't fix or save," Alyssa said. "Horses take a lot of time and care, and it doesn't always work out. It's my hope that she will come out of those situations stronger and smarter, so the next horse will get even better care."
The people in Megan's life claim that they don't believe her decision is far-fetched or shocking after spending so much time with her and getting to see Megan show off her strong character.
"After so many years and watching her love for each individual horse in the barn grow, it made sense that she would gravitate towards this field," Heiden-Herrera said. "She is amazing with the horses and is incredibly determined."
Despite several rough occasions with horses, Alyssa recognizes that Megan won't be swayed so easily away from what she cares for.
"Megan was thrown from her horse several times in one lesson, and got back up on every single time," Alyssa said. "She even broke her tail bone. But as soon as the doctor said she could ride again, she was right back out there."
Megan has chosen to become an equine chiropractor because of her long-lived love for the animal and because of her desire to help others who care about horses in the same way she does.
"Watching the difference between my horse before and after he got readjusted, when you go in and you massage their muscles back, they feel good," Megan said. "I want to do that for other people and help their horse be as performance ready as possible."