The Queso Quest: only one can reign
'Round Town: A look into local businesses throughout Austin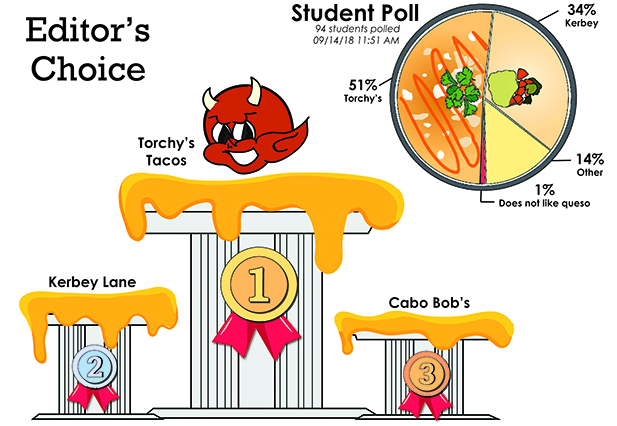 Last year on food blog Wide Open Eats, reviewer J. Marie Martin made the bold move of claiming Kerbey Lane Cafe's Kerbey Queso was the best queso in the entire state of Texas— without even including Torchy's Tacos' Green Chile Queso on the list. To revisit the age-old debate of Torchy's vs. Kerbey, we reviewed five restaurants recommended by students to have the best queso in Austin and went on a quest to find, well, the best queso. 
The first queso we tried was a classic: Torchy's Green Chile Queso. Although I go to Torchy's pretty much every weekend, we made sure the queso was being rated on a completely objective scale. 
In order to rank all of the quesos we were going to try, we decided to calculate the scores based on consistency, flavor, the balance of add-ins, and spiciness if the queso was intended to be spicy. We also considered other factors such as the price, amount of queso and chip quality. 
Torchy's absolutely dominated our scale; we walked out of there giving Torchy's a whopping eight out of ten. For $5.25, customers receive eight ounces of runny cheese that is balanced by just the right amount of guacamole, accented by the magic combination of Torchy's Diablo Sauce and cilantro. At a reasonable price, we were very satisfied with the tastiness Torchy's provided with their queso. 
Next, we had to go to the familiar Kerbey Lane Cafe. Again, we were not strangers to the infamous Kerbey Queso, but nonetheless, we reviewed using our perfectly crafted scale. 
It probably comes as no surprise that Kerbey also got an eight out of ten, with its stellar flavor cheese and thick consistency. The queso features the perfect amount of guac to mix in, but the pico de gallo is a bit much and often we found our cheese was stolen by sneaky tomato bits. 
Lastly, being close to most students' neighborhoods, Kerbey is in a prime location for after-school snacking. However, the $8.09 queso is a lot for what it is if you're not splitting the cost with other people. 
Branching out beyond the familiar tastes of Torchy's and Kerbey, we tried Magnolia Cafe on South Congress as our third queso. At about the same price as Kerbey, we received a similar size of a good, melted cheese but without any add-ins. Although I'm sure there is a way to add guac or pico, it would have been nice to have in the mix. However, you are served a complimentary bowl of salsa that balances out the flavors. 
Loading ...
Again, the queso was a good amount of spicy and overall good— but not best. Seven out of ten. 
Decorated sort of like a hula hut, Cabo Bob's off East Ben White Boulevard gave us the cheapest queso we'd tried so far at the bargain price of $3.50. With amazing flavor and consistency similar to Kerbey's, the Cabo Bob's Chips & Queso came with no add-ins but didn't even really need them. It also incorporated a shocking amount of spice for what it was, leaving our taste buds satisfied. 
But there's a catch: it was small. Between my boyfriend and I, we finished the dip in a much shorter amount of time than we did anywhere else. Still, easy eight out of ten. 
The last place we tried was at a traditional restaurant/bar called El Mercado off South First Street. Based on a recommendation, we ordered the Phillip's Special Queso for $8.99 which included taco meat, guacamole, jalapeños, and onions. 
By itself, I wasn't really a fan of the cheese especially compared to the last four places we'd tried. However, with all of the add-ins, the dish tasted like a deconstructed taco that was large enough for a group of people to share. We walked away giving it a six out of ten, not bad, not great. 
We ended up with a three-way tie having given Torchy's, Kerbey and Cabo Bob's all an eight. Each queso brought something great to the table: spice, flavor, and cheap price. 
However, we had to make a decision. Cabo Bob's didn't have enough queso while Kerbey felt too pricey for just two people to share— but Torchy's was just right. 
With impeccable flavor and a reasonable price, we deemed the Green Chile Queso the best queso in Austin. I couldn't tell if I was disappointed that the best queso was just the classic Torchy's that we have all the time, or proud that it knocked all the rest out of the park. For its affordability, we knocked Torchy's up to nine out of ten on our list. 
After all, it is "damn good".