Bowie graduate designs campaign for Beto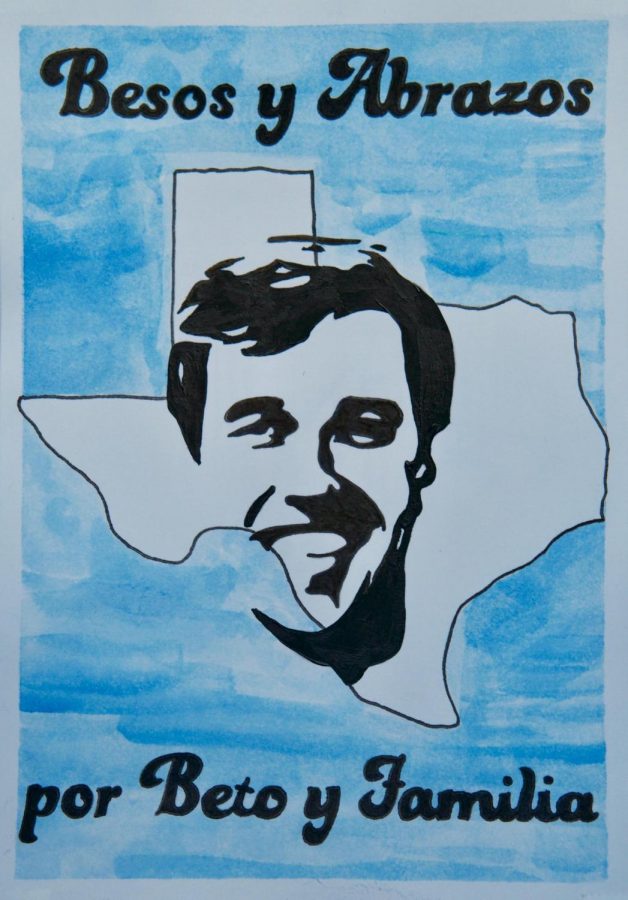 Abby Ong, Editor-In-Chief
October 1, 2018
Designing artwork from a young age, as 2018 graduate Emily Lawson grew older, she began to see art as the main thing she wanted to focus on for her life.
When presented with the opportunity, she eagerly took the chance to use her art to support Beto O'Rourke, the Democratic candidate running for Senate in the upcoming Texas elections.
"My role in the campaign was just to create an art piece that conveyed a message of hope and acted as a thank you for all of the hard work Beto is [doing] and has done," Lawson said.
Lawson learned of the opportunity through her AP English teacher.
"I got into designing the poster thanks to Mrs. Garrison," Lawson said. "She asked me if I was interested in designing an art piece for the Beto campaign and although I was nervous it wouldn't be up to standard, I excitedly said yes."
Lawson created the image through a logo her teacher showed her, choosing to make the background as simplistic as possible.
"I came up with it within an hour or so, and it took me about an hour and a half to complete after I sketched it out," Lawson said. "Process-wise, I don't really have a guideline I follow, but I started off sketching a concept, went over it with ink, then watercolored the background afterward."
After creating the piece, Lawson was able to meet O'Rourke.
"It was incredible after I showed him the piece I did, he asked me to send it to his team which was unexpected and obviously really flattering," Lawson said. "He was really articulate when he spoke and super kind-hearted, so overall it was a really sweet experience."
According to Lawson, supporting O'Rourke was a no-brainer.
"Finding a candidate who is so selfless is a once in a lifetime situation to be in, and being 18 I can't wait to give him my first vote in any election," Lawson said. "I support Beto due to his caring nature, his focus on helping people of color, standing up behind women who crave the right to decide their reproductive journeys, and his contradicting ideas to everything Trump and Ted Cruz want to do with our borders. His empathy is a quality I haven't seen in many candidates, and it's something I can resonate with so warm-heartedly."