Insight on the Red Cross Club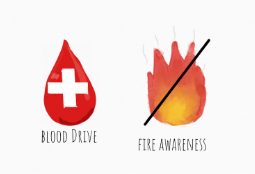 The Red Cross Club is an organization that spreads awareness about safety and allows students to help the community through service. Freshman Mia Arguelles joined the club earlier this year in hopes of learning the importance of giving back to the community. The National Red Cross organization assigns a different theme for each month of the year to allow members to spread awareness and volunteer for the month's community activity.
"This club is an important organization at Bowie and at other schools because this clubs gives students the knowledge necessary for medical emergencies and gives one the opportunity to expand their humanitarian side," Arguelles said.
Freshman club member Zyah Cajuste joined the club to acquire knowledge about safety as well as giving back to the community.  In October, the club members learned the importance of fire safety and made posters to get the word out.
"Red Cross club teaches you how to give back to your community such as donating time for the blood drive and spreading awareness about safety and other important topics that may be taken lightly," Cajuste said.
Junior club treasurer Viviane Harle and other club managers help to organize the volunteering opportunities available for the members as well as create lesson plans for each meeting with the corresponding topic for each month.
"The main mission behind the club is to inspire high schools to get involved in volunteering and to create awareness of issues," Harle said.
Freshman club member Shikha Patel volunteers throughout the year and at the James Bowie High School Blood Drive on January 30, where the club organized a blood drive to allow staff and students to give back to the community.
"The Red Cross Club allows students to understand the importance of service and the positive impact it can have on many," Patel said.
Club members have become more involved with the community through the club.
"Helping by volunteering for my school has made me more involved and has helped me become more connected to my community," Cajuste said.