Senior Night for Bowie Boys Lacrosse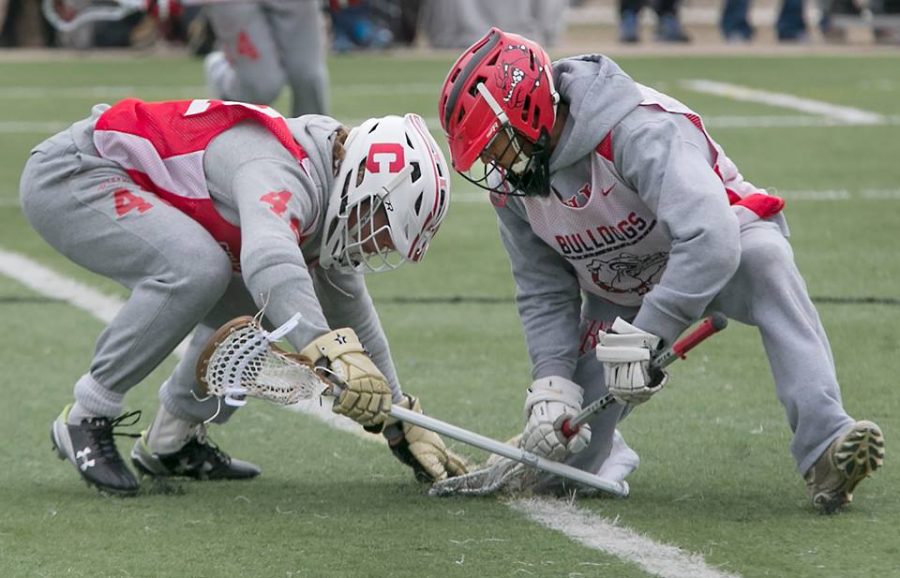 On Monday April 9, the Bowie boys lacrosse team held their Senior Night at House Park against Cedar Park. The Varsity team ended their season and the seniors ended their high school career with a win. Before the game, the Seniors were individually recognized for their contribution to the program.
Senior Cj Moran has been playing lacrosse for 7 years.
"It was really hard for me to have to recognize that it was my last game under Coach (Travis) Doak and with the family that I have been a part of for so long," Moran said.
Most of the seniors have been playing lacrosse for their entire time at Bowie, and some have even playing since elementary school in the Jr. Bulldogs program. Senior Josh Kerpsack has been playing since his freshman year.
"I really like lacrosse because it gave me another opportunity to hang out with my friends and keep active," Kerpsack said.
Although the seniors time playing for Bowie is over, many will continue playing at the collegiate level.
"Lacrosse has created so many opportunities for me and has given me so much. Now, to think that it is giving me a chance to go to college and play at one of the top levels, it really has had such a big impact on my life," Senior Shane Lockhoof said.
The Varsity team includes 14 seniors, so there were only so many other people on the team. Although sophomore Carter Young played for the varsity team.
"I made a lot of friendships with most of the seniors and senior night was really hard for me to see each of them go and hug coach, I can't imagine what next season is going to be like without them," Young said.
LASA freshman Ashton Wong was a starting attackmen for varsity.
"Besides a few others that also played up, these seniors were my only friends this season, and I think I will keep a lot of the friendships I made,but also make new ones with the incoming varsity players next year," said Wong.
Knowing that it would be their last game together, the senior dogs played their hearts out in an exciting win over Cedar Park. Most of the seniors recognized would be playing in the following game, but not for seniors Adan Ybarra and Andrew Speed. The two suffered career ending injuries in the offseason, a concussion and  a torn ACL. Both were recognized during their senior night.
"Even though wasn't able to play this season, I really felt like part of the team again when my name was announced and Coach and the others congratulated me as if I played the whole season with them," Ybarra said.
In all, 16 seniors were recognized in this tradition but not all of them think of it as the end.
"I may not play for Bowie again, but I plan to visit my friends that stay next year. I may not be on the roster in the future, but I will always be part of the team," senior Ben Sheblack said.