The Bensons inspire Others
Speaking from the heart and experience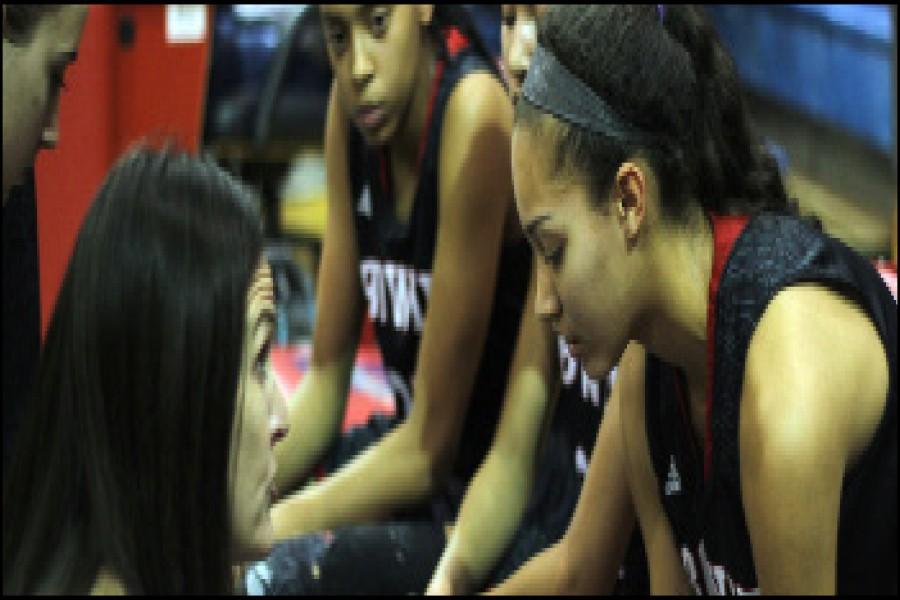 Kacy Benson stands up in front of thousands of teens to tell them about his tragic childhood and stories collected about other students, using humor as a kind of buffer.
Kacy and his wife Vickie Benson, connect with everyone they meet through their laid back attitudes and uplifting advice, hoping they could change someone's life and inspire them to do something greater.
"He's really taught me to stay focused on what's right and just to make good choices overall," senior basketball player Amber Lotz said.
When Kacy speaks he focuses on how one choice can drastically affect someone's life.
"Kacy Benson is an excellent speaker, and really knows how to make people open up their eyes to what reality can be," senior basketball player Kianna Ray said.
Vicki Benson coaches girls basketball and accepts them as part of her family.
"They have had a huge positive impact on my life and I have always looked up to the both of them and I've learned so many life lessons from them that I'm so grateful for," Lotz said.
Together, the Bensons have inspired not only students, but other adults as well.
"He inspires people to evaluate their life and make change," assistant girls basketball player Jaime Lankes said. "Ultimately, he reminds people they are responsible for the decisions they make. As a teacher and coach, it is easy to get caught up in the day to day logistics of lessons, assignments and practices. It is good to be reminded to take a step back. We are all in this together."
Kacy grew up with a father who was a drug addict and an alcoholic and Kacy struggled as many high school students do as well to get through the difficult time.
"I was fortunate to have a 'normal' childhood with  caring parents and generally good influences around me," Lankes said. "Mr. Benson's stories about his childhood remind me that not everyone's that lucky. I have to be sympathetic and understanding with my students but also hold them accountable for their learning and the decisions they make. It is tricky, and I think Kacy and Vickie do an amazing job of that balancing act with the students and athletes they work with."
Kacy tells his listeners his first hand experience with high school students and the decisions that have ended badly.
"The things that are happening in this world motivated me, too many teenagers are passing away and just this week, a few teenagers at Hays passed away and I knew one of those kids and one of his friends said that it will never happen to him and that's famous last words and it motivated me because maybe somebody is going to get it and it will change their life," Kacy said.
Before becoming a motivational speaker, Kacy was a boy's basketball coach for thirteen years.
"I'm a lot louder now since I was a coach,when coaching you have to motivate players and coaching for thirteen years helped me become a better motivational speaker I think because you have to be able to communicate what you need to get across," Kacy said.
Kacy isn't the only one who motivates and inspires students his wife Vickie Benson does as well.
"When I first met Kacy we were working at a basketball camp and I remember watching him interact with the campers and they flocked to him and I remember watching in awe that someone could draw in so many kids and I had never seen that before and I remember watching him and wanting to do that and it drew me to him and the connection that he had," Vickie said.
When Kacy speaks there is always something different it's never the same thing.
"I hear something different every time he speaks and all of the time there is something that he will say that will grab my attention," Vickie said. "Reflecting on his past I always have snacks in my office because of a story he tells about when he was in middle school and he didn't have any food at home."
Kacy hopes to inspire others with his childhood experience giving high school students hope and helping them through it.
"I hope that in the end i able to make a change and motivate them to do better and work harder and to choose the right path," Kacy said. "Because of what I went through I know that there are teenagers that are going through the same things and I want people to be able to look at my life and be like wow he made it out."