Freshman Quinn Loyd narrows her eyes at her father who dances on the other side of the ring. Closing the space, Loyd lashes out a powerful kick, which she follows with a series of ferocious hits.
Loyd has been training for her first Muay Thai, a form of mixed martial arts, competition which will take place in June 2024. Despite only fighting for a short period of time, Loyd's father has helped her prepare since she first showed interest in the sport.
"My dad noticed that there was a Muay Thai gym across the street, so we joined it," Loyd said. "I was like, 'Dad I want to do that as soon as I'm done with cheer.'"
Originating from Thailand, Muay Thai is a form of boxing that incorporates kicks, elbows, and sweeps. Loyd was first introduced to the sport when her dad began attending Warrior Family Muay Thai which was located near her cheer gym.
"I love training with him because he's a really great person and a very important person in my life," Loyd said. "I wouldn't have been able to socialize as easily because they are mostly adults. So, he kind of eased me into it."
Conversely, Jaylin Loyd, Quinn's father, enjoys the opportunity to bond with his daughter. He always enjoys quality time with Loyd and his family.
"I really enjoy spending time with her at the gym and traveling back and forth," Jaylin Loyd said. "It gives us time to just talk about whatever comes up, silly or serious."
Jaylin started training in the art of Muay Thai 18 months ago, thereby enlisting Quinn to join him 14 months ago. Quinn has the advantage of youth on her father, but Jaylin uses his athleticism from other activities during his high school years to help her train.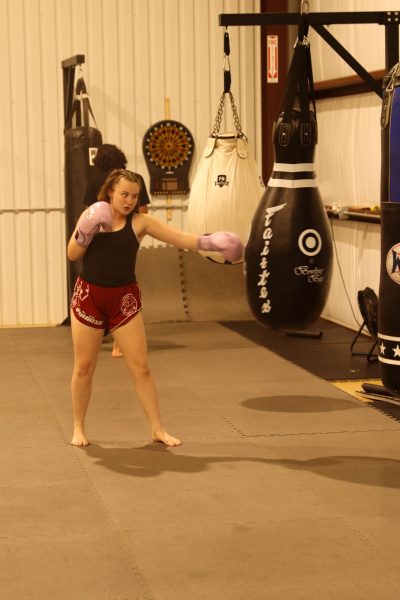 "I participated in fencing and wrestling in high school," Jaylin said. "I only started learning Muay Thai at Warrior Family in February 2022."
Since both Loyd and her dad started around the same time at Warrior Family Muay Thai, they have been training together their entire time there.
"In some aspects, I think it's a benefit that he's not afraid to correct me if I'm wrong. He's very focused on me," Quinn said. "He's like 'Don't get knocked out.' We definitely have different skill levels and he is still older."
Quinn doesn't let the possibility of getting hurt affect her training work ethic. She loves how aggressive Muay Thai is and how similar it is to dance, which she's done in the past.
"I've been a very athletic person my entire life. Muay Thai is basically a form of super aggressive dancing," Quinn said. "It's a good way to get out anxiousness and nervousness and feel more settled and sound with yourself."
In what started as a simple chance to bond with her father, Quinn has since considered pursuing Muay Thai competitively. Now, Quinn has until June 2024 to prepare for one of the biggest competitions in the country, Thai Boxing Association Classic.
"MDL stands for Muay Thai Development League. It's similar to a scrimmage or practice scenario," Quinn said. "It's for people of all ages and different skill levels. Right now it's not a fight, no one is winning or losing. But coming up in June I will have an actual fight, with a good chance of getting a belt."
One of her coaches, Oskar Estrada, believes that with more training, and Quinn's natural ability to fight, she'll be ready to go for her next competitions.
"I do believe she's a fierce competitor," Estrada said. "With the right training and coaching she can go far in this sport. There's plenty of talent in her division and she can be up there, but it will take dedication and passion."
The first belt you can get in Muay Thai is a white belt. According to Estrada, Quinn has many good fighting attributes and has strong suits when it comes to earning Muay Thai belts.
"Quinn is still developing a fighting style, but she's an aggressive pressure fighter," Estrada said. "Quinn is best at her kicks and she can execute them well. Her best attributes are that she listens well and takes direction from us coaches when competing or sparring."
As Quinn is getting ready for her major competition in June, she has a rugged training schedule, practicing up to five times a week. These practices include skills training, punching bags, weight lifting, and conditioning.
"It's pretty rigorous," Quinn said. "Monday there's two classes, and Tuesdays I do one class. Wednesdays is homework. Thursdays I do two classes. On Fridays, I do two classes too. And then Saturdays, there's a very long training day, but if you are fighting you come early to run."
Quinn credits the support she gets from Jaylin and her sister, Avery Loyd, for her continual growth in Muay Thai.
"My sister is very much into it. If she is ever there she's going to scream. But my dad has been there at every single class and always checking me to see if I am okay," Quinn said. "I think my dad is my biggest supporter. He's almost like my coach in the aspect where he tells me what I need to do to fix these things. All my dad wants for me is to get better."