Vibrantly twinkling lights hang from the ceiling, the sound-waves of instrumental music slowly spread to every corner of the cafe, and kids silently gaze in awe at the beautiful artwork before them.
Wonderspaces Austin is a local museum that showcases a variety of art exhibitions. From interactive works to virtual reality headsets, you will be left speechless no matter what you see.
Established by co-founders Jason Shin and Patrick Charles in the summer of 2020, Wonderspaces has called attention to our community in Austin. The museum is located at 1205 Sheldon Cove and has two other locations in Pennsylvania and Arizona.
This museum is the perfect place to create incredible memories with your friends and family. It is close to student neighborhoods, and has a four-out-of-five stars rating.
To enter, you must purchase a ticket ahead of time on austinwoderspaces.com. For a single day pass, the general admission price is $25. For students, seniors, teachers, healthcare professionals, admission is $20. For children three to 12, admission is $15, and children three and below get in for free.
Walking into Wonderspaces Austin on a Wednesday afternoon, I was pleasantly surprised. Despite the traction, there was no line to the front desk, and the exhibits weren't crowded like I feared they might be.
The museum showcases 17 different exhibits, each being completely different from the next. There seems to be no common theme, which makes the viewing experience very enticing.
The first interactive exhibit I came across was "Sun" by Philp Schütte. This piece was special for the meaning behind it; it was designed to build a connection between technology and the curiosity of the human mind.
At the exhibition, you will find a ball placed in front of a projector, which showcases a live visual of the ocean and the sun. The sun on the projector will move with the ball, to wherever you choose to place it.
I enjoyed Sun, so I give it four out of five stars in terms of experience. Getting to control the sun in the sky sparked my creativity, and I got to explore Schütte's unique ideas of interaction. The one downside to this exhibit is that, because it's so simple, the experience wonder last very long.
The next design was "Rules" by Paola Ibarra Llano; it struck me with amazement. This exhibition has a very personal touch to it, as Llano created Rules to visually represent the connections that each human shares with one another, regardless of whether they've met or not.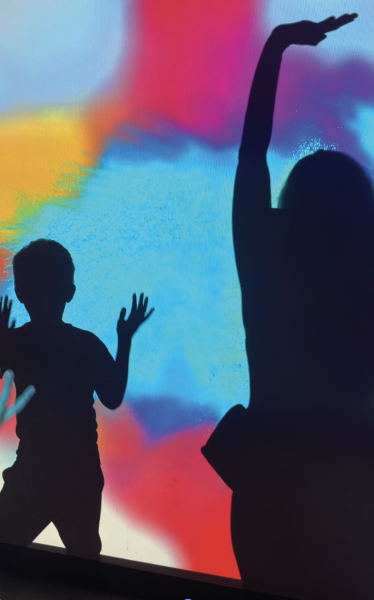 In this exhibit, you will come across a metal tin filled with tape made of different shapes, sizes, and colors on a large wall. You can pick a piece of tape to place anywhere along the wall, next to thousands of other pieces of tape.
I rate "Rules" five out of five stars. I loved how immersive this design is, and how no matter who you are, you can become an artist with the piece. This was a great way to connect with friends and family, and out of all the exhibits I visited, this was my favorite.
The next design was "Body Paint" by Memo Akten. I enjoyed this design because it created picture-perfect moments and was a fun way to break away from the slow, quiet nature of a museum. Akten's design captures the beauty of the body and human energy.
At the exhibition, there is a projector screening paint on a wall. When you move in front of the wall, the paint will move with you, and fluctuate into vibrant colors and shapes.
I rate "Body Paint" four out of five stars because it was a unique way to bring movement into art. There was a crowd surrounding this one, though.
There are more than just interactive designs. One of the most well-known exhibits is "Submergence" by Squidsoup. The artist created this design to evoke feelings of awe and inspiration while moving in the physical space.
"Submergence" is an exhibit composed of 8,064 individual hanging lights. Visitors can explore freely, as the lights change colors corresponding to the calming background music.
"Submergence" gets five out of five stars because it was very intriguing and well-designed. This exhibit was perfect for taking pictures, and I loved how aesthetically pleasing it was to see the lights change with the music.
The second floor is arguably better than the first. Moving upstairs, you will find a whole room dedicated to a virtual reality (VR) experience. There are two VR settings to choose from, and I picked "Shigeto: Hovering" by Conor Grebel and 79Ancestors.
Seeing "Hovering" through a virtual lens was like nothing I'd ever experienced before. The creators take you through an extraterrestrial dying planet, filled with elements from nature on Earth. Grebel created this experience by combining digital and analog technology, paired with music by 79Ancestors.
Further on is "The Last Word" by Illegal Art. This is another immersive experience, where visitors can participate in the piece. Just like "Rules," I enjoyed this design for its inclusivity.
At "The Last Word," you will find hundreds of tightly rolled pieces of paper. You can write down your own thoughts to place with the rest, then pick someone else's to read. Some papers had funny phrases, while others spoke about serious moments in their lives. The variety that came from the experience was eye-opening.
The last experience I recommend is "Human Study #1, 3RNP" by Patrick Tresset. Here, three robot artists draw a portrait of you for free. However, if you want to keep the portrait, you must purchase it at the cafe.
At the experience, you will sit still in front of the three robots who sketch you; once your portrait is done, the artwork will join another design, "The Collection," which features over 36,000 pages of the robots' portraits.
All in all, I would rate my time at Wonderspaces Austin five out of five stars. The facility was neatly prepared and all ages were able to enjoy the unique exhibits.
This is a perfect place to visit in your free time, as the museum offers a plethora of creative, interactive designs to enjoy, plenty of perfect photo opportunities, and bunches of unique experiences that can't be found anywhere else in Austin.
I highly recommend that you go to this location to see the fantastic sights yourself. Have fun!