Musicians take on national ensemble
Band students accepted into the renowned National Youth Orchestra summer program
Feeling the heat of the stage lights, taking in the rows of red velvet seats, junior Christopher Meeks and senior Vera Romero prepare to perform in Carnegie Hall with the National Youth Orchestra. 
For both Meeks and Romero, music was a key part of their childhood, having come from families with strong musical inclinations. 
"I have musical roots that go so far back," Meeks said. "My great grandfather founded the One O'clock Lab Band at the University of North Texas. It is one of the most renowned college jazz bands in the world. He said I had to pick an instrument in band or orchestra, so I chose the trumpet and it stuck with me."
Though music has always piqued their interests, both Meeks and Romero attribute the true start of their passion to their middle school band experiences. 
"When I was in sixth grade, I had my first concert," Romero said. "I remember telling my parents afterward that it made me a lot happier than I expected it to. That's when I realized that I wanted to do this as a career."
Moving into high school, Meeks and Romero decided to continue their musical careers in the Bowie band program, and cherish the resources being in the program has granted them. 
"
Believe in yourself and don't let yourself have any doubt in your abilities. You are there for a reason, and people pick you for a reason.
— Vera Romero, Senior
"They've given me the opportunity to work with so many different conductors," Romero said. "I've learned so many varied forms of music that I can use to build my own repertoire and the kind of musician I want to be. That's kind of allowed me to create the way that I want to be perceived by the people who I audition for."
During their time in the Bowie band, Meeks and Romero have not only invested in their personal growth, but have left a significant impact on their peers and the program as a whole. 
"Vera is band president and has coordinated some pretty awesome things for the band," senior Lisa Diaz said. "She has a very organized way of going about things which I think has come to a benefit for all the students and especially the directors."
Now having several years of experience playing in the band, Meeks and Romero decided to audition for the National Youth Orchestra, a full orchestra for US students between the ages of 16 and 19. This ensemble will spend a month together during the summer, with a residency at a university and a tour across North America playing roughly four to five different symphonies. 
"It's an honor," Meeks said. "I've known about it since last year, but when I really learned about it, it set in that I'm in such a prestigious organization. It was mind blowing to hear that I got in. I'm super excited because I've never done anything like this before."
The audition process to become a member of the orchestra is tedious, to ensure that the most prestigious applicants are accepted. Applicants must submit several videos of them playing excerpts chosen by the program, as well as a longer solo. From there, the videos are judged by professors all over the nation. 
"Well, the National Youth Orchestra is a very selective group of students," Romero said. "All of us are there because we want to be the best in the country for our age."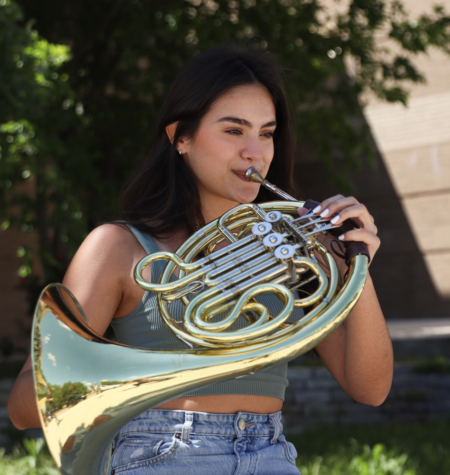 Being a member of such a distinguished ensemble comes with high expectations, and an added pressure to the musicians to continue to perform at such an impressive level. 
"I think that eventually [the pressure] is going to hit, maybe once I get there. Maybe it's a month from now. It might be tomorrow," Meeks said. "It's such a prestigious group that I feel like at some point it is going to hit me."
Although the idea of touring and playing such renowned pieces of music seems overwhelming to most, Romero has found the silver lining to the initial pressure that comes with the National Youth Orchestra. 
"It was really validating in a sense because that is what I want to do as a job so it felt really nice to know that I can make it into prestigious orchestras," Romero said. "I feel like a weight was lifted off my shoulders, because now I know that with all my hard work, I can do stuff like that. So it's less of a question in my head of whether I'm good enough."
Not only did being accepted into the orchestra boost Meeks and Romero's confidence, it has also set a precedent and goal for their fellow musicians to aim for. 
"
Topher is a great motivation for me. Him being around makes me want to work hard so I can keep up with him and his greatness.
— Erick Galicia, Junior
"Topher is a great motivation for me because I've known him since eighth grade and we've been in the same organizations many times," junior Erick Galicia said. "Him being around makes me want to work hard so I can keep up with him and his greatness."
After their time in the National Youth Orchestra and the Bowie band, both students have plans to pursue a music degree in college and eventually become professional musicians. 
"To be honest, I don't really want to get my masters," Meeks said. "Generally speaking, in my field, if you're good enough, you win a job in an orchestra before you're able to finish your masters. So that's my hope, and my ultimate goal after that is to win a principal job in a major symphony. Ideally, the New York symphony."
As Meeks and Romero move into the next stages of their music careers, they reflect on the adversities and triumphs they faced so far. 
"Believe in yourself and don't let yourself have any doubt in your abilities," Romero said. "You are there for a reason, and people pick you for a reason. Something that I struggle with most is my confidence because it is such a competitive field. Just trust the fact that you practice so much and all your hard work does get you somewhere."