Two Bowie editors bring home state awards
On Sunday, April 16, seniors Natalie Cullen and Wes Warmink took home two highly competitive UIL/ILPC awards. Cullen won the Online Editor of the Year for her work on the online edition of The Dispatch and Warmink won the Yearbook Editor of the Year award.
According to the judges, there were many talented applicants and their decision was not easy, but despite the competition, Warmink and Cullen still prevailed. 
"I found out I won this award and I was so shocked," Warmink said. "I was hopeful but had very low expectations since the award was for all of Texas."
This year marks the first time a Bowie student has won either of these awards, making these wins historic ones for the school.
"At first, I was super surprised to find out I had won the award," Cullen said. "Mr. Reeves called me while I was with my family so we were all able to celebrate together. It felt really amazing to receive this level of recognition for all of my hard work."
While the awards were individual ones that doesn't mean they didn't have help along the way. Their advisors, newspaper teacher Michael Reeves, and yearbook teacher Lindsey Shirack both played in their success.
"I am endlessly grateful for all of the help and guidance Mr. Reeves has provided me along the way," Cullen said. "He has pushed me above and beyond to do my best, and I have him to thank for many of my scholastic achievements. Reeves has been the most influential teacher during my time at Bowie, and he has fostered my development as a leader and individual."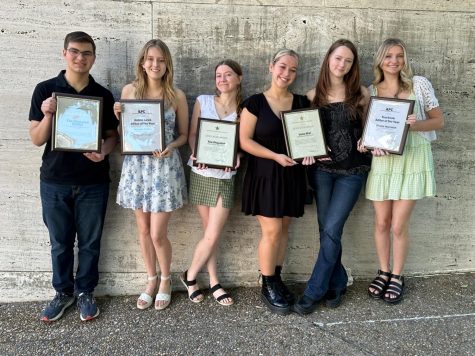 Warmink is the editor-in-chief of the yearbook and Cullen is the editor-in-chief of the online edition of the newspaper.
"Both Natalie and Wes alike are super hard workers and super dedicated to the publications that they're a part of," junior and member of both the Newspaper and Yearbook staff Emerson Traugott said.
The 2022-23 school year marks the fourth year Reeves has taught Cullen since she first joined the class as a freshman.
"She brought a different type of journalism that I'm not very familiar with to the class when she arrived as a freshman," Reeves said. "She learned really strong videography from her middle school teacher and she wanted to continue that. Not only is she really good at creating it, but she's also teaching it. That's the difference between like a regular staff member and a true leader is that not only are they willing to do the work, they're willing to show others how to do that same work."
Warmink on the other hand was first taught by Shirack in 6th grade at Gorzycki Middle School and has since been a part of the Yearbook staff every year in high school.
"I've known Wes over the course of six, seven years at this point," Shirack said. "The biggest thing for me is to see that progression, to go from a sixth grader in my intro to journalism class, and then all the way up now to where she's editor-in-chief over the yearbook. The growth and drive and determination she's shown to improve her skills and push herself to be not just a better editor, but to be more productive, to be more knowledgeable, to be more helpful. This just really shows everything she's done to build up to that."
Both editors were also supported by the rest of their respective staffs'.  
"I also couldn't have [done it] without the entire yearbook staff, especially editors, and specifically my co-editor-in-chiefs Abby Mandel and Hannah Schiller," Warmink said. "We all worked together and put our whole hearts into this book and I couldn't imagine doing it without their creativity and work ethic to push us through."
While these awards are big accomplishments, they're not the only thing Warmink and Cullen have to be proud of.
"I am proud of being able to teach others how to create digital media content while being able to create my own," Cullen said. "I love getting to pursue my own passions while helping others do the same."