Swim team competes at regionals and state
Breaking the water seal, the pool water swallows Rowan Cox as he splashes through the crisp, cool water. The Bowie Swim team competed in the Region 7-6A Swim and Dive Championship at Josh Davis Natatorium in San Antonio, Texas. The event lasted from February second to the fourth. The team competed against schools in Texas at a shot to compete in the UIL State Championships for Swimming and Diving. The 24 athletes that competed in the competition each signed up for various events. 
"I got to choose my best two events to swim at districts," Cox said. "I got to choose them for regionals, and since I advanced, state." 
The Region 7-6A Championship is a competition against swimmers from the biggest high schools in Austin and San Antonio. Only a few finalists from each swim team get chosen to advance to state, depending on the swimmer's results in every event they swim in. 
"First you have to go to a district meet, which is smaller, around 5 schools. Then you have to be top six at that meet to qualify for regionals," Cox said. 
Placing the new Regional and Pool Record, freshman Rowan Cox took the bronze medal home in the 100 fly event, and placed fifth place for the 100 back event. 
"In the 100 fly, which I set the regional record on, I actually added time from my personal best of 47.98," Cox said. "But on the 100 back, I dropped about half a second to go 49.01, which would have broken the regional and pool records if I had not gotten second."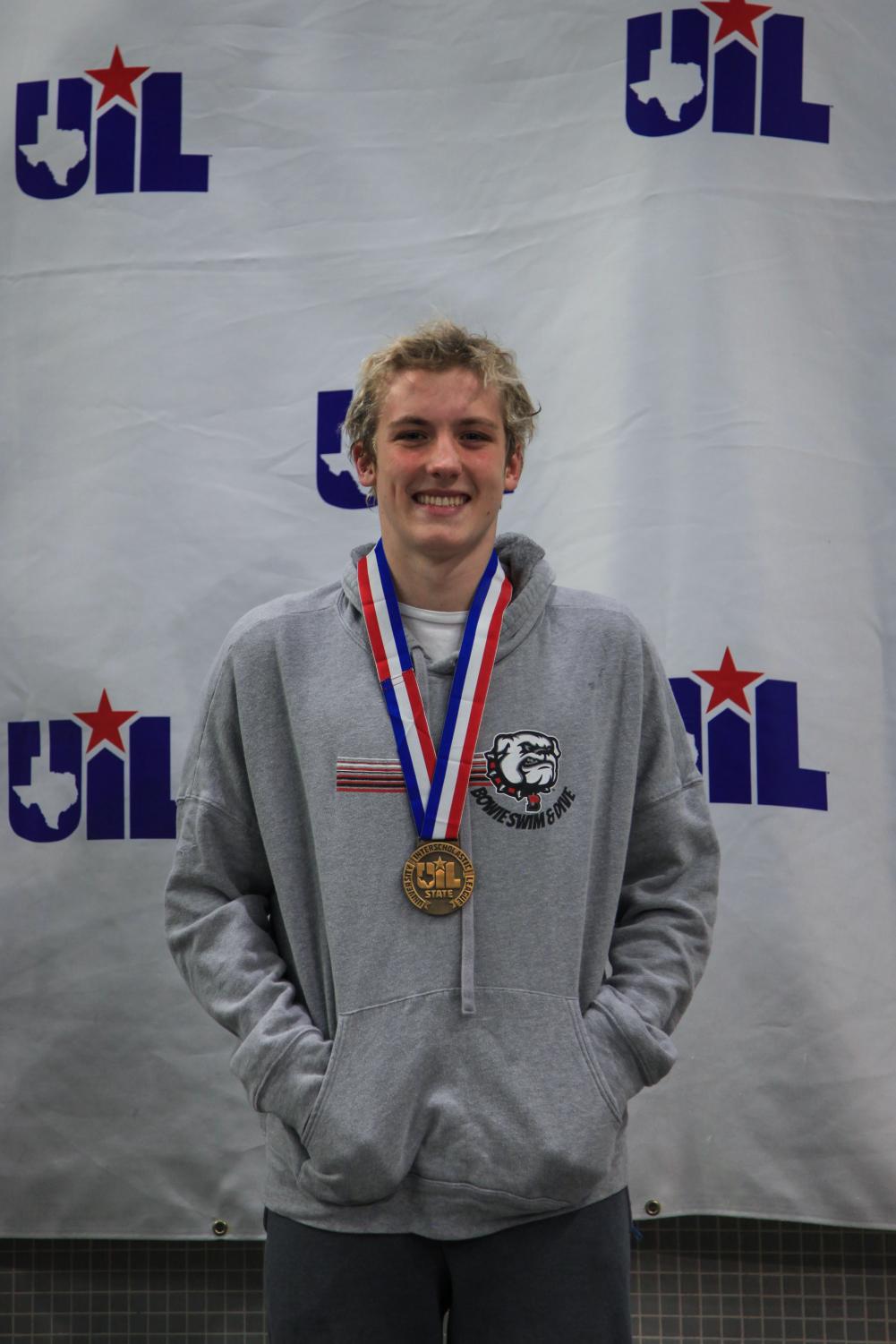 Alongside Cox, Senior Tucker Lawson placed second in the Regional Championships and advanced to the State Championships. 
"Going into the Regional meet, I was really nervous because I was competing against people I didn't know," Lawson said. "To move on to state you have to get top 3 and I was aiming to get 3rd, I was staying in that spot the whole meet so that's what I thought I was going to end up getting. But surprisingly on my last dive, I got a lot of points and jumped to 2nd place. I was so glad I made it and was so excited to compete at state."
The 2023 UIL 6A Swimming and Diving State Championship took place from February 17 to 18 for the Bowie swim team, where regional finalists Cox and Lawson competed against the best swimmers from each region of Texas. 
"I competed in the 1 meter dive event and ended up getting 2nd," Lawson said. "Competing in state was a bit nerve-racking but I did it, and I'm glad I could compete."
At the end of State, the Bowie swim team was ranked 24 out of 55 swim teams.