Hidden heroes beautify Bowie
Removing food clogged inside toilets, wiping graffiti from smoke covered mirrors, and repairing soap dispensers broken by students.
For Bowie custodian Carmen Perez, this is her reality nearly every day, yet her name goes unrecognized for most students on campus. 
After being struck by the pandemic, followed by an increase in student vandalism, specifically within bathrooms, Bowie has seen a surge in messes on campus. In turn, the custodial staff has experienced an increase in workload and severity of cleaning tasks. 
Management assistant to the principal Samuel Cabrera manages and overviews the labor of Bowie's 16 custodians. 
"The job of a custodian is really just to make sure all the areas are clean. The morning crew will come in and take out the trash and get the school ready for the day and then monitor lunches," Cabrera said. "The night crew comes in and the first thing they do is clean the cafeteria for both lunches and they make sure their areas of the school are clean."
Daily cleaning is divided up into multiple different sections of the school where each custodian takes care of their designated spot. However, the increase in student vandalism has prolonged the task of cleaning their areas.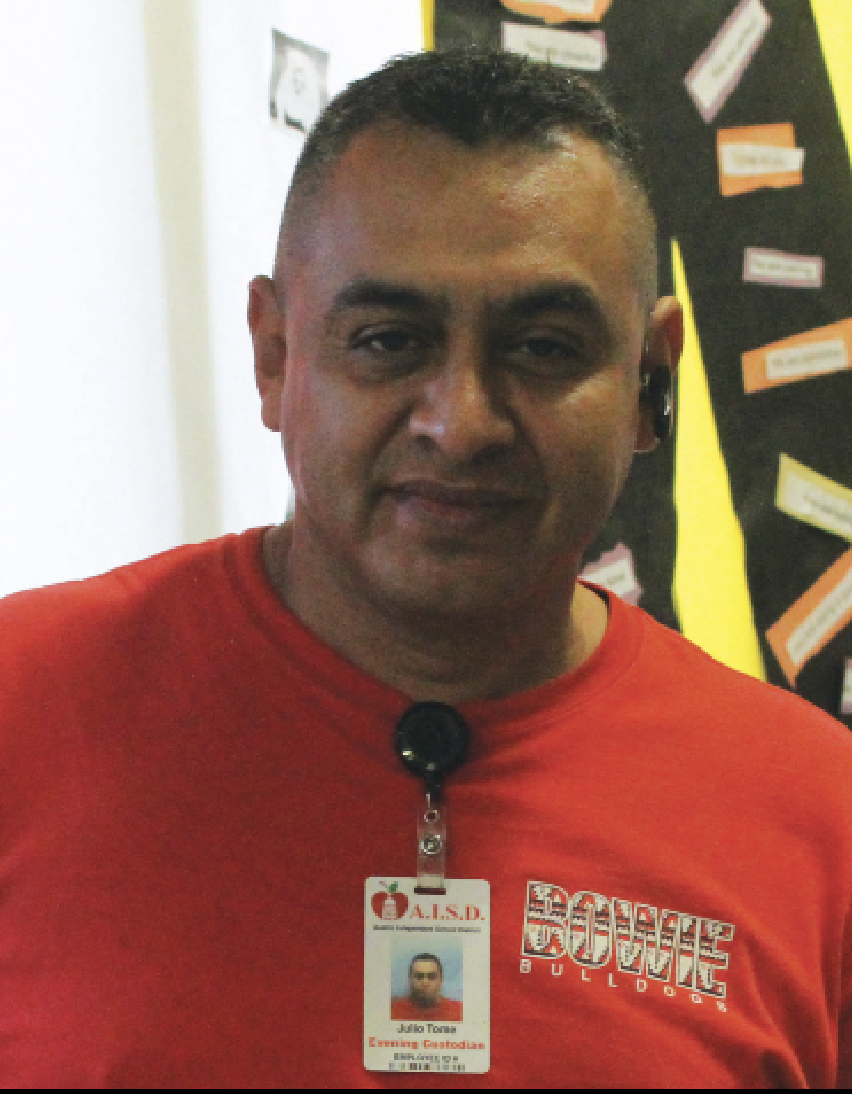 "The student vandalism causes more work for us because instead of just cleaning our designated areas we have to clean up graffiti," Perez said. "[Students] break the soap machines and then we have to find the pieces to install [the dispensers]. Sometimes they fill the entire bathroom with graffiti and we have to clean it all before the next morning."
While the epidemic of student vandalism was at a peak last year, with popular social media app TikTok creating trends encouraging students to steal soap dispensers or commit other acts of vandalism, the problem still remains prevalent on campus according to Perez.
"Sometimes it feels like the kids control us and every time we leave the bathroom, more [students] come in and paint, or break the soaps, they clog the toilets with apples, and there's always smoke," Perez said.
Conditions in the academic building such as a lack of climate control make the job more difficult for the custodial staff according to English teacher Chelsea McCaffrey and she is able to sympathize with them in regards to the repercussions of student vandalism on Bowie's campus.
"The fact that there are students that are just kind of showing blatant disrespect for the spaces and that's hard, I can't imagine that I would want to fish out food from the toilet," McCaffrey said. 
Perez has been a custodian on campus for 21 years and her coworker, Adam Sandoval for seven years.
"There's been cases where [students] defecate in the sinks, there's been cases where [students] defecate and throw it on the ceilings or the walls and we have to come in with a hose and clean it," Perez said.
Both Perez and Sandoval know that students are capable of helping make their work conditions at Bowie more manageable. 
"As long as y'all clean up after yourself, we'll do everything else, but just don't trash everything," Sandoval said. 
Organizations on campus such as Student Council have already made initiatives to provide help to the housekeeping staff.
"
As long as y'all clean up after yourself, we'll do everything else, but just don't trash everything."
— Adam Sandoval, Evening Custodian
"A lot of the time during our meeting we'll go pick up trash everywhere and walk with trash bags around the parking garage, because there's for some reason no trash cans there," Vice President Morgan Winter said.
The effects of student vandalism inside bathrooms on campus affects both students and custodial staff. 
"Students should take care of the facilities because they are helping themselves. It's a service to themselves. If they break a door or a soap dispenser, it is them who are affected," Perez said. "The bathrooms are there for them. If [students] need them, use them but do it appropriately, and our job is to clean them, but don't abuse [the bathrooms]."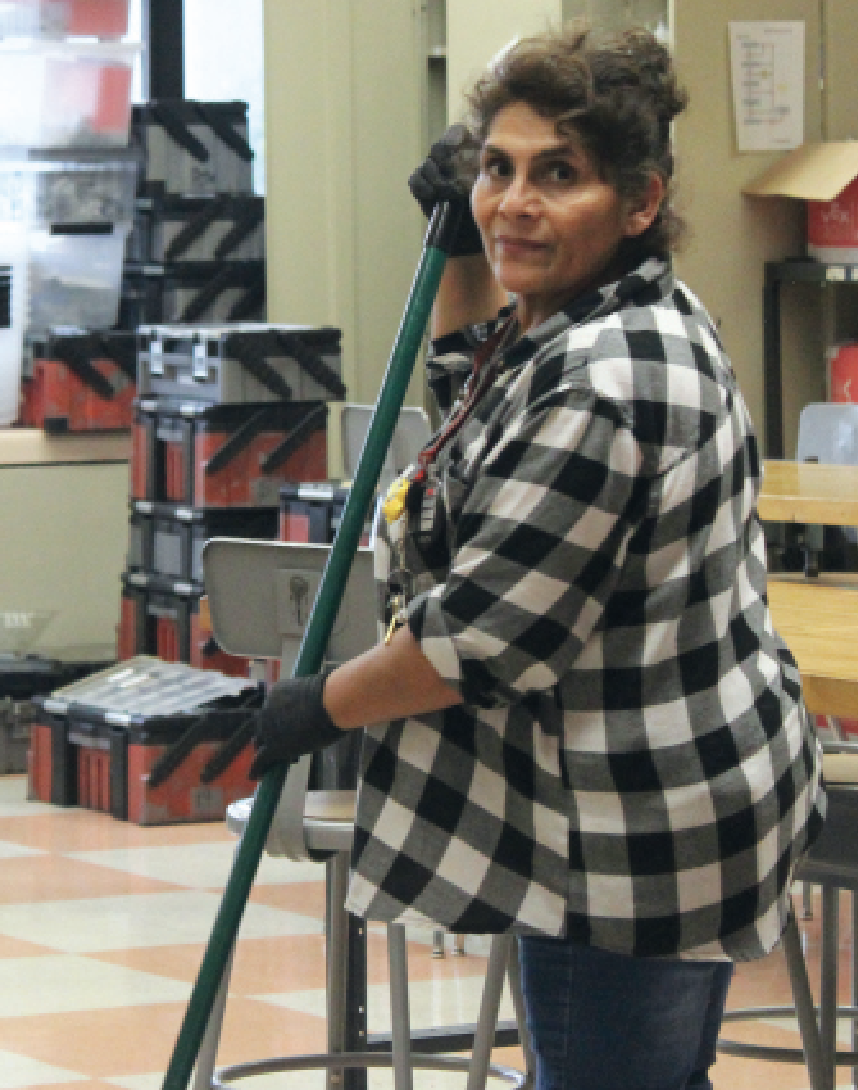 In similar thinking, McCaffrey provides ways that students can help the conditions of their facilities.
"Respect the spaces and just try and leave the space kind of like campground rooms, better than you found it," McCaffrey said. "So, if you see trash, pick it up and then don't be gross. If you see someone being gross, tell someone so it can be cleaned."
The evening cleaning crew is responsible for cleaning teachers' rooms towards the end of the school day. For McCaffrey, however, their efforts do not go unnoticed.
"They're always super kind. For the majority, English isn't their first language, so as someone that's wanting to learn Spanish, they're so nice to talk to and they're so worried about trying to teach me and they're always really sweet," McCaffrey said.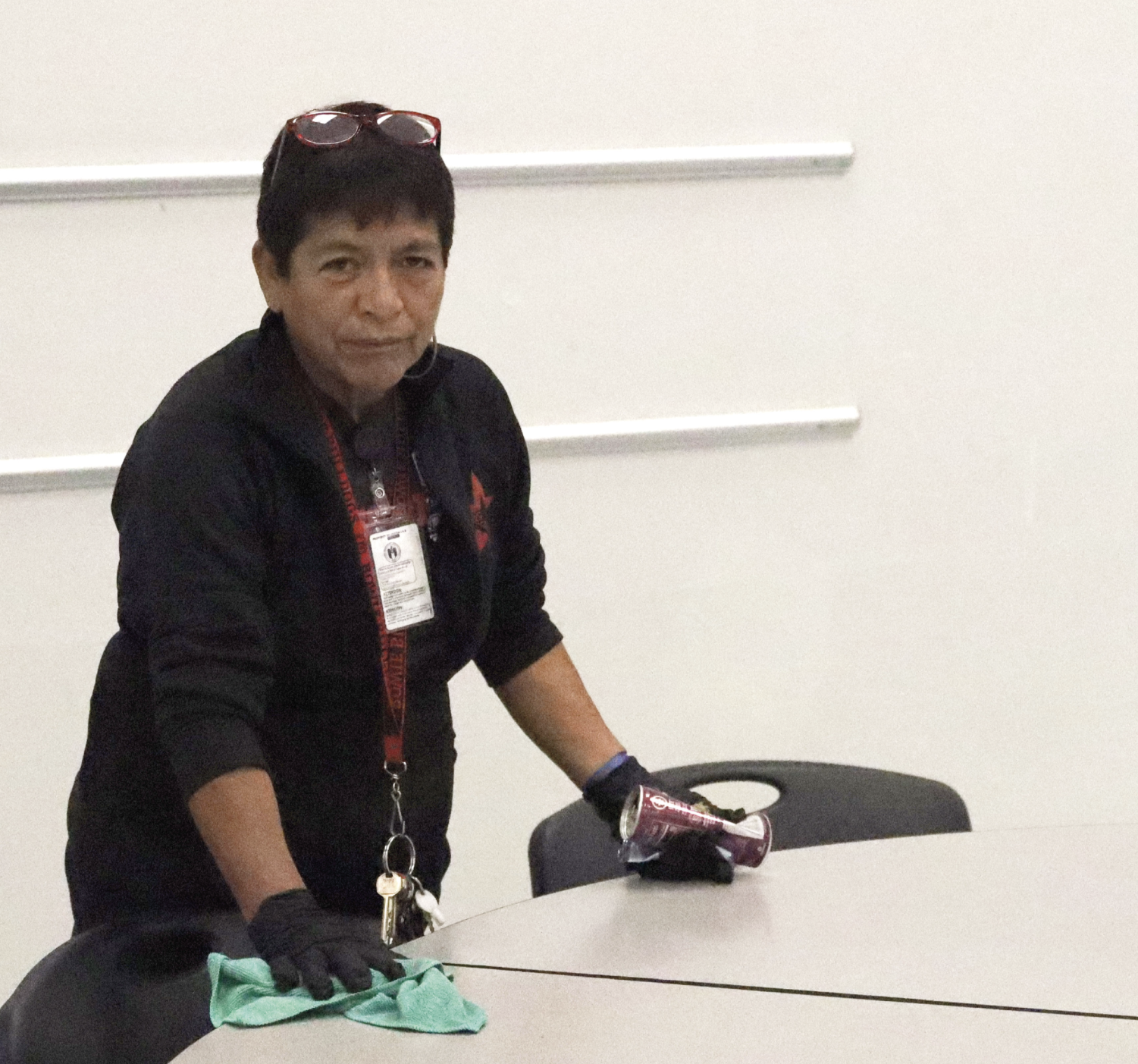 Perez has been able to find the positives in her many years working at Bowie.
"I enjoy doing my Job as well as I can, keeping the school clean, I dedicated myself to this and here I am," Perez said.
Winter's involvement with Student Council allows her to have an inside glimpse at the work put in by custodians to tidy Bowie's campus.
"Student vandalism kind of just adds to the work for custodians. They already have to do way more than they should and are probably underpaid for it," Winter said. "I think the most challenging part of a custodian's job is honestly just being seen as the 'pickup' person. If everyone cleaned up after themselves, it would make [custodians']  lives much easier. I feel like everyone just kind of assumes and relies on them."
Sandoval's role as a custodian has provided him with purpose and the students he helps give him inspiration daily at his workplace. 
"It feels good to come into your work place and do your job and you guys can like that you guys don't like it sounds cliche, but you guys are the new school like leaders of the future," Sandoval said. "So it does feel good to come to work and do the job so that you guys can continue on."