Bowie going for glory in Round Rock
'Dawgs cross country's stellar season comes to an end with a top-20 runner in state
Sam Vane, Sports Editor
November 30, 2022
Joshua Flournoy looks up at the finish line seeing only one runner ahead, the only thing he hears is his footsteps coming one after another trying to get ahead of the person in front of him. While many students are just waking up when this happens, Bowie cross country runners are experiencing it in full throttle.
A sophomore, Fluornoy has been running since he was in 8th grade.
"Running has been a really big thing in my family for a long time," Flournoy said. " And that's when I really took off and I found out that I had a lot of talent and I really wanted to hone that skill."
Flournoy isn't the only sophomore on the cross country team as fellow 10th grader Ethan Mangles, a relatively new runner compared to Flournoy, became a runner in a completely different way then Flournoy.
"Running was more about getting fit over COVID and quarantine," Mangles said. "I just started running and that gave me a good base for freshman year and this year."
Cross country has been extremely competitive this year with the biggest number of runners in years leading to a huge competition for the slim number of varsity spots.
"There's a lot of casual runners, but the top seven (varsity team) were all pretty competitive with each other," Flournoy said. "And then junior varsity are all trying to compete with each other to get into that top-seven group."
Cross country is only a fall seasons sport, whereas track is in the spring leading to many to stay in shape by doing track in the spring.
"It's only the varsity and some JV who transition to track from cross country," Flournoy said. "They want to continue to run and help improve endurance as well as stay in shape."
"
Our goal at Bowie is to develop every individual runner into the best possible runner they can be.
— Dalton Pool, Cross Country Coach
People often confuse cross country and long distance track running, but they are very different. Track has many more events and even the longer running races are shorter than what happens in cross country.
"Usually in track, the events are short as the shortest you'll see is 400 meters and the longest you'll see is two miles," Flournoy said. "For cross country though the shortest is two miles all the way up to the five miles."
Many cross country runners start in track and transition to cross country. One of these is former football player and track runner senior Tommy Morales who has been working hard to make this last season a good one.
 "After I stopped running track I wanted to do really good this year for the cross country team," Morales said. "I didn't want to let the team down in my last season on the team."
The Bulldogs have been very successful this season as their varsity team made it all the way to regionals with one runner making it to state. Head coach Dalton Pool wasn't surprised by this however.
"I knew we would have a good team this year with so many good runners returning," Pool said. "I expected us to compete for a district championship and have an outside shot at getting to state, which is how the season ended up."
When athletes have big games coming up most keep to the same routine as they have all year to calm their nerves. Mangles however, strays from the pack with his routine.
"I have a lot of trust in our training and we usually do a slight change called a taper before regionals and districts because those are sort of the highlights of our season," Mangles said. "We'll lower how many miles we're running every week, and then we'll tweak our workout slightly and we're actually doing a workout today that's sort of curated for two days before the race."
Bowie has always been handicapped by the tough cross country division (6A) in Austin area high schools. Pool has gotten the Bulldogs to rise above this mental block and perform.
"Bowie has never really been known as a boys cross country school, but the past two years we have made regionals and advanced somebody to state," Pool said. 
Pool, who has been coaching for five years at Bowie, has seen a lot of players come through. Pool describes the hard work it takes to a breakout runner.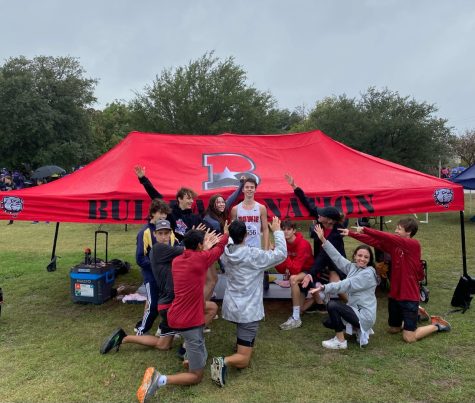 "We had many breakout performers this year at Bowie," Pool said. "Cross country is such a unique sport because the best runners are those who are talented, but also work hard."
Pool takes pride in his players as well, treating every player like a son and is proud of every single runner.
"It is just as rewarding as a coach when a runner who is not naturally talented shaves five minutes off their 5k," Pool said. "So many individuals achieved far beyond even my expectations, and those are the runners I am most proud of."
Even with a tough region, Flournoy still believes Bowie has a great chance  to qualify for state.
"There's already a lot of teams that are really fast but if all of us run a really good race, we will have a great shot at advancing to regionals and we're gonna have to really work if we want to get to that state level right now but I think we have it in us," Flournoy said.
As a possible last race at Bowie for Morales, he looks to make some noise at regionals.
"There's always a chance for us to make it even if our region is very competitive," Morales said. "I believe in our guys and think have a chance at state."
With the season coming to an end Pool isn't discouraged at all and believes in these Bulldogs.
"I'm really proud with how hard the team worked this year," Pool said.