The Formality band finds their groove
Local seniors band together to play several genres of music including alt, rock, and indie
In the garage, drums beating, guitars blaring, The Formality band practices for their upcoming show. 
The group members are seniors Benencio Arce, Jeremy Frey, Kyan Blacklock, and Richard George. 
"The band was created mainly by me and some random guitarist," Arce said. "It was the beginning of February and I invited him just to jam with him and then from there I sent out a video where we were jamming. Kyan, who's now our bassist and singer, saw that. He said I want to play with you guys"
Blacklock was soon invited to play for the band, but was met with a challenge with the upcoming Tunnel Vision event, which showcases local teenage talent.
"Benecio is the one that started the band. I was the third member to join and the guitarist just stopped showing up," Blacklock said. "Benny said, do you know how to play bass? I said no, and he asked if I wanted to learn and I said sure. So I learned bass and then he scheduled our first Tunnel Vision concert. We had two months to prepare and we didn't have a singer at that point, so I just started being our singer."
The two-man-band quickly started practicing, but with the disappearance of their guitarist they started searching for a replacement. 
"So we didn't have any guitars so we tried and looked everywhere,"Arce said." I was just reaching out to a lot of people and then I remembered this kid. Richard came to Bowie for like two years, and I remembered he played guitar, so I reached out to him on his Instagram."
George accepted Arce's invitation and joined the band in March in hopes of finding a new outlet for his long standing passion for music.
"I actually played bass first. My first real instrument was my brother's 1991 blue Fender Prodigy bass," George said. "That thing is a beast and I still love it. I got into guitar because when you get a taste of the good stuff you want more."
The duo became a trio but they weren't complete. Arce continued to search for a secondary guitarist.
"It was two weeks before school was over," Arce said. "They had set up some courtyard jam thing. Some kid brought his drum set and guitar. Then some person was jamming with him on guitar, that's when I saw Jeremy. I told him that we needed a secondary guitarist and if he would be down to join us sometime. He was like, yeah, sure I can."
Frey brought his musical experience into the band. The senior worked his way into the band's practices, and eventually the band had a consistent practice schedule for the summer. 
"Actually, I was already in another band at that time," Frey said. "I was like, well, I mean it wouldn't hurt, so I just joined them. I've done guitar for eight years. Bass has kind of naturally fallen in there; it's just like another stringed instrument that I picked up."
Finally after the start of the band in February, the band was completed and ready for the first Tunnel Vision on July 7. The only thing missing was a name.
"So we went through other names," Arce said. "Originally we came up with this name as a joke, it was called Bone Air. Then for our first concert we had to come up with a new name just to get us going. So then we came up with the name the Two Lips."
The band contemplated a variety of names prior to their upcoming performance. 
"Before The Formality we had another name idea, 'Aisles of Frey'," George said. "Jeremy's last name is pronounced Fry, but we didn't all agree on the name's spelling for pronunciation. I remember being out for one of our practices, and that night I received an interesting phone call. A couple of my band-mates were about to leave the decision to a heated game of rock-paper-scissors."
With the upcoming live performance, the stress to decide on a band name was weighing down on the members.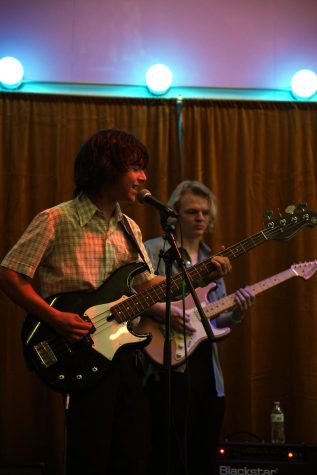 "So our previous name wasn't too hot," Frey said. "I had this stick where I would play but I'd be dressed up very fancy. Like a whole full suit and everything. So I was like why don't we just call it 'The Formality."
With the name finalized the band was able to focus solely on preparing for their first Tunnel Vision. 
"Our first concert was so fun," Blacklock said. "The adrenaline for me got me really nauseous when I got on stage. I wasn't nervous, but I hadn't eaten anything all day, so I was really, really nauseous. When we got off the stage I was like just getting wild with a water bottle. Everybody was like whoa that was crazy, and that felt really cool."
Since their first Tunnel Vision, The Formality had another live performance on August 27. The band continues to grow with one another.
"Well I think it's a bit interesting because we all kind of in a way have our somewhat different music tastes but it kind of works out," Arce said. "The guitarists do pretty well together. Practicing, it goes well because we go a couple hours at least two days a week. We're pretty focused when we practice and we do get to work pretty well together, all four of us."
The band has been experimenting with different sounds to find what works best for them.
 "We play a good mix of alternative and then rock stuff and we were even working on metal songs too," Arce said. "We like to kind of mix everything and have a lot of diversity in our music. Now we've moved on to like working on more original stuff and trying to get more concerts and stuff. That's our goal."
Though entering into the music industry can be chaotic, The Formality has learned to build off of one another's skills.
"Really I couldn't ask for us to have a better dynamic making music right now, mostly thanks to our average garage band setup," George said. "Definitely the trickiest part of our dynamic is the fact that we have two guitars which often play different parts. I learned very quickly that two guitars either sound beautiful or like a hot mess. But, hey, some songs are messes and sound great."                     
The Formality members plan to continue producing music with one another.
"We're recording early in October, so we'll have some songs released on Spotify in the next month or two," Blacklock said. "Whenever we can schedule it next, we'll have some songs out but we want to release an album. We create songs and then maybe record, but we have time."
Additionally, the band is currently practicing for their upcoming live shows weekly in Arce's garage.
"Our next performance is on October 15," Frey said. "We will be with Midnight Butterfly and Trek Five down at The Parlor on Guadalupe street."
Throughout their coming shows the band will be testing out different genres to see what they prefer to play live and what they plan to record.
"We're gonna have a 45-minute set list and we should start around seven. It's gonna be more punk style so be prepared to dance like crazy," Blacklock said.
Though the band is newly formed, they have already discovered the key to achieving success in the music industry. 
"Consistency is so important," George said. "Let me put it this way, you could make the greatest song ever, be the sexiest person alive, and you could even have the greatest marketing team. At the end of the day the only thing keeping you afloat is you. You are the only one who can keep your passion, and you are truly the only one that can keep your ship afloat. Bands don't become popular because they sound good, they become popular because they put in work."