Best places to shop this fall
With fall weather arriving, we have the arrival of fall fashion and trends. The changes in the weather aren't huge in Texas but changes in styles seem to still follow the change in season. There are always a few things that stay the same in fall fashion, One being denim.
Some of the best stores for anything denim are Abercrombie & Fitch, Pacsun, and American Eagle due to the variety they provide. Most thrift stores including Goodwill have good quality denim for a cheaper price. Especially if you're looking for more of an early 2000s style cut. Different stores have different denim materials, cuts, and stretches, along with a variety of washes. American Eagle and Abercrombie & Fitch released a bigger variety of flare jeans in their fall clothing releases as well as low-rise jeans.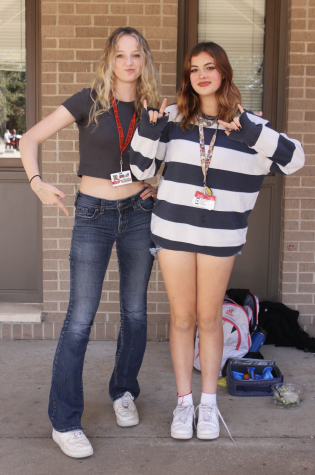 In stores this fall you might see more than a few varieties of low-rise flare jeans, being that the two styles together work well. For shorter people like me, these kinds of cuts together can even make you seem taller by making your torso and legs seem longer.
There are also cargo pants. Ever since the skater style became really popular in 2021 you can pretty much find cargo pants in every store that's popular with teens. Like, Pacsun, American Eagle, Tillys, and at Dickies. Some even come in neon colors like orange and purple. They can be paired with sweaters, graphic tees, and crop tops, making them a good basic for your wardrobe. 
Something reappearing this year, are flowy skirts. While these skirts are becoming more popular, there aren't many places that sell good options to choose from. The Goodwill bins are a great place to start. 
There are multiple locations throughout Austin where you can dig through bins of preloved clothing and accessories for a cheaper price than ordinary goodwill stores. 
Target and stores like Earthbound and American Eagle also have these skirts but at somewhat of a higher price. They come in a variety of cuts and rises and can be styled to fit any vibe you're hoping to achieve. 
Now Let's talk about everyone's favorite sweaters and sweatshirts. The best way to keep an outfit comfy and warm with more style than just a normal hoodie is definitely crewnecks. 
These can be found almost anywhere and seem to appear most years in fall trends. With a wide variety of designs such as sports-based merchandise, Tv shows, music, pictures, patterns, and plain colors, you can find a crew neck to fit almost anyone's style. Even if it's just to wear at home and be comfortable.
The best places to look are the majority of retail stores. One of the best is Pacsun. You also can find vintage sweatshirts in places like thrift stores and Etsy.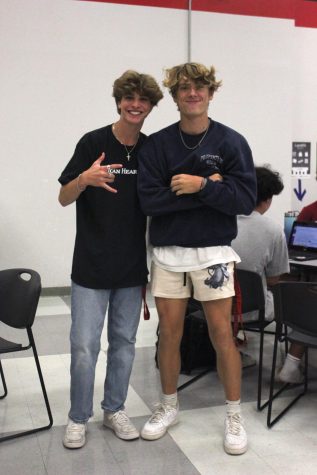 While you can find very cute crewnecks on Etsy and at Pacsun, thrifting is a really great cheaper option. They have good quality crewnecks in a variety of styles and make it easy to find whatever you're looking for by always having stock on the same designs waiting to be purchased. With thrift stores, styles move in and out of the store, and most of the time they only have one of every item. But with the products coming and going there's always new to find.
Then there is Etsy. Etsy is the best place to go for vintage sports crewnecks. They have ranges of options for different sports teams, from soccer to football, and from the Seahawks to The Green Bay Packers. Even though crewnecks are most likely going to be everyone's go again this year, we also have the other constant. Sweaters. 
Whether you're going for a simple sweater or one that's statement and bold, they are something that will appear everywhere once the weather cools off. 
Almost every retail store has at least a small section of cute and comfy sweaters for you to choose from some of the best being Zara, Abercrombie & Fitch, and Brandy Melville. Sweaters are a cuter and more dressy way to stay comfy and warm, in the cool weather of the fall. 
While fall fashion has similarities every year it is fun to see the new styles and designs that people wear in and around campus.
View Comments(1)
Your donation will support the student journalists of James Bowie High School. Your contribution will help cover our annual website hosting costs. Any contributions made through this service are NOT tax deductible. If you would like to make a tax deductible donation OR to subscribe to our print edition, please contact us at [email protected].